The rapper who stole each year, from the first year of recorded hip-hop until now.
Rap fans tend to get into arguments with other rap fans, and it doesn't take much more than someone declaring their Favorite Rapper. Your favorite rapper is a personal preference, one that requires the most subjective defenses. If you're rooting for the rookie of the year or a washed-up veteran experiencing a career resurgence or someone no one has heard of as your favorite, then so be it. The choice is yours.
The favorite rapper discussion is cool and all, but the coveted distinction in hip-hop is still being named the GOAT (Greatest of All Time). Rookies and new jacks need not apply—this debate is strictly for the catalog artists, people who have shifted the culture in previously unmovable ways, artists whose music has permeated and resonated over an extended period of time. It's rap's imaginary Hall of Fame, existing only within the abstract conversations we have about it.
But there is one debate that every rap fan not only loves to have but ought to have. A debate that considers both the short-term and long-term implications of an artist's impact. A debate that pits a rapper in their prime against any and all competitors. A debate that gawks at the cultural landscape and plucks out the one who stands alone: the debate about who is the Best Rapper Alive. Being the BRA is sort of like being the MVP—even though rap doesn't follow a rigid cultural calendar quite like major sports seasons—because it only requires looking at the current crop of active artists and picking a winner. You can confidently declare the Best Rapper Alive in any given year without having to consider previous decades, the same way you can say LeBron is an MVP even though you've never seen Jerry West play.
Anyone can become the Best Rapper Alive. Some came out the gate with next-level rhymes that had everyone running back to the lab; for others it was a culmination of their gifts that coalesced for one great year. Much like rap itself, it's an evolving process. But one thing we know for sure, it's more about a general feeling among fans rather than any discernible facts. (What facts? It's all just opinion anyway.) When a rapper steps in front of a microphone, and everyone in hip-hop has no choice but to look their way and give props, well then, they just might be the Best Rapper Alive.
It's still important to consider that the Best Rapper Alive debate is different from the GOAT conversation. Being the BRA doesn't mean you're the biggest or the most successful; it just means you're the Best at one particular moment. Of course in hip-hop, being the best is intrinsically about being BIG. And being at your best doesn't make you the best, so if your prime coincides with someone else's, well, hey, there's always next year.
You can look back on the hip-hop terrain with 20/20 hindsight, tally up the votes, and declare the GOATs, but the Best Rapper Alive from year to year is a feeling in the moment. There have been debates among rap fans living in that moment since the early days of hip-hop, but those discussions have never been properly cataloged—until now! (Yeah, we're excited. Sue us.) Complex is proud to present the Best Rapper Alive, Every Year Since 1979, a comprehensive look back at every year of rap and which MC moved the crowd the most. So the question remains: Who got the props?
Illustrations by Dale Edwin Murray
1979: GRANDMASTER CAZ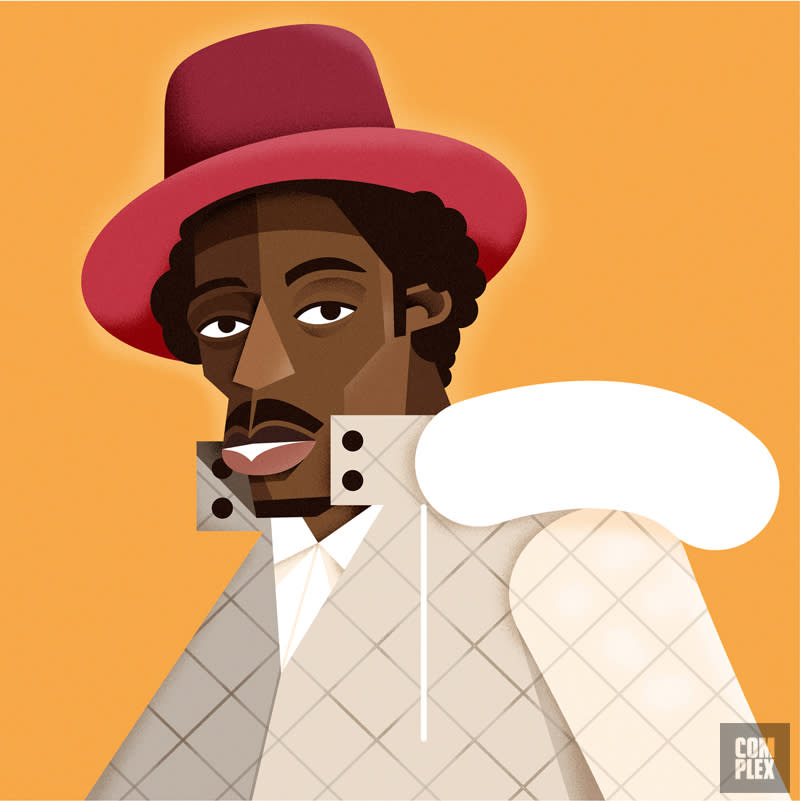 RELATED
POST CONTINUES BELOW
CREDENTIALS: The first person to DJ and rap simultaneously, raps were stolen for "Rapper's Delight"
After experiencing one of DJ Kool Herc's early hip-hop parties for the first time, Bronx-born Curtis Fisher got himself two turntables and a mic and adopted the name Casanova Fly. Hailed as the first to rap and DJ simultaneously, he earned the title Grandmaster Caz and became the standout member of the legendary Cold Crush Brothers, rocking countless park jams, recording singles for the Tuff City label, and battling the Fantastic Five in the seminal hip-hop movie, Wild Style. Yet despite all these accomplishments, Caz's biggest claim to fame Is being the man whose lyrics were jacked by Big Bank Hank for the Sugarhill Gang's "Rapper's Delight," the first rap song to hit the Billboard Top 40. Hank was actually Cold Crush's manager at the time. As the story goes, Joe Robinson of Sugarhill Records heard him rapping along to a tape of Caz while working in a pizza parlor and invited him to make a record. Assuming Hank would look out for him somewhere down the road, Caz let him study a book of his rhymes before the recording session—indeed, you can hear Hank say "I'm the C-A-S-A-N-O-V-A and the rest is F-L-Y" in the first verse of the record. Unfortunately Caz received nothing for his contributions to rap's first worldwide hit. But he did tell his side of the story in 2000 when he dropped the single "My MC Delight (Casanova's Revenge)". Even two decades after the fact, Caz's skills are undeniable. And in 1979 nobody could touch him.
HONORABLE MENTIONS: Melle Mel, King Tim III, Sha Rock: As the lead rapper of The Furious Five, Melle Mel made joints like "Superrappin'" and "We Rap More Mellow" (credited to The Young Generation) hit hard. King Tim III is hailed as the first MC whose rhymes were ever committed to vinyl. When a young Russell Simmons called Kurtis Blow "the king of rap" he knew what he was talking about; his 1979 record "Christmas Rappin'" was a yuletide novelty that sounded much better than it had to. And even if "Personality Jock," his joint with Fatback Band, was not the very first, you can't dispute the man's rhymes go on and on like the Energizer Bunny in a fuzzy Kangol. —Rob Kenner
1980: KURTIS BLOW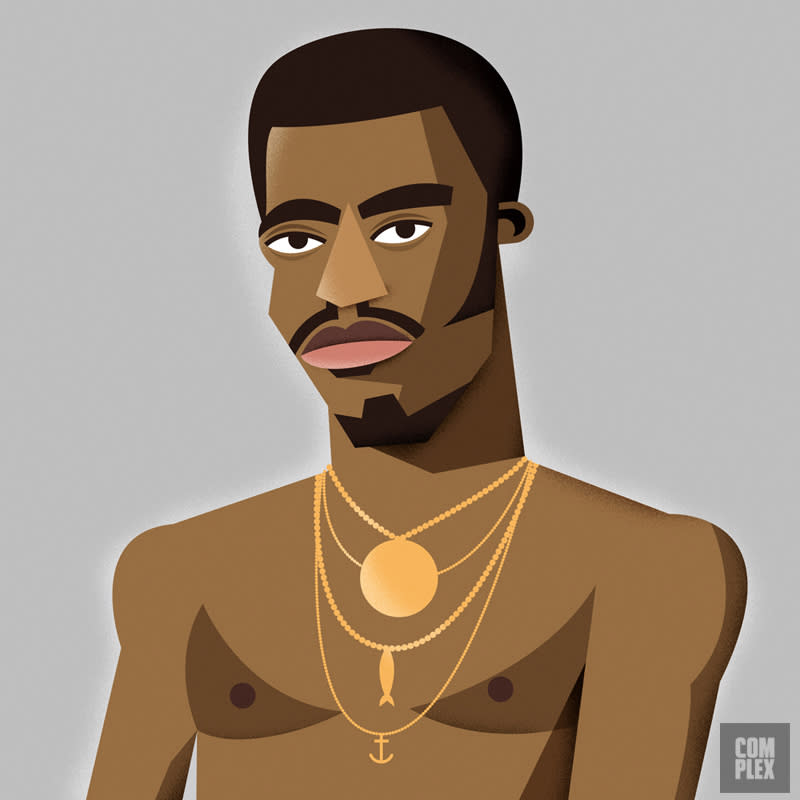 POST CONTINUES BELOW
CREDENTIALS: "The Breaks"
In 1980 Kurtis Blow wasn't just the best rapper alive, he was the first rapper to show and prove that a career in rap was even possible. Blessed with a booming, elastic, singsong voice, he became the first MC to sign with a major label in 1979—hot on the heels of the "Rapper's Delight" phenomenon—and dropped the hit single "Christmas Rappin'."
He came right back with a self-titled debut album the following year, powered by "The Breaks," which became the first gold single in rap history. Blow's exuberant flow on the cut still thrills three decades later. He would continue to be a force in hip-hop, touring the world, producing, and acting, but this was the year when it first came together for him.
HONORABLE MENTIONS: Spoonie Gee, Kool Moe Dee, Jimmy Spicer
Harlem native Spoonie Gee's fresh rhymes on "Spoonin' Rap" contained the first references to jailhouse life in rap music, including the invaluable advice "Please my brother, don't drop the soap." As the standout member of the Treacherous Three, Kool Moe Dee distinguished himself on cuts like "Love Rap," "New Rap Language," and "Body Rock." Brooklyn rapper Jimmy Spicer's "Adventures of Super Rhyme (Rap)" gave him enough clout to become one of the first artists signed to Russell Simmons' Rush Management. Simmons would co-produce his future hits "The Bubble Bunch" and "Money (Dollar Bill Y'All)." —Rob Kenner
---
1981: KOOL MOE DEE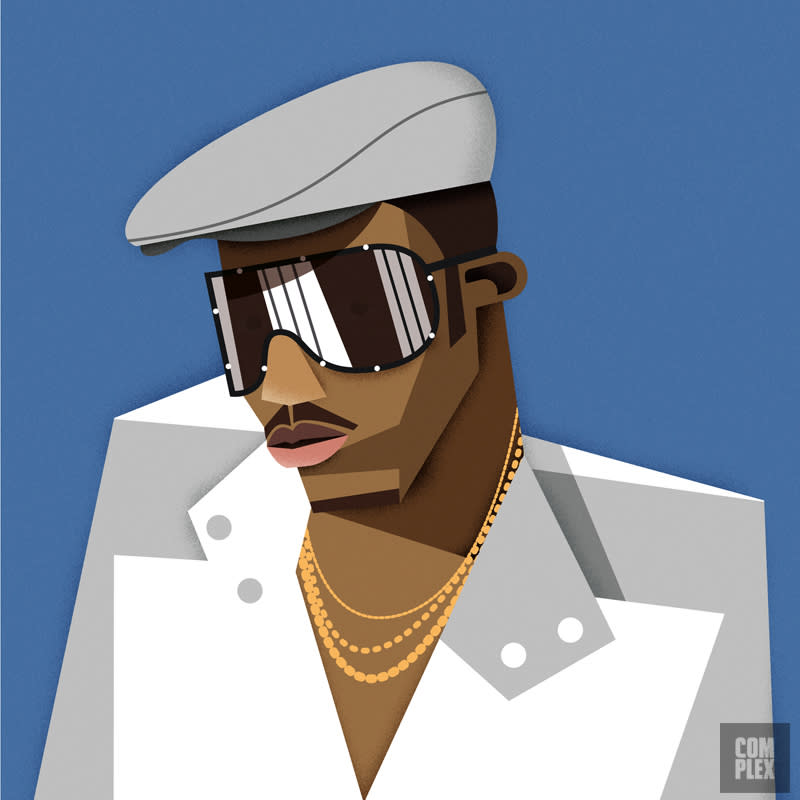 POST CONTINUES BELOW
CREDENTIALS: Bodied Busy Bee at the Harlem World Christmas Rappers' Convention
Long before he became a solo star on the strength of Teddy Riley-produced joints like "Wild Wild West" and "How Ya Like Me Now," MC Kool Moe Dee was one third of the legendary Treacherous Three, along with Special K and LA Sunshine (not to mention DJ Easy Lee). Born Mohandas Dewese in Manhattan, Moe was a quiet character who channeled his passion into carefully crafted rhymes.
At age 19 he devastated the renowned party rapper Busy Bee Starski at the Harlem World Christmas Rappers' Convention in a performance that is often cited as the first hip-hop battle. The relentless routine opened with "Come on Busy Bee I don't mean to be bold/But put that bom-ditty-bom bullshit on hold." Things only went downhill from there as Moe Dee clowned Busy's formulaic rhymes and served notice that from this moment forward MCs would have to step up their lyrical game.
1981 also saw the Treacherous Three drop hits like "Feel the Heartbeat" and "Put the Boogie in Your Body," marking a creative apogee for the trio. Although the group broke up after appearing in the 1984 movie Beat Street, Kool Moe Dee's career endured until the early '90s, and he never lost his taste for battling. His long-running feud with LL Cool J inspired some memorable lyrical exchanges.

HONORABLE MENTIONS: Love Bug Starski, T Ski Valley, Sha-Rock
When he wasn't spinning records at Harlem's Rooftop Roller Rink, Lovebug was laying down raps. His record "Positive Life" with the Harlem World Crew set him head and shoulders above all comp not named Kool Moe Dee. T Ski Valley got his start DJing with the Erotic Brothers Disco and eventually became an MC; his classic 1981 single "Catch the Beat" can still rock any party. Sha-Rock was the not-so-secret weapon of the Funky 4 + 1. Every time she rocked the mic, the feisty Bronx MC outshone her male counterparts. —Rob Kenner
---
1982: MELLE MEL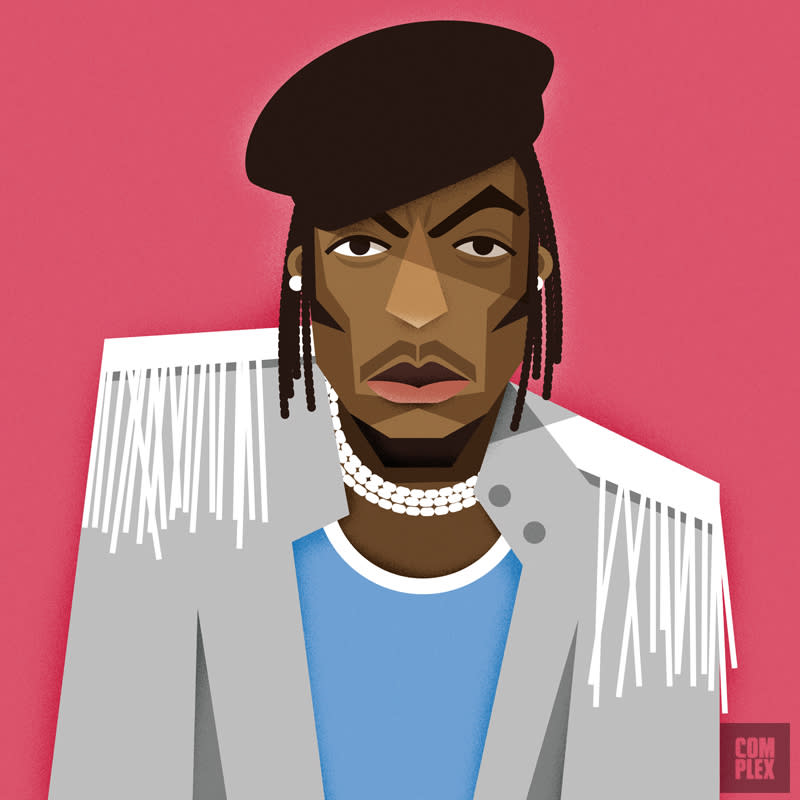 POST CONTINUES BELOW
CREDENTIALS: "The Message"
If you see modern-day Melle Mel out in New York City rocking a powder blue tuxedo with long tails and calling himself "Muscle Simmons," you might not suspect that this is the same dude who rhymed the immortal words "Don't push me, 'cause I'm close to the edge." Back in 1982 Mel was a member of the Furious Five along with his brother Kidd Creole (Nathaniel Glover), Scorpio (Eddie Morris), Rahiem (Guy Todd Williams), and Cowboy (Keith Wiggins).
When they weren't ripping park jams and rec centers with DJ Grandmaster Flash, they were dropping hit records like "Super Rappin,'" "The Birthday Party," and "It's Nasty (Genius of Love)" for labels like Enjoy and Sugar Hill Records. But when Melle Mel turned his attention to the realities of life in the Bronx during the Reagan era, he created a groundbreaking hip-hop classic called "The Message."

HONORABLE MENTIONS: Kool Moe Dee, Grandmaster Caz, T Ski Valley
Kool Moe Dee's rhymes on the Treacherous Three's "Yes We Can Can" proved that he was still not the one to fuck with. Grandmaster Caz caught wreck on the Cold Crush Brothers joint "Weekend," and T Ski Valley took it back to his Erotic Brothers Disco days on the NSFW "Sexual Rapping." —Rob Kenner
---
1983: RUN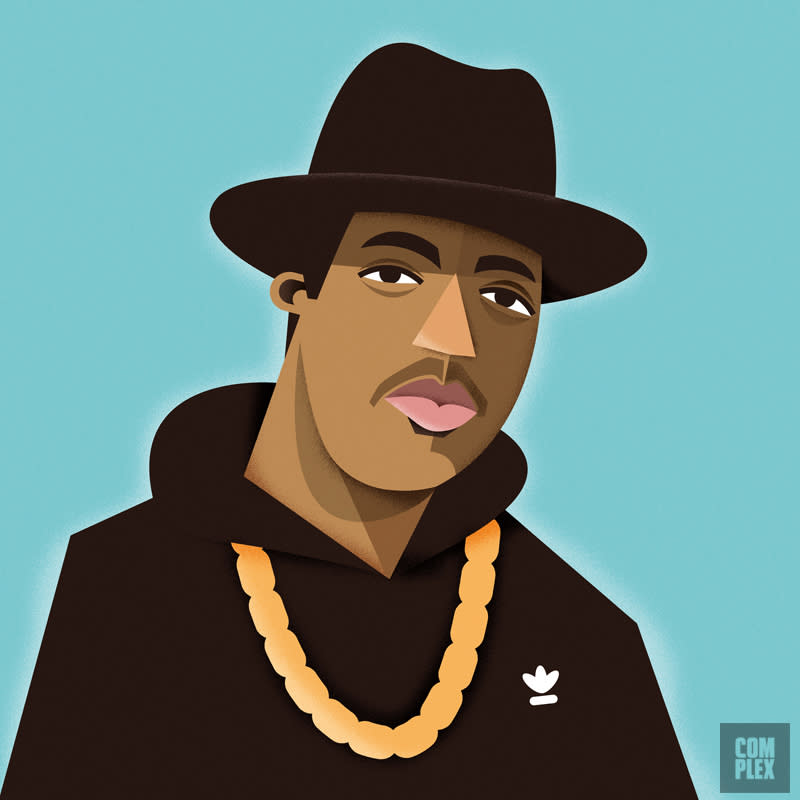 POST CONTINUES BELOW
CREDENTIALS: "It's Like That" / "Sucker MCs"

It's difficult to overstate the impact of Run-DMC on the trajectory of hip-hop. Put it like this: The release of the 12-inch single "It's Like That" / "Sucker MCs" on Profile Records completely changed the game. The A side picked up where "The Message" left off, talking about real life struggles of real people. But where Grandmaster Flash and the Furious Five's story ended in tragedy, with a body used and abused and hanging dead in a cell—the artists themselves being harassed by cops—"It's Like That" was defiant and resilient.
War, crime, poverty, prejudice, ignorance, the bum eating out of a garbage can who once was your man? Run's response was as cold and hard as the streets of Hollis, Queens: "Don't ask me because I don't know why." And what about a solution? "Money is the key to end all your woes your ups your downs your highs and your lows/Won't you tell me last time love bought your clothes?"
These words defined rap's new world order, a cold hard cash philosophy that would prevail through Puffy's "All About the Benjamins" moment and remains unabated in this era of Young Money Cash Money Business. But Run-DMC also tempered this approach with advice to get educated, motivated, and avoid prejudice and bias. These were big ideas for a rap record, but side B of this epic single was arguably more significant.
"Sucker MCs (Krush Groove 1)" was a stylistic broadside against all forms of wackness. "Two years ago a friend of mine asked me to say some MC rhymes," Joseph "Run" Simmons intoned and suddenly the entire old school was swept away. Before long he was enjoying "Champagne, caviar, and bubble bath" even though he'd prefer to "Cold chill at a party in a B-boy stance." Run dispensed with all sucker MCs remorselessly: "So take that and move back catch a heart attack." And while Darryl "DMC" McDaniels and Jason "Jam Master Jay" Mizell were indisputably dope, there was also no disputing the fact that at the end of the day this was Run's house.

HONORABLE MENTIONS: Melle Mel, Jimmy Spicer, Rammellzee
Call him old school if you must, but Melle Mel was still handling his business in '83. The Furious Five's "New York New York" was a streetwise classic while "White Lines" remains the group's most modern-sounding record. Spitting cautionary tales of cocaine addiction over the beat from Liquid Liquid's "Cavern," Mel's booming baritone made a powerful case for his continued relevance.
Meanwhile, as Run-DMC proclaimed the cash money gospel, another Rush Management client, BK's own Jimmy Spicer rapped about the power of "Money (Dollar Bill Y'all)" and scored the biggest hit of his career, as well as one of the year's freshest records.
Rammellzee was more of a graf legend than an MC, but in 1983 he and K-Rob created "the holy grail of rap records." Rammellzee had a bone to pick with Jean-Michel Basquiat, who was a much more celebrated artist at the time. "Beat Bop" was originally planned to be cathartic a battle on wax, but in the end Basquiat did not rhyme on the record (although he did pay for the studio time and created the cover art). The far-out limited-edition single became an underground sensation and set the stage for the futuristic avant-garde expressions of hip-hop artists ranging from the Beastie Boys to Dr Octagon and MF Doom. —Rob Kenner
---
1984: RUN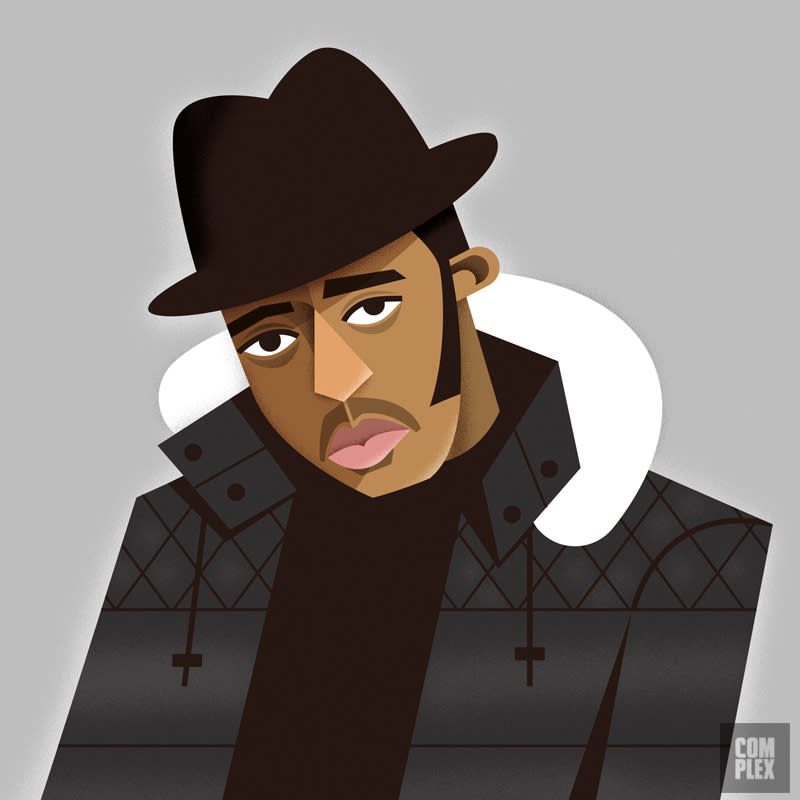 POST CONTINUES BELOW
CREDENTIALS: Run-DMC
If the "It's Like That" / "Sucker MCs" single was the warning shot, the release of Run-DMC's self-titled debut album emptied the full clip. The nine-track tour de force announced that these three teenagers from Hollis, Queens, were rewriting the rules of the rap game, stripping the music down to its elements: a pair of MCs who worked in perfect synch with one untouchable DJ.
Joseph "Run" Simmons got his start in hip-hop DJing for Kurtis Blow. He got the gig thanks to his older brother Russell, who managed Blow. Known as DJ Run, "Kurtis Blow's Disco Son," Run began to MC and honed his skills by battling with Blow. He would sometimes record the sessions and send them to his friend Darryl "DMC" McDaniels. Run later emerged as the leader of the group, although what made Run-DMC work was the way they all gelled into a whole that was greater than the sum of its parts.
There were no outlandish get-ups or gimmicky routines, just rock hard beats (courtesy of Russell Simmons and Larry Smith, with electric guitars by Eddie Martinez) and rhymes that spoke clearly and distinctly about real life in a way that the new generation of rap fans had never heard blasting out of their radios before.
With their black Lee jeans and matching jackets, unlaced adidas sneakers, and zero-fucks-given body language, Run-DMC looked as if they had just rolled off Linden Boulevard. No matter how successful they got, they never lost that attitude, taking it with them as they stepped on stages and broke down barriers for hip-hop culture all around the world.
Run put it best in "Rock Box," which became the first rap video to air on MTV, "My name is Joseph Simmons, but my middle name's Lord/And when I'm rockin' on the mic, you should all applaud."
HONORABLE MENTIONS: LL Cool J, Kurtis Blow, Roxanne Shante
When James Todd Smith said "I Need a Beat" anybody with ears could tell he meant business. This ground-breaking 12″ single on Def Jam Records, produced by NYU student Rick Rubin, announced the arrival of an urgent 16-year-old voice that would soon take over. Kurtis Blow was a veteran by this time, but singles like "8 Million Stories" proved that he was still very much a force to be reckoned with. And 15-year-old Lolita Shante Gooding from the Queensbridge projects caught the whole rap world napping with "Roxanne's Revenge,"her freestyled response to UTFO's "Roxanne Roxanne." Her song brought battle rap to the radio, set new standards for female MCs, and set off a whole chapter of hip-hop history known as the "Roxanne Wars." —Rob Kenner
---
1985: LL COOL J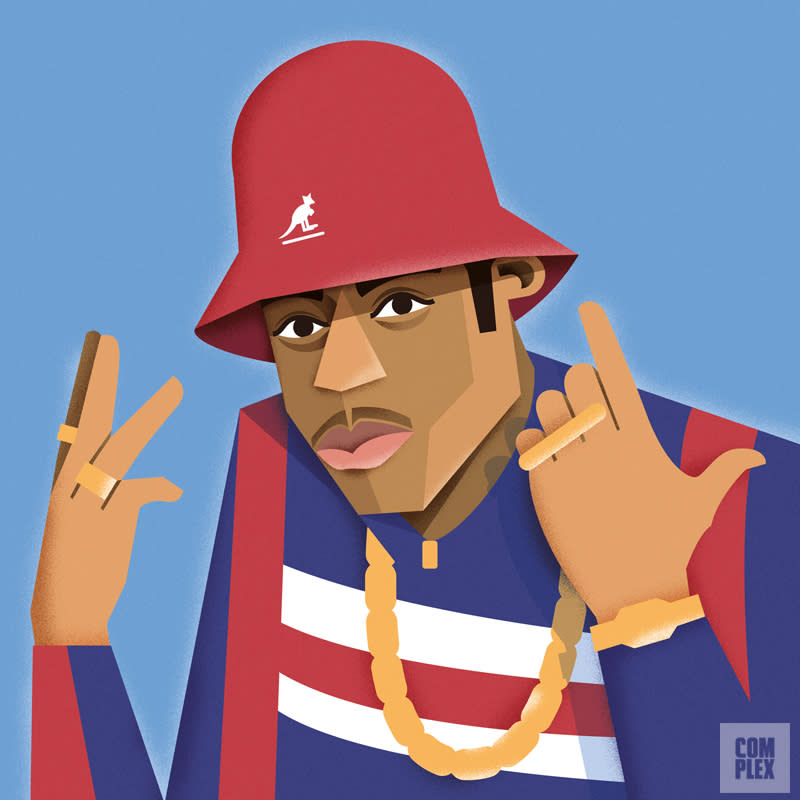 POST CONTINUES BELOW
CREDENTIALS: Radio
Def Jam's first hip-hop superstar was a charismatic 17-year-old from Queens named James Todd Smith, better known as LL Cool J (shorthand for Ladies Love Cool James.) Ladies might have dug his debut album, Radio—it was an instant success, both critically and commercially, eventually selling well over a million copies—but at this stage his music was aimed mostly at a male audience. "LL Cool J is hard as hell," he roared on "Rock the Bells," adding (over Rick Rubin's obnoxiously abrasive beat) that he'd "battle anybody I don't care who you tell." This was no idle boast, as he would engage in a long-running war of words with Kool Moe Dee, among others. Double L's was the most urgent and authentic voice in hip-hop that year. Whatever his rhymes may have lacked in complexity they more than made up for with heaping portions of b-boy bravado.
A careful listen to the album's title cut reveals that it's about much more than just bigging up boom boxes. The song's narrator starts out as a youth who enjoys the simple pleasure of "Walking down the street to a hardcore beat/While my JVC vibrates the concrete." You've got to admire the kid's spirit as he runs from the subway cops to avoid a summons and purchases fresh batteries when his tape will no longer rewind. We learn that his story is tough, his neighborhood is rough, yet he still sports gold and he's "out to crush."
Later on in this semi-autobiographical tune, LL makes the jump from fandom to fame, becoming the artist whose voice booms through the radio. His days of pounding the pavement are over as we see him riding in a Cadillac with the system kickin' way past 10. "I drive up the Ave with my windows closed, and my bass is so loud it could rip your clothes." By the next verse of this raps to riches story, he's cold getting paid "Cause Rick said so." When LL said "I'm the leader of the show, keeping you on the go" you'd best believe it, because in 1985 no rap fan could live without LL on their radio.

HONORABLE MENTIONS: Run, Beastie Boys, Slick Rick
The title of Run-DMC's sophomore LP, King of Rock, revealed this Queens trio's grand ambitions. They dared to compare rap, an upstart ghetto music that many dismissed as a novelty or worse, with the exalted pop culture phenom that was rock and roll circa 1985. (At the same time they were reaching out to other subgenres, as on "Roots Rap Reggae," featuring Jamaican dancehall star Yellowman.)
Meanwhile the Beastie Boys were starting to build momentum on the strength of 12″ singles like "Rock Hard" and "She's on It." Although the group's breakthrough release "Hold It Now, Hit It" would not drop until the following year, their infectiously anarchic energy was winning new fans every day, and while the trio's chemistry made them inseparable, Adam "MCA" Yauch was emerging as the group's standout MC.
Slick Rick was going by the name MC Ricky D when he joined forces with human beatbox Doug E. Fresh on a madcap live recording called "La-Di-Da-Di," which was released on the flip side of a single called "The Show." The record went on to become one of the most sampled in rap history, establishing Rick as a phenomenal lyricist who would neither cause trouble nor bother anybody. He and Doug were "just some men that's on the mic," but as the song both showed and proved, "when we rock the microphone we rock the mic right." —Rob Kenner
---
1986: KRS-ONE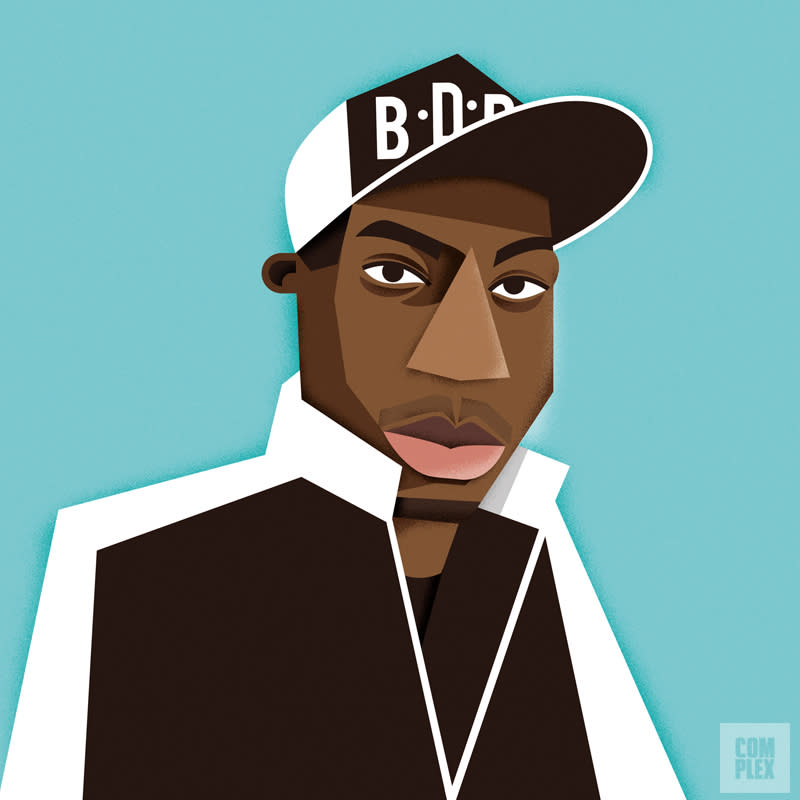 POST CONTINUES BELOW
CREDENTIALS: "South Bronx"
What MC wouldn't want to be dubbed the "Best Rapper Alive"? But pinning that title on Kris Parker, a.k.a. KRS-One (an acronym for Knowledge Reigns Supreme Over Nearly Everyone), seems like damning him with faint praise. KRS was never just a rapper—right from the start he was a renegade teacher and scholar, a satirist, polemicist, and most of all, the Blastmaster. As such, his lyrics were tools of war, which he kept sharpened to a lethal edge.
KRS was living at a Bronx homeless shelter when he met Scott Sterling, a.k.a. DJ Scott LaRock, who worked there as a counselor. KRS was also an MC and graf writer known for battling other residents at the shelter. Scott was so sufficiently impressed that he would slide the 20-year-old passes that allowed him to go out and catch live rap shows from time to time. Before they collaborated on their monumental 1987 debut album, Criminal Minded, with beats supervised by Ced Gee of Ultramagnetic MCs, KRS and Scott LaRock dropped a 12" single called "South Bronx" ("Fresh for '86, you suckers!"). This song was provocative enough to set off an epic inter-borough musical conflict known as "The Bridge Wars," and also set KRS above and beyond all lyrical competition in that particular year.
It all started with MC Shan's song "The Bridge," which big upped the borough of Queens, specifically the Queensbridge housing projects. Filled with local pride, Shan asserted that the Bridge played a vital role in the birth and evolution of hip-hop—and he had a point, since it was home to Marley Marl and the mighty Juice Crew. Nevertheless, the song provoked KRS, who proudly repped for the Bronx in a hip-hop masterpiece set to a shrill, staccato beat and raps that hit home like blunt force trauma. "Party people in the place to be KRS-One attacks…" he rhymed in the first verse before going in for the kill: "So you think that hip-hop got its start out in Queensbridge?/If you popped that junk up in the Bronx you might not live."
Vacillating between Blastmaster and teacher mode, KRS worked a lengthy hip-hop history lesson into the second verse, shouting out such luminaries as Kool Herc, Afrika Bambaataa, and Grandmaster Flash—among others—and evoking memories of jams in Cedar Park and Bronx River where the amps were powered by electricity jacked from lamp posts. But before long KRS brought it back to the battle. "As odd as it looked, as wild as it seemed/I didn't hear a peep from a place called Queens."
Shan had no choice but to respond to KRS's devastating attack, releasing a song called "Kill That Noise," but he was only falling further into BDP's trap. Soon thereafter Scott and Kris returned fire with a reggae-flavored war chant called "The Bridge Is Over" that was an undisputed lyrical TKO. KRS remains a hip-hop icon to this day, but in 1986 there was simply no denying the fact that he was the best rapper alive.

HONORABLE MENTIONS: Run, Too $hort, Schoolly D
The mighty Run-DMC movement continued unabated with the Queens trio's third and best-selling album, Raising Hell, which contained "Walk This Way," a historic collaboration with the rock band Aerosmith. At the end of the day Run's raps still led the way.
After flooding the streets of Oakland with singles on the independent 75 Girls label, Too $hort inked a deal with Jive Records and released Born to Mack, which was eventually certified gold, proving that regional pimp rap could move big numbers nationwide. (Jive elected to leave its logo off the album for years. See industry Rule #4080.)
Meanwhile in Philadelphia Schoolly D revealed a whole new world with a sinister jam called "PSK What Does It Mean?" (dedicated to Philly's Park Side Killers) released on a 12″ backed with "Gucci Time." Though "gangsta rap" is usually considered a West Coast thing, Schoolly's pioneering crime narratives developed in parallel with BDP's, proving that brothers were getting paid by all means necessary all over the country. —Rob Kenner
---
1987: RAKIM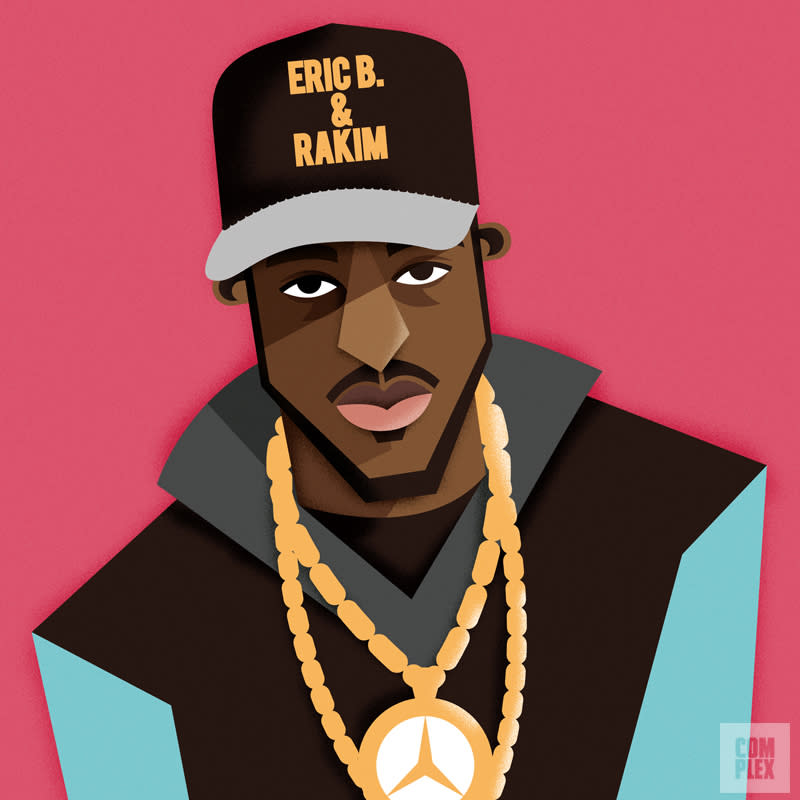 POST CONTINUES BELOW
CREDENTIALS: Paid in Full
On Kendrick Lamar's "Bitch Don't Kill My Vibe" remix featuring Jay Z, the Compton native speaks of "trying to be the God MC." Of course he knows full well that the title will always belong to Rakim Allah, who married unprecedented lyrical and rhythmic sophistication with Five Percent Nation philosophy to become a supernova within the hip-hop cosmos.
By 1986 the 18-year-old former high school quarterback had recorded "Eric B Is President," an awe-inspiring ode to his DJ that introduced the R's fully formed style: a relaxed but relentless flow coupled with never-before-seen lyrical precision and metaphysical depth. That single got him signed to Island Records, and in 1987 Eric B. & Rakim released their classic debut, Paid in Full.
More than just a rapper, Rakim proudly proclaimed himself to be a writer. Not only were his lyrics simply too complex to be freestyles, but he broke down his meticulous methodology in his songs like "My Melody": "I'm not a regular competitor, first rhyme editor/Melody arranger, poet, etcetera…." Elsewhere in the song he goes further: "I wouldn't a came and said my name and run some weak shit/Puttin' blurbs and slurs and words that don't fit/In a rhyme, why waste time on the microphone?/I take this more serious than just a poem/Rockin' party to party, backyard to yard/I tear it up y'all and bless the mic for the gods."
"We knew Rakim was the terse ninja Miles to Chuck D's booming and prolix Coltrane," wrote Greg Tate. "Or maybe that was the Buddha to Chuck's revolutionary Jesus." Rakim kept critics reaching for superlatives as he and Eric B. returned in '88 with their sophomore album, Follow the Leader, but by that time there was so much dazzling innovation going on in hip-hop that others laid claim to the title of Best Rapper Alive. Or maybe it just felt that way because Rakim's otherworldly artistry had taken him to the furthest reaches of the cosmos, where light and sound take longer to reach planet earth and mere mortals can only do their best to play catch up as they follow the leader.
Rakim's influence remains enormous. Not only was he A$AP Rocky's namesake, it's impossible to imagine Nas making Illmatic without inspiration from the God MC. Perhaps he put it best on "My Melody" when he said, "I'm No. 1, competition is none/I'm measured with the heat that's made by sun."
HONORABLE MENTIONS: KRS-One, LL Cool J, Kool Moe Dee
Just in case the title of Boogie Down Production's debut album, Criminal Minded,didn't get the point across, KRS-One and Scott LaRock posed on the front cover with enough artillery to stage a coup d'etat. The album brought a new militancy to hip-hop, as well as crack-era verite lyrics on brain-scalding songs like "9MM Goes Bang" and "P Is Free." Soon after BDP's debut album, Scott LaRock would be murdered in the Bronx while trying to mediate a street dispute, leaving KRS to soldier on and rebuild the crew.
On his sophomore album for Def Jam LL Cool J came back Bigger and Deffer. And while his B-boy snarl was impressive on "I'm Bad" and his DJ got busy on "Go Cut Creator Go," it was the groundbreaking hip-hop ballad "I Need Love" that positioned him for a new phase in his career and reaffirmed why Ladies Love Cool J.
That same year old-school veteran Kool Moe Dee proved he had staying power when he linked with producer Teddy Riley for the biggest-selling album of his career, How Ya Like Me Now, which saw the veteran MC revitalized by Riley's New Jack Swing drum patterns. On the strength of this success, he would become the first rapper to perform on TV during the Grammy Awards. —Rob Kenner
---
1988: SLICK RICK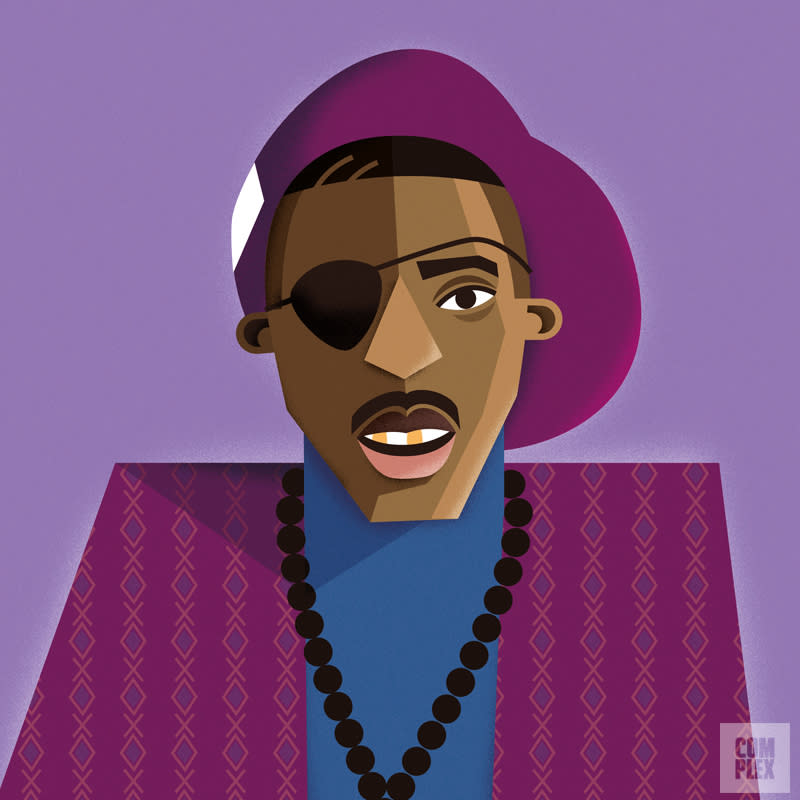 POST CONTINUES BELOW
CREDENTIALS: The Great Adventures of Slick Rick
Goddamn, 1988 was a good year for hip-hop. Too good, really. Or at least too good to distil for a list like this. So many great voices emerged, saying so many compelling, literally world-changing, genre-shifting things. But only one of them said it the slickest. And his name was Rick. Slick Rick. Or MC Ricky Dee, the Ruler if you're not into the whole brevity thing.
In 1988, the English expat—who'd achieved notoriety three years prior as a member of Doug E Fresh's Get Fresh Crew, performing raps on the classic 12″ "The Show" b/w "La Di Da Di"—released his platinum debut, The Great Adventures of Slick Rick, and vaulted himself to rap's pole position (no Magic City). Though Rick had been an obviously able lyricist on his earlier work, and stood out thanks to his English accent, the mix of intricate and often hilarious narratives with stone-cold shit talking that he unleashed on the LP was absolutely unprecedented.
His stories were rich, oscillating between cartoons with morals, like "Children's Story," and ridiculous slices of life, like "The Moment I Feared." And his swag? He had so much swag it would make you want to kill yourself. Or at least "Lick the Balls," as he invites all crab rappers to do on the song of the same name. Perhaps most groundbreaking, though, was his introduction to hip-hop of the alter ego on the NYC nightclub classic "Mona Lisa," in which he suggests that Slick Rick and MC Ricky Dee are separate people. This archetype would be explored at length by acolytes like Redman, Biggie Smalls, Eminem, and even T.I.
And so, despite the almost slapstick silliness of the LP, which, on the heels of Public Enemy dropping their pivotal It Takes a Nation of Millions to Hold Us Back (interestingly also produced by the Bomb Squad) gave it a remarkably dated feel, there is simply no denying that when TGAOSR dropped on May 2, 1988, no one on earth could outrap Slick Rick.

HONORABLE MENTIONS: Chuck D, Ice Cube, Big Daddy Kane
1988 was Public Enemy's year. There is no way around it. It Takes a Nation of Millions exploded louder than a bomb and changed the direction of rap for at least three full years after its release. But it wasn't all about Chuck D. It was about the idea. It was about the group. It was about the message. It was about the noise. And yes, Chuck brought all of the above. Chuck has one of the greatest voices in rap history. But still, despite all of the accolades you can give him during that period, he just wasn't the top lyricist.
Ice Cube also punched listeners in the face that year on N.W.A's Straight Outta Compton. He barreled over the tracks with force and passion, and proved that people outside of New York could compete. That said, what his rhymes had in chutzpah they lacked in polish or depth.
And then there was Big Daddy Kane. Emerging from Marley Marl's Juice Crew, the Brooklyn MC had a smooth confidence as he nonchalantly spit the most intricate bars he could write. His first album only teased his greatness, but his ascent was obvious. And impending. —Noah Callahan-Bever
---
1989: BIG DADDY KANE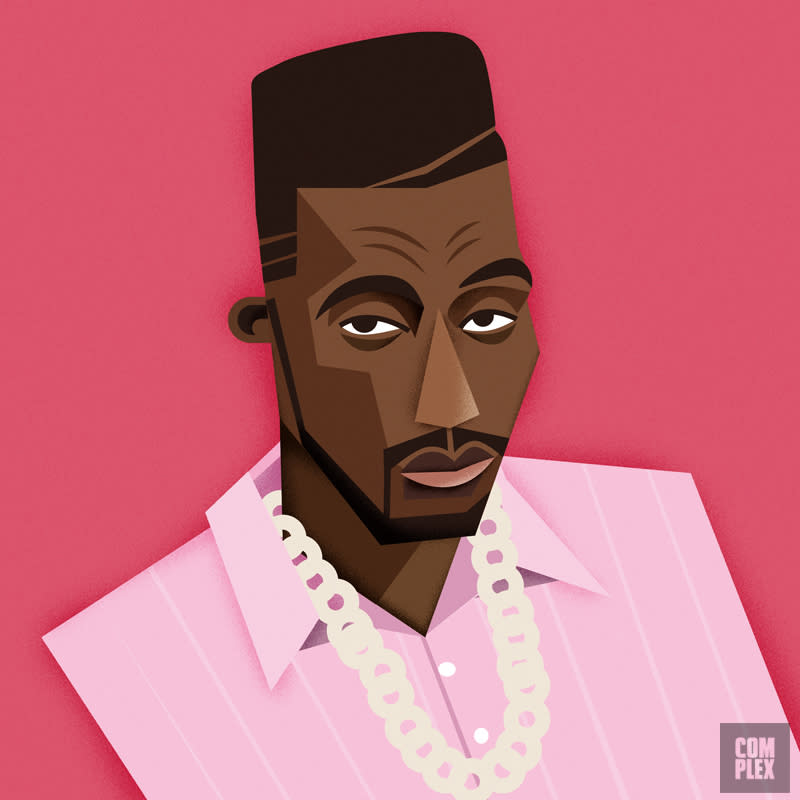 POST CONTINUES BELOW
CREDENTIALS: It's a Big Daddy Thing
Before Jay Z and Biggie Smalls, Brooklyn's Finest was Big Daddy Kane. In fact, the Bedford-Stuyvesant native, born Antonio Hardy, was more than just an influence on both of these future Best Rapper Alive title holders. Kane's DJ, Mr. Cee, recorded Biggie's first demo, which got him written up in the "Unsigned Hype" column of The Source, which in turn brought him to the attention of Puff Daddy. And during the early 1990s, Jay Z and Positive K toured with Kane, performing during his costume changes.
Unfortunately, while Biggie and Jay Z remain household names to most rap fans, BDK's prodigious lyrical skills have been somewhat obscured by the mists of time. A master of syncopated speed rap, Kane got his start in '84, writing rhymes for his friend Biz Markie and later joining Marley Marl's Juice Crew, releasing his debut single, "Raw," on Cold Chillin' Records in 1987. His 1988 album, Long Live the Kane, included the smash single "Ain't No Half Steppin',"and that same year he killed his verse on Marley's legendary posse cut "The Symphony." But it was Kane's follow-up album, It's a Big Daddy Thing, that cemented his status as a bonafide hip-hop icon. On cuts like "Smooth Operator," the tall, dapper, dark-skinned MC, sometimes known as Count Macula, made the ladies melt like Hershey's kisses in a microwave.
The album's standout cut was the faster-paced "Warm It Up Kane" on which King Asiatic Nobody's Equal lets loose a fusillade of rapid-fire repartee that left no question who was the best rapper alive at that moment: "Come get some you little bum/I take the cake and you can't get a crumb/From the poetic, authentic, superior/Ultimate and all that good shit." Yes, Kane could rap circles around anybody, making rival MCs "tumble and stumble, in a rumble just crumble." Best of all he could do all this and then add "I'm still calm and humble"—or at least relatively humble, all things considered.

HONORABLE MENTIONS: Chuck D, the D.O.C., Kool G Rap
A year after the phenomenal impact of It Takes a Nation of Millions to Hold Us Back Public Enemy kept the pressure on with "Fight the Power." The incendiary soundtrack cut proved that Chuck D had lost none of his power to get pulses pounding and transform rap music into a political force.
Texas native the D.O.C. was blessed with one of the greatest voices in hip-hop, which he first deployed with the Fila Fresh Crew, and later with N.W.A. His debut album on Ruthless Records, Nobody Does It Better, marked a high point in a career that was tragically derailed when an automobile accident damaged his voice, although his pen game remained strong and he wrote rhymes for Death Row during The Chronic era.
Another contender for the title that year was the Juice Crew's hardest hard-rock, Kool G Rap, whose album with DJ Polo, Road to the Riches, was one of the less celebrated gems of that amazing year. No matter what Jay Z says, there was nothing quite like hearing G Rap in his prime. —Rob Kenner
---
1990: ICE CUBE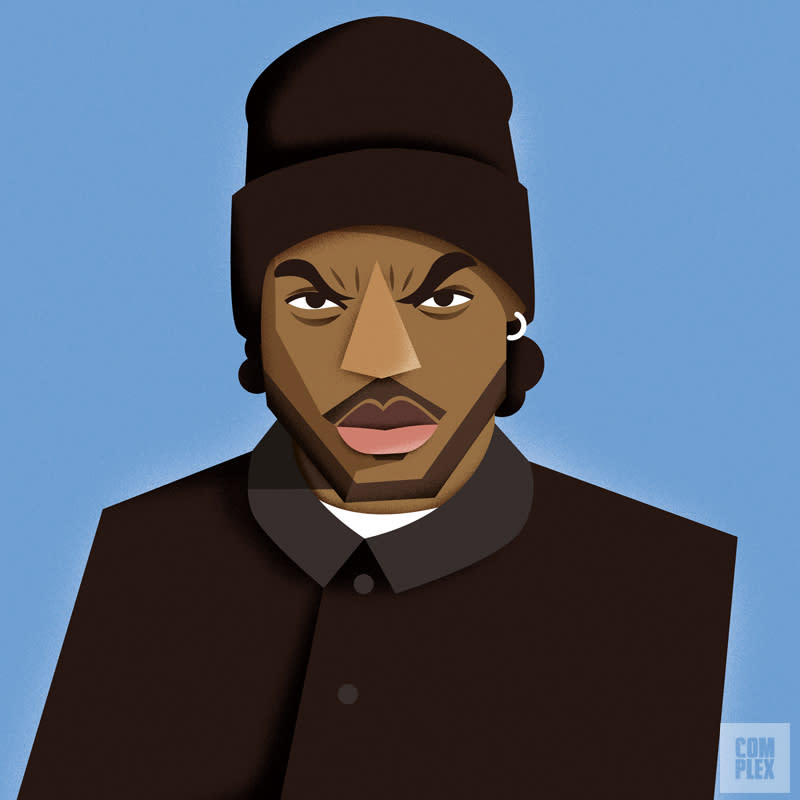 CREDENTIALS: AmeriKKKa's Most Wanted
Soon after his acrimonious split with N.W.A, O'Shea Jackson, better known as Ice Cube, knew he had to make a solo album. At first he reached out to Dr. Dre, who reportedly wanted to work with him, but Eazy-E and Ruthless Records boss Jerry Heller nixed that idea. So Cube linked with the Bomb Squad—the production team behind Public Enemy—who delivered the high-energy funk while Cube dug deep into his lyric books and created a classic.
The rhymes on AmeriKKKa's Most Wanted went beyond gangster life and dug into the underbelly of American apartheid. This was the record that predicted the L.A. riots two years before they happened. There is also a lot of talk about "selling out" and a tension between mainstream pop culture and hip-hop that now feels anachronistic but was obviously a very real concern at the time. (Though the star of family-friendly flicks like Are We There Yet? appears to have made peace with those issues now.) The album received almost no radio play and still went platinum because Cube was talking that shit the streets needed to hear.
Hip-hop was going through labor pains. A rebirth was at hand, another quantum leap that would rewrite all the rules yet again. The '90s would see G-funk becoming pop music, Bad Boys wearing shiny suits, and rock dealers rising to become America's new Rockefellers. But on May 16, 1990, rap was still underground rebel music. And at this moment in time "The Nigga Ya Love to Hate" was the most important rapper on the planet.

HONORABLE MENTIONS: LL Cool J, Chuck D, Grand Puba
After the first misstep of his young career—an ill-advised album called Walking With a Panther—LL Cool J linked with Marley Marl and started rhyming like he had a chip on his shoulder. "Don't call it a comeback!" he roared on "Mama Said Knock You Out," and on "The Booming System"Cool J erased all doubts that he was still hard as hell.
Meanwhile Fear of a Black Planet saw Chuck D urging his audience to "Fight the Power" and even encouraging them with songs like "Brothers Gonna Work It Out." It was PE's last masterpiece, a glory to behold.
At the same time Brand Nubian brought Five Percent Nation mathematics back to the forefront of hip-hop, and none did it more effectively than the effervescently slick-tongued Grand Puba, who had also been the standout of his last group, Masters of Ceremony. After the triumphant album All for One, he parted company with Lord Jamar and Sadat X, but when they were together they were louder than a bomb. —Rob Kenner
---
1991: Q-TIP
CREDENTIALS: The Low End Theory, "Groove Is in the Heart," "Don't Curse," "A Roller Skating Jam Named 'Saturdays,'" "Come on Down"
It had been clear from his first verses on the Jungle Brothers debut in 1988 that Q-Tip had a remarkable, unique voice, and important things to say. But two years later, on A Tribe Called Quest's admittedly awesome debut, People's Instinctive Travels and the Paths of Rhythm, the outfit's offbeat attire and quirky ("I Left My Wallet in El Segundo") to occasionally goofy ("Ham and Eggs") subject matter obscured the acknowledgement of Tip's lyrical prowess.
That all changed in 1991, though. Stripped of the costumes, ATCQ's sober (in sound, if not in creation) sophomore effort, The Low End Theory, thrust Q-Tip to the epicenter of hip-hop. He slowed down the BPMs and introduced the jazz, funk, and soul loops that would define East Coast hip-hop until the Puffy era. He complemented these more delicate grooves with clean, loud, and exquisitely differentiated engineering courtesy of Bob Power that turned even Dr. Dre's head, who admitted years later that he competitively studied the sonics of TLET while crafting The Chronic. A-B test TLET against De La Soul Is Dead, or any other contemporary release, at the same volume to hear the difference.
But far and away, the most impressive part of The Low End Theory was Q-Tip's rapping. Where he had swung in the pocket, moving with the music on the first album, Tip now made strong declarative statements ("Back in the days when I was a teenager / Before I had status and before I had a pager…") to create competing, complementary rhythms. And he did it while conjuring thoughtful word pictures ("You could find the Abstract listening to hip-hop / My pops used to say, it reminded him of be-bop / I said, 'well daddy don't you know that things go in cycles / The way that Bobby Brown is just ampin like Michael'"), using subtle, poetic strokes, that articulated his life and point of view as a 21-year-old emerging star.
The ground he broke lyrically—with timeless phrases like "Industry Rule #4080″—and rhythmically—with the introduction of the mislabeled "the Big Sean 'Supa Dupa' flow ("Minds get flooded, ejaculation")—has inspired everyone from Nas to Kanye West to Drake. Neither a tough guy nor a sucker, Q-Tip's confident delivery, genuine sentiment, and undeniable musicianship could not be denied by intellectuals or gangstas, leading to countless guest appearances and beat placements. And this appeal was not lost on him, either, as he broke it down quite simply on "Verses From The Abstract:" "Women dig the voice, brothers dig the lyrics / Quest the people's choice, we driving for the spirit." Universal adulation in hip-hop is practically an oxymoron, but in 1991 Q-Tip enjoyed an embrace that almost no other rapper has, before or since.

HONORABLE MENTIONS: Scarface, Treach, Dres
The Geto Boys had been Southern flag bearers for years, but in 1991 Scarface thrust himself to the front of the conversation, releasing both the GB's classic We Can't Be Stopped and his solo debut, Mr. Scarface. Songs like WCBS's defining masterpiece "Mind Playing Tricks on Me" and Mr. Scarface's title track made it abundantly clear that 'Face had more than just tough talk and gangsta tales to offer: He had concepts and stories. But yeah, he'd punch you in the fucking mouth, too.
Meanwhile, in New Jersey, Treach set trends with Naughty by Nature's debut. The braided MC flipped syllables at rapid-fire pace and put pop polish on the jibberish Jaz-O and Jay Z had been spitting. A style icon, Treach also set aesthetic trends, and weaned hip-hop off of Kane's snappy suits to more utilitarian work wear and jerseys.
And though his acclaim would be short-lived, Astoria, Queens, rapper Dres demonstrated able lyricism and a hilarious sense of humor on Black Sheep's October '91 debut, A Wolf in Sheep's Clothing. Coming from an everyman perspective, not unlike his fellow Native Tongue-er Q-Tip, Dres made up for his lack of hardcore credentials with nimble rapping and gut-busting jokes about his (apparently) legendary swordsman status. —Noah Callahan-Bever
---
1992: REDMAN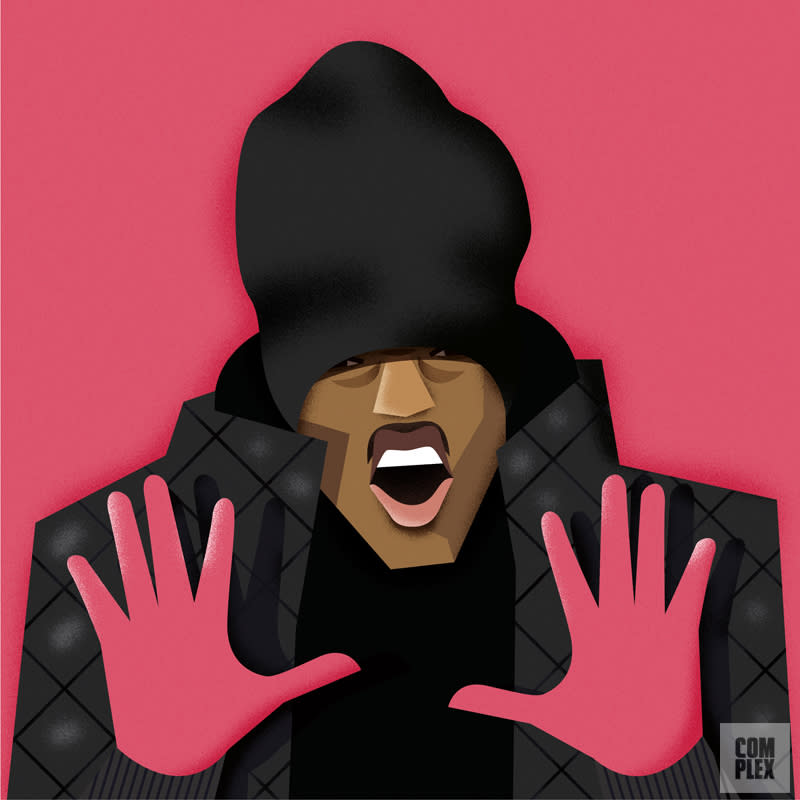 CREDENTIALS: Whut? Thee Album, "Headbanger"
Ready to rock rough rhymes, renegade rapper Redman ripped when it was rhyme time. And it was with addictive alliteration like that, on EPMD's foreboding 1990 classic "Hardcore," that the always frowny-faced Newark MC spectacularly announced his arrival on the scene. However, even before his first recorded appearance, reigning kings like Biz Markie took the young MC around to parties to show off his gift of gab, immortalized in this Queens nightclub recording.
Two years later, the then 22-year-old Reggie Noble released his debut LP, Whut? Thee Album, and made it clear there was much more to Redman than repetitive wordplay, punchlines, and skull hats. The album, with its loose narrative structure, aggressive funk tracks, vicious battle raps, and hilarious stories, gave listeners a uniquely rugged ride through the Bricks.
As a lyricist Red built on the lineage of Slick Rick's narrative styles and the split personality concept introduced on "Mona Lisa," combined with the multi-syllabic word flipping of Kool G Rap. But he also added a monstrous grit, courtesy of dirty Jerz, that was entirely new. He was precise, and even delicate at times, as he bluntedly, and bluntly, stomped a mudhole in that ass. In many ways Red was a pivotal MC, bridging the gap between the rhyming innovation of '87 and '88, and rap's emerging hardcore, gangsta aesthetic. He demonstrated that elite lyricists could be complicated and complex, and ruff, rugged, and raw, too.
Echoes of his style can be clearly heard in the work of everyone from Wu-Tang a year later, to Eminem at the turn of the century, to Danny Brown today. Red remains a remarkable talent, but in the year of the Phillie blunt, hip-hop turned on his dime. And everyone pressed rewind, but not because he hadn't blown their mind.

HONORABLE MENTIONS: Treach, Snoop Doggy Dogg, Q-Tip
A fair argument could be made for Treach as the dominant MC of 1992. Naughty by Nature was at the top of the charts, and everything from the East Orange MC's iggity-biggity, Big Daddy Kane-inspired tongue flipping to his bike lock accessories and hockey jerseys were being bitten East to West. But the aforementioned fads faded fast and with it Treach's claim.
Meanwhile, off the April release of "Deep Cover" and the December release of The Chronic, Long Beach newcomer Snoop Doggy Dogg was making it clear that the West had something to say. And that they were going to say it with cooler-than-a-cucumber style. But Snoop was not quite ready to assume the mantle. He barely made eye contact during interviews, despite rap fans' unquenchable thirst for his flow.
Q-Tip had come into his own in the final months of 1991, with the release ofThe Low End Theory. Thanks to his excellent rapping and in-demand production he had vaulted himself quietly into the center of hip-hop, appearing in '92 on posse cuts and producing for everyone from Apache to the Fu-Shnickens. With A Tribe Called Quest he also dropped the much sweated "Scenario" remix and "Hot Sex" on the Boomerang soundtrack. —Noah Callahan-Bever
---
1993: SNOOP DOGGY DOGG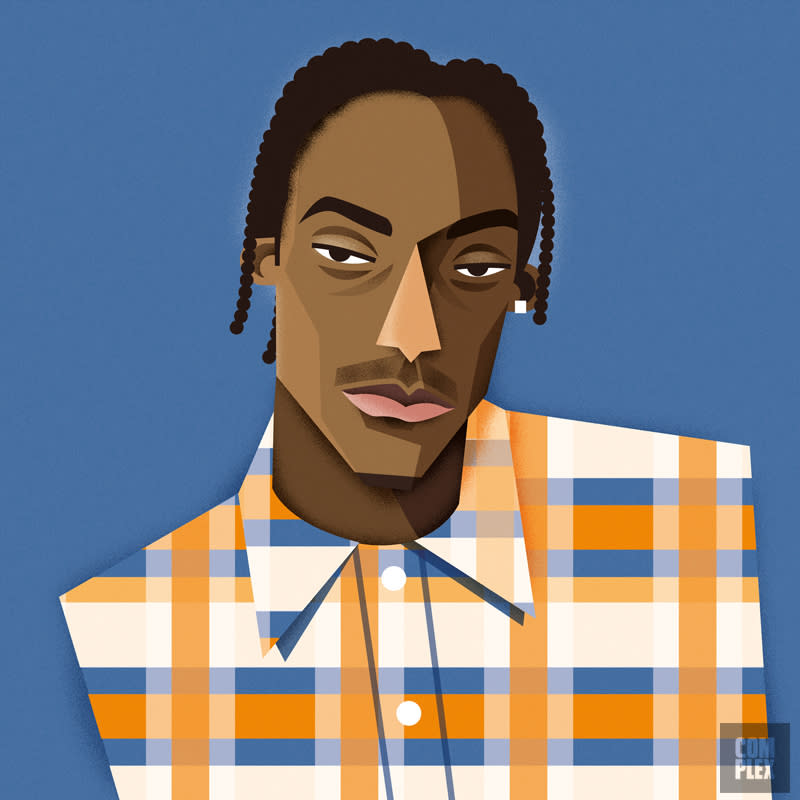 CREDENTIALS: The Chronic, Doggystyle
Kool Moe Dee revolutionized the art of MCing from skibbity-bee-bop party rhymes to the battle raps upon which Run's House was built. And there, in the future reverend's place of worship, a generation of rappers prayed at the altar of wordplay. That is until Snoop Doggy Dogg came through and crushed the building.
Quite out of the blue, at a time when East Coast rappers were committing alphabetic slaughter via infinite iggity-biggities and manic multi-syllable matching, an unassuming 21-year-old Long Beach native turned the paradigm on its head, putting rhythm and melody over content and complexity. Snoop cruised over beats with soft intonation and self-assured ease.
His simple, almost old school-esque rhymes were instantly memorable ("One, two, three and to the four, Snoop Doggy Dogg and Dr. Dre is at the door…"), and his ability to fluidly navigate negative space provided a much appreciated relief from the frenzied spitting that was in vogue on the East Coast. Fans could not get enough of it.
Riding his numerous appearances on Dr. Dre's The Chronic—which had been released in December 1992—through damn near three quarters of the following year, as single after single topped the charts, the appetite for Snoop's flow was unending. The thirst was real. The release of his much anticipated debut, Doggystyle, broke new artist first week sales records—to the tune of 800K—that would not be matched for a decade (until a future Dr. Dre protege, 50 Cent, would outdo him).
Musically even more polished, and more pop than The Chronic, Doggystyle was a cultural watershed. But Snoop's lyrics remained uncompromising, and the album propelled gangsta rap further into the mainstream consciousness than it ever had been. Songs like "Gin & Juice" and "What's My Name" juxtaposed supple melodies with meandering G talk, while records like "Pump Pump" and "For My Niggaz & Bitches" barreled through listeners' ears, with Snoop, even uptempo, still in nonchalant repose. The total package was easy listening, until you wrapped your mind around what exactly the gang-banging Crip was saying.
That blueprint would influence both carbon copy artists like Da Brat and Domino and even subtly affect the music of the Notorious B.I.G. and Jay Z (the future East Coast titans, who had rapped like Mr. Funkee of LOTUG and the Fu-Schnickens, respectively, noticeably decompressed their flows, letting words and lines breathe, in the wake of Doggystyle), among other East Coast artists. But in 1993, as his album cover crudely (but awesomely) illustrated, no one could catch the Dogg.

HONORABLE MENTIONS: Method Man, Treach, Q-Tip
Riding the lesson of Snoop's ascent that how you say things can trump what you're saying, Method Man, Wu-Tang's first breakout star, employed melody to an equally addictive result. While every member of the Clan impressed on "Protect Ya Neck," it was Meth's hummable flows on the track's b-side, "Method Man," that propelled the ensemble onto the radio and off the shelves. However, like Snoop on The Chronic, Meth had to share the spotlight on 36 Chambers, piquing interest but holding him back from the throne.
In the first half of 1993, Treach and Naughty would position themselves as the uniters of hip-hop with the gimmicky anthem "Hip Hop Hooray" (which admittedly had awesomely all-star cameos in the video), but in the Death Row era Treach's vision of gangsta became quickly dated.
Q-Tip continued to be a major musical force in '93, remaining relevant even as tastes changed with ATCQ's perfect movement, Midnight Marauders. That said, as the scene put increasing value on tough talk and gangster posturing, Tip's brand of everyman rap slid slowly to the fringe. —Noah Callahan-Bever
---
1994: NAS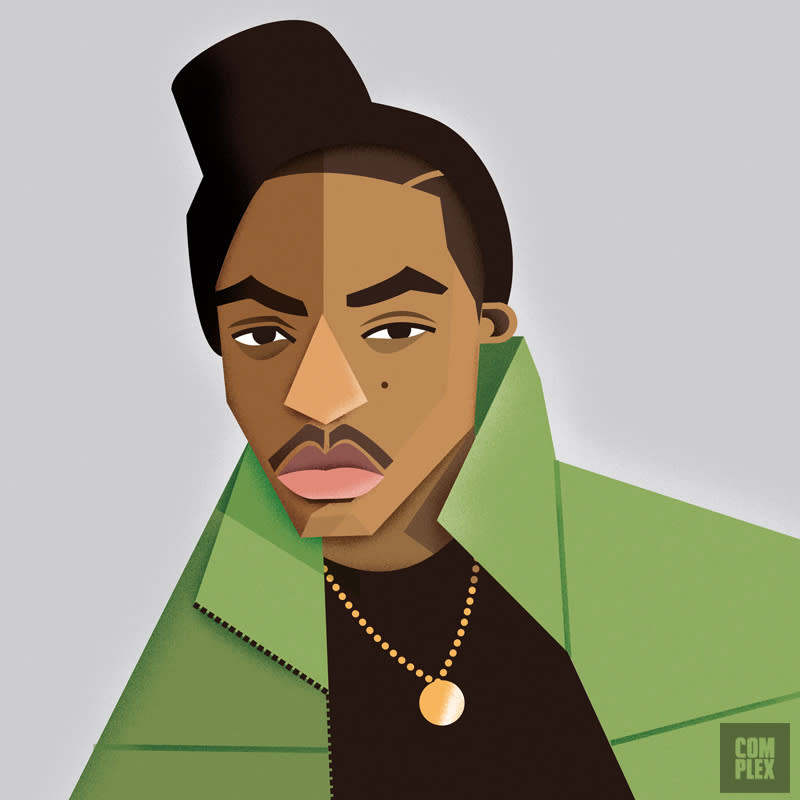 CREDENTIALS: Illmatic
Nas, Nas, Nas was not the king of disco, despite what the "It Ain't Hard to Tell" remix would have you believe. But he was a king, the king of rap. In 1994, at the age of 19, Nasty Nasir Jones would ascend the throne with the April release of Illmatic, his debut LP. A raw talent, one of the first to make a name on guest appearances, Nas' shocking, borderline horrorcore (before horrorcore existed) raps of the early '90s created an enormous buzz for the Queensbridge MC.
But those wicked raps only scratched the surface of what was to come. Dense yet melodic, wrought yet nonchalant, the rhymes on Illmatic represented the confluence of the last seven years of rap innovation. He was a child of '88. From Rakim's aloof thoughtfulness to Kane's multi-syllabic juggling to Kool G Rap's corner-drug-dealing realism to the educated militancy of Chuck D, even the gripping narrative skills of Slick Rick—Nas had it all. And he had it all quietly. Nothing about Illmatic was labored.
Brief but effective, the LP showcased this range efficiently, with nary a heavy-handed or telegraphed moment. Songs like "N.Y. State of Mind" and "Life's a Bitch" demonstrated his ability to string the almost rambling moments of his internal monologue into ornate tapestries of reflection. On other tracks, like "Memory Lane" and "One Love," he explored more linear storytelling but with a degree of nuance and subtext that had not been achieved in hip-hop previously. And he married both on songs like "One Time 4 Your Mind" and "Represent,"slipping effortlessly from first-person narrative to meandering thoughts.
Having said all of that, though, one cannot discount the importance of The Source on Nas' ascendancy. A handful of other albums had earned the distinction of 5 Mics previously, but at a time when the magazine was still growing. Illmatic's anointment as a "classic" came as the mag reached maturity as an editorial product and ubiquity as a publication.
As a result, like when Lil Wayne declared himself better than Jay Z, that perfect rating (especially in the face of, say, The Chronic receiving only 4.5 Mics) sparked a national debate around Nas' excellence. But as time passed, and the album's layers were pulled apart, absorbed, and appreciated, the young king's legitimacy was cemented. Accolades aside, in 1994, if you wielded a mic, Nas was indeed the musician, inflicting composition.

HONORABLE MENTIONS: The Notorious B.I.G., Scarface, Redman
It would be a lie to say that by the end of 1994, Biggie's meteoric success didn't take a lot of the wind out of Nas' sails. And sales. But Big's burn was a slow one that didn't reach a fever pitch until Q4. He rode into '94 on a string of guest spots with the likes of Mary J. Blige and Supercat, but things changed during that summer.
With Nas conspicuously quiet on the radio, Big filled the void with jam after jam ("Flava in Ya Ear" remix followed by "Unbelievable" followed by "Juicy" followed by "Da B Side" with Da Brat). Still, when Ready to Die dropped, despite its unimpeachable quality and ability to connect far beyond Illmatic's Tri-state acclaim, it did not catapult Big, lyrically, to the front of the pack. But it did position him to jockey for the top spot the following year.
1994 was a huge year for Scarface because The Diary proved not only his staying power, but also his ability to transition from the uptempo East Coast-ish production of the early '90s to the slow, whiny G-Funk era. And that he could do it gracefully, telling the same kinds of dark stories (see: "Hand on the Dead Body," "Jesse James") as in the Geto Boys' glory days.
Also slowing things down, and daring to tread on the dark side, was Redman, who stomped ruggedly through 1994 making it abundantly clear that his blunted funk still made sense in a post-Chronic, post-36 Chambers world. —Noah Callahan-Bever
---
1995: THE NOTORIOUS B.I.G.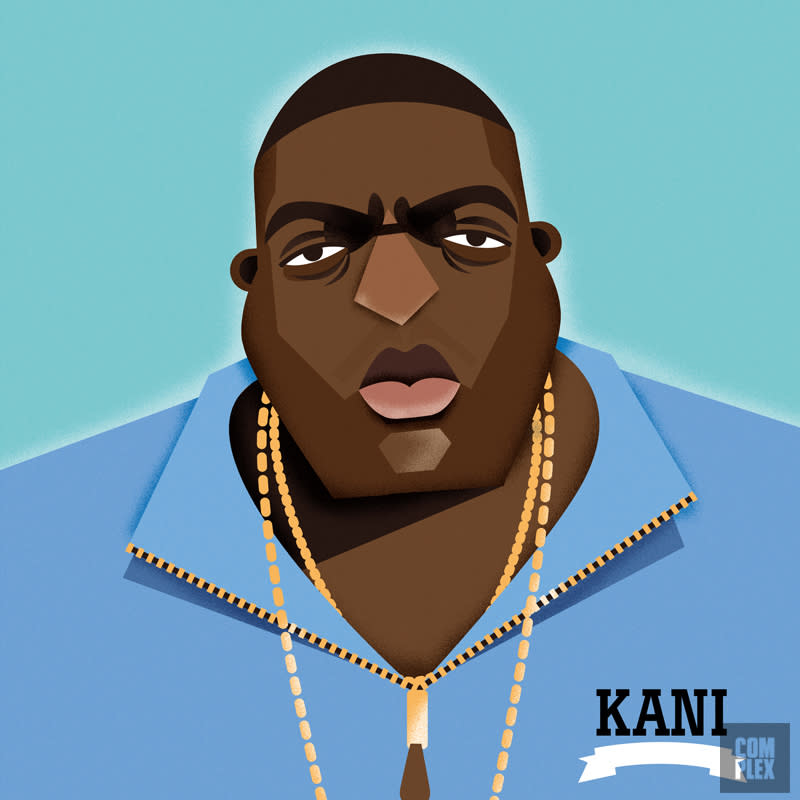 POST CONTINUES BELOW
CREDENTIALS: 1994's Ready to Die, DJ Clue? Presents Bad Boy Vol. 1, Junior Mafia's Conspiracy, "One More Chance (Remix)" and "Who Shot Ya?," and Total's "Can't You See"
When KRS-One dropped his '95 fan favorite, "Rappers R N Dainja," neither he, nor the rappers mentioned, nor the even fans knew exactly how right he was. Rappers were in danger. But not from Kris' bars—the times, they were a changin'. And they were changing because of the Notorious B.I.G. (and Puff Daddy). Big had received universal adulation for his debut, which dropped in the fall of '94, and as the year began he rode in high off the stream of hits that the LP would yield. But, for all its refinement, Ready to Die was still was very much a product of hip-hop's silver age. It was in the following year, 1995, that Biggie remixed and refined his sound. He took the humor and lyrical precision of East Coast rapping, but, no doubt inspired by Snoop and Dre on the West, he let his raps breathe. As a result his lyrical threats hung in the air longer, his jokes hit harder, and generally his turns of phrase became even that much more memorable (and recitable). Add to that the thematic element of aspiration, and Big had drafted the blueprint for hip-hop's burgeoning Platinum Era.
The one-two knockout of the silky smooth Debarge sampled "One More Chance" / "Stay With Me (Remix)" backed with the menacing b-side, "Who Shot Ya?" a record that separated the boys from men (and the weak from the obsolete), raised the bar. On the latter, which was a redux of both rhymes and beat from a freestyle with Keith Murray on DJ Clue's Bad Boy Vol. 1 mixtape (Keith's portion would actually appear excerpted as an interlude on Mary J. Blige's My World), Big coldly dissected his opponents, "Fuck all that bickering beef, I can hear sweat trickling down your cheek/Your heartbeat sound like Sasquatch feet—thundering, shaking the concrete."
Elevating the record's vicious raps, 2Pac would claim Big's detached subliminals were aimed at him, and evidence of Biggie's collusion in 'Pac's shooting at Quad Studios. One cannot understate the importance of this feud in both rappers' success (and ultimate undoing). But Big's true subliminal shot that year was not at 'Pac but at Death Row's dominance, and it was packaged as a nod.
On the same Clue tape, Biggie used a patchwork of classic Dr. Dre beats to tell one his most incredible, winding narratives on "Real Niggaz Do Real Thingz." As Napoleon had taken the crown from the hands of Pope Pius VII, coronating himself, with that one freestyle Big demonstrated the ability to best his competitors lyrically and stylistically on their own tracks, and in doing so subtly announced his ascension. The Source concurred, crowning him "King of New York" in their July issue. He shored his position over the summer with standout verses on R&B hits by Total and 112 as well as a starring role on Junior Mafia's two classic singles, "Player's Anthem" and "Get Money."
But nothing hammered home Biggie's place at the top of rap like his live performance video of "Me And My Bitch" from The Show soundtrack, replete in a pin-striped suit and bowler. By the end of 1995 the distance between him and every other rapper was dramatic and evident, as contenders like 2Pac and Nas reinvented themselves as ridahs and dons in reaction. But there is only one Frank White, and in 1995, the world was his, unchallenged.

HONORABLE MENTIONS: Raekwon, Prodigy, 2Pac
Although, during 1995, Big certainly embodied hip-hop's future, the supremacy of Raekwon and Prodigy's rapping during that year cannot be overlooked. East Coast thuggery had been refined, polished, and perfected, and Only Built 4 Cuban Linx… and Mobb Deep's The Infamous represented the genre's creative climax. No reaches for radio play, the two albums were unflinching, dark, and cinematic.
And the LPs' two lead rappers, both of whom had been considered marginal MCs since their respective debuts in 1993, emerged that year as top tier talent with truly unique voices. Members of Kool G Rap's lyrical bloodline, both took his gritty style and subject matter, abstracting it, moving off the beat, and even occasionally out of rhyme, to tell their stories in obtuse, noir fragments. Unfortunately their figurative flows may have also limited their audience.
Meanwhile, 2Pac released what many consider his best album, Me Against the World, featuring production from Easy Moe Bee. But 'Pac would spend most of the year in jail on a rape charge, so despite his obvious artistic growth, he was largely sidelined from any conversation about being the best. That said, his October '95 signing to Death Row would put things in motion for him to come guns blazing the following year. —Noah Callahan-Bever
---
1996: 2PAC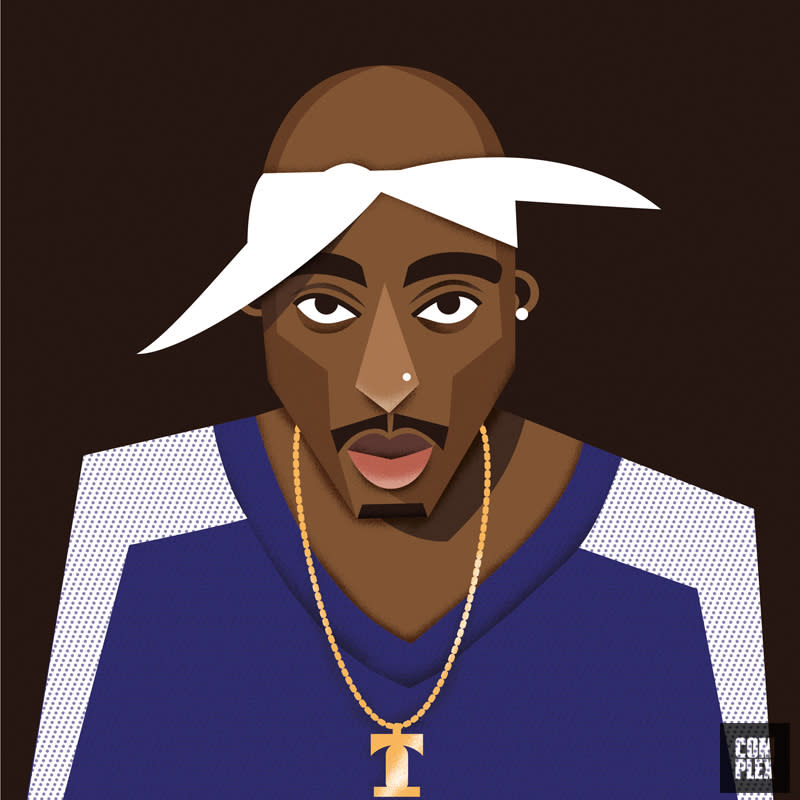 POST CONTINUES BELOW
CREDENTIALS: All Eyez on Me, The Don Killuminati: The 7 Day Theory, drops epic diss track "Hit 'Em Up"
2Pac's tireless work ethic and prolific output made him a legend, and 1996 saw both of those habits at their highest efficiency. For most of the previous year, he was incarcerated, after being found guilty on three counts of molestation. 2Pac was released from Clinton Correctional Facility in October 1995, Suge Knight successfully recruited him to Knight's infamous, powerful record label, Death Row, and the rapper launched into the next year with unprecedented resilience.
2Pac's historical tear through 1996 began with the release of All Eyez on Me in February. By then, he had become a mainstream fixture—an icon larger than rap—and it was evident in the album's reception. It debuted at No. 1 on the pop charts and moved 566,000 units in its opening week, achieving 5X platinum certification by April. But 2Pac's appeal that year goes much deeper than sales statistics.
Commercial and creative peaks don't always correspond, but they did for 2Pac. When his Top 40 presence reached its pinnacle, so did his rapping. Consider the urgent tenacity that embellishes All Eyez on Me's opening lines: "So many battlefield scars while driven in plush cars/This life as a rap star is nothing without heart." For the first time, 2Pac brought all of the lyrical dexterity of his East Coast peers, without sacrificing the emotional delivery for which he'd become known. He was a master of what he said and how he said it.
The masses recognized this, and that summer, the singles "How Do U Want It" and "California Love" reached No. 1 on the Billboard Hot 100. They were the first rap songs not bathed in pop-slanting crossover tactics to hold claim to such a feat, and proved that, for this very specific moment in time, Tupac Shakur was absolutely unstoppable, in every field. You could finally say that 2Pac's potential was fully realized. His voice resonated with the public as much as it did with those on the block, a fact of which he was fully aware: "My lyrics motivate the planet/It's similar to Rhythm Nation, but thugged out, forgive me Janet."
This run appeared as if it might end when 2Pac was shot on Sept. 7, 1996, but he continued to rule the year, even from the grave. Don Killuminati: The 7 Day Theory, released two months after his death, was more successful upon its release than any of 2Pac's preceding albums, selling 664,000 in its first week. He wasn't floating on meticulous instrumentals with Redman and Method Man on this album, either.
2Pac's work as Makaveli was more about bombast and calculated rhetoric. That approach gave way to some of the sharpest rhymes of his career. "Bomb First (My Second Reply)" and "Hail Mary" played like battle cries. Rhymes like, "I take this war shit deeply/Done seen to many real playas fall to let you bitch niggas beat me," channeled his anger into commodity, with an artful consistency.
1996 is a case study for every aspect of why 2Pac is so celebrated. He was a viable, competent artist in multiple arenas, and he had the discipline to incorporate his varied and conflicted missions into a single mantra. That savvy paid off in this year more than any other. It's a shame that 2Pac's ride had to end early, and on someone else's terms, but the dedication to his craft that was on such full display in 1996 is why he'll live forever.

HONORABLE MENTIONS: The Notorious B.I.G., Nas, Jay Z
After what was, at that point, the best year of his career, Biggie remained a formidable competitor in 1996. He didn't have much to offer in the way of new solo material, but his flawless streak of guest appearances was awe-inspiring. His verses on works like 112's "Only You" remix and Lil' Kim's Hard Core kept him in the conversation.
New to that conversation was then-rookie Jay Z, whom Biggie had also given a feature for his fellow Brooklyn MC's classic debut, Reasonable Doubt. It took some time for appreciation of the album to set in, but looking back, it's clearly a remarkable project. The same can be said for Jay Z's eventual foe, Nas, who released his sophomore album, It Was Written, the same year.
While the album was more commercially successful than Illmatic, it was met with a tepid response from hip-hop fans looking for a rehash of Nasir's debut. But it was only a total disappointment to the hypercritical. Jay Z rapped, "Who's the best MC—Biggie, Jay Z, or Nas?" the following year for a reason. —Ernest Baker
---
1997: THE NOTORIOUS B.I.G.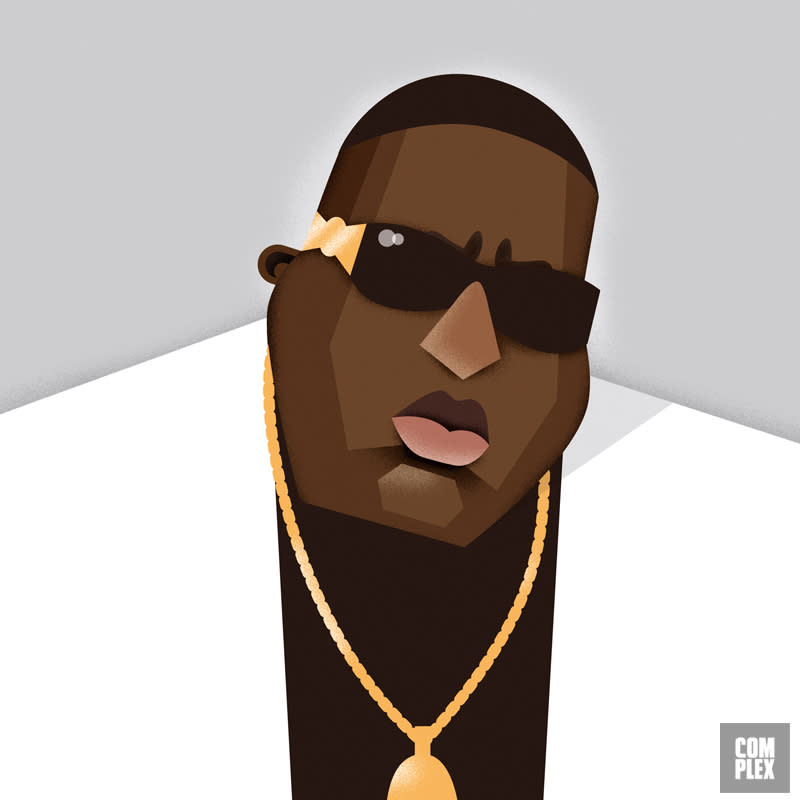 POST CONTINUES BELOW
CREDENTIALS: Life After Death, back to back No. 1 hits with "Hypnotize" and "Mo Money Mo Problems," guest spots on "Been Around the World," "It's All About the Benjamins," and "Victory"
Christopher Wallace was only alive for 67 days in 1997, but with a talent so immense, that's all it took for him to be the most dominant rapper of the year. In the months after Biggie's March 9 death, it's almost as if his stock rose. The untimely loss of someone so young, with so much heft in the language of hip-hop, was like a call to reflection. Infatuation with his wit, wordplay, and delivery soared, and 1997, in spite of tragedy, was Biggie's biggest year.
Life After Death was released just over two weeks after Biggie passed and peaked at No. 1 on the Billboard 200. The album was an ambitious two-disc set with a tracklist comprised of every type of song imaginable. While the diverse styles and subject matter—his daughter's college plan, kinky sex, hotel heists, a fully-sung ballad—were an organic product of Biggie's incomparable range, the strategy of Life After Death's sequencing has become the de facto approach for rap albums in the years since. It's an incredibly influential project, before you even press play.
When Life After Death does start spinning, the true brilliance of Biggie's persona and way with words comes into frame. The man was an expert at rapping, and he could wow from any angle. "Somebody's Gotta Die" was a storytelling track with the complexities of an Alfred Hitchcock movie. "Notorious Thugs" had Biggie rhyming in a then-shocking double-time flow and besting Bone Thugs-n-Harmony at their own game. "Ten Crack Commandments" saw him detailing the rules of drug dealing in a manner so languid that you forget it's a song and not a conversation. Mentioning three tracks doesn't feel sufficient; literally every single record on Life After Death brings a different skill set of Biggie's to the forefront.
It's that aptitude and reach that keeps the Notorious B.I.G. in Greatest of All Time conversations, even with his limited amount of material. He dropped intricately arranged rhymes like, "Got the new Hummer in the summer when/I was a new comer then/Drugs and Mac-10s/Hugs from fake friends/Make ends, they hate you/Be broke, girls won't date you," with an alarming composure. All of Biggie's lyrics were presented in an unorthodox pattern that nonchalantly challenged the conventions of rap delivery with every line.
Though Biggie's songwriting and performance on those songs was at its most admirable in 1997, his untimely death sparked a wave of massive posthumous wins for the rest of the year, with singles "Hypnotize" and "Mo Money Mo Problems" both reaching No. 1 on the Hot 100.
The success of his mentor Puff Daddy's solo venture, No Way Out, also kept Biggie in the spotlight, thanks to his star turns on "Victory" and the "It's All About the Benjamins" remix. The way he takes the reins on both of those tracks, molding the instrumental to accommodate his prowess, commands a level of respect that's difficult to dole out to less-deserving MCs in his wake.
Biggie was the most unavoidable voice in hip-hop that year, and for good reason. Every verse of his came equipped with a unique sense of charm, and proficiency, that couldn't be found anywhere else. Biggie was the most entertaining rapper to listen to in 1997, from an everyman standpoint—think about how fun it is to spell out B-I-G-P-O-P-P-A at the beginning of his verse on "Mo Money Mo Problems"—and he was also the best, from a purist's perch. That's a rare circumstance, but Biggie was never ordinary.

HONORABLE MENTIONS: Busta Rhymes, Jay Z, Twista
While there's no question that, even in death, Biggie owned 1997, his passing did open the door for other hip-hop acts to emerge. Busta Rhymes had been patiently waiting to make it since his "Scenario" verse five years prior, and the success of "Woo Hah!! Got You All in Check" in 1996 set him up nicely for the career explosion that occurred in 1997. Busta's style remained avant garde, but his increased sense of speed and control—peep how he holds the same rhyme through every verse on "Put Your Hands Where My Eyes Could See"—earned him points on the technical end. Twista was another MC with a knack for lightning fast flows, and the fact the Adrenaline Rush rapper hailed from a city other than NYC made his leap to national consciousness even more notable.
Jay Z's Das EFX-like doubletime days were behind him by 1997, but with his friend and collaborator Biggie gone, Hov's talents became more noticeable. Not many people would take 1997's In My Lifetime, Vol. 1 over the previous year's Reasonable Doubt, but most will acknowledge that tracks like "Where I'm From" and "A Million and One Questions" are home to some of the best rhymes of Jay's career. For Hov, it was the beginning of an unprecedented reign. —Ernest Baker
---
1998: DMX
CREDENTIALS: It's Dark and Hell Is Hot, Flesh of My Flesh, Blood of My Blood, guest spots on "Money, Cash, Hoes" and "Money, Power, Respect"
As history tells it, Kurt Cobain and Nirvana saved rock from the death grips of hair metal in the early '90s. After the glitz and glamour of hip-hop's shiny suit Jiggy era, the emergence of Yonkers badass DMX was celebrated in the same way.
His debut single, "Get at Me Dog," had no overwrought '​80s pop sample, and its accompanying visual was a gritty black-and-white account of a night at legendary hip-hop nightclub the Tunnel, rather than an ostentatious display of wealth. The rap community welcomed this long-missed hardcore approach to the music with open arms, but DMX was more than a contrarian alternative to the popular hip-hop of time. He was, in his own right, an excellent rapper.
In subverting the mainstream, DMX became the mainstream. It's Dark and Hell Is Hot debuted at No. 1 on the Billboard 200 and achieved multi-platinum sales. Timing plays a role in this success, but really, so much credit is owed to the fact that DMX was rapping with a truly original, at times jarring, audaciousness. His style was rooted in the wizardry of East Coast lyricism, but tracks like "Ruff Ryders' Anthem" branched beyond that foundation, also incorporating a no-nonsense precision that had been relegated to acts from other regions—Juvenile, Trick Daddy—who were gaining attention at the time.
DMX made history in December 1998 when he released his sophomore album, Flesh of My Flesh, Blood of My Blood, and it too debuted at No. 1, making DMX one of the few artists in any genre to drop two chart-dropping LPs in one year. "Slippin" was the album's only single, and though it didn't perform well commercially, the album still went triple platinum.
By then, DMX's triumphs weren't a surprise. He was a movie star (Hype Williams' feature-length debut, Belly, released in 1998), but his way of rhyming made everyone feel like a close friend. His energy, honesty, and vulnerability—"Didn't keep a haircut or give a fuck how I dressed"—looped America into his narrative, and X has been impossible to ignore ever since. Jay Z won the Best Rap Album Grammy the following year and boycotted the ceremony because DMX wasn't nominated. What does that tell you?

HONORABLE MENTIONS: Jay Z, Big Pun, Lauryn Hill
DMX's record-setting run places him at the front of the pack, but 1998 saw several other hip-hop artists soar to equally dizzying heights as well. It was the year that Jay Z became a pop star, selling five million copies of Vol. 2… Hard Knock Life on the back of his massive Annie-sampling title track single. It was the year that Lauryn Hill stepped out as a solo force, selling eight million copies of The Miseducation of Lauryn Hill, the album that earned her a historical five Grammys in early 1999. It was the year that Big Pun finally saw the potential of his buzz fulfilled and dropped his critically acclaimed platinum debut, Capital Punishment. The accolades and mind-numbing sales figures of each artist were well-deserved, with Jay, Lauryn, and Pun all serving as model examples of the benefits an artist can reap as a result of settling in an uncompromising creative zone. —Ernest Baker
---
1999: JAY Z
CREDENTIALS: 1998's Vol. 2… Hard Knock Life, Vol. 3…Life and Times of S. Carter, guest spots on "Heartbreaker" and "Lobster & Scrimp"
After the banner year that was 1998, Jay Z entered 1999 with his confidence at an all-time high. One lyric sums up his thoughts on the competition: "You got a little flow, that's cool with me…but none of y'all motherfuckers can fool with me."
Hov spent the majority of the year riding off the success of Vol. 2… Hard Knock Life, releasing singles "Money Cash Hoes" and "Nigga What, Nigga Who" from that album. For anyone who (somehow) missed out on Jay's efforts the previous year, both tracks served as excellent confirmation of Jay's rapid ascent. "Money Cash Hoes" had him effortlessly bending syllables over one of Swizz Beatz's most unorthodox beats. "Nigga What, Nigga Who" saw Hov flowing faster than usual, without ever missing a step or compromising his depth.
That summer, he contributed "Jigga My Nigga" to Ruff Ryders compilation Ryde or Die Vol. 1. The best way to describe it in a word? Insane. The same goes for his guest verse on Mariah Carey's No. 1 hit, "Heartbreaker." Even on a straightforward feature about his dalliances with multiple women, the presentation was beyond sharp. His presence was like an insurance policy for any record.
This carried over to the first single for Jay Z's next album, Vol. 3… Life and Times of S. Carter. "Do It Again (Put Ya Hands Up)" was a brash declaration, with statements that added up to: "I'm still here and I'm still better than you." His performance on the record supported this, with a liquid delivery that mirrored the progression of the beat. Hov warned his doubters, "Don't talk to me 'bout MCs got skills." There was no need to after a year of such vast lyrical accomplishments.

HONORABLE MENTIONS: DMX, Eminem, Nas
DMX was still on a tear through the industry, and he captivated mainstream audiences and hip-hop heads alike with his five-times platinum …And Then There Was X. Eminem made his debut, simultaneously scaring and charming America with his immensely skilled shock raps. Nas dropped two albums in one year. Both were met with mixed reviews but, in retrospect, were still plenty heavy on the deft lyricism on which he based his reputation. Hov may have been in a lane of his own during 1999, but the market was more than competitive. —Ernest Baker
---
2000: EMINEM
CREDENTIALS: The Marshall Mathers LP, guest spots on "Forgot About Dre" and "Don't Approach Me," three classic singles with "Real Slim Shady," "The Way I Am," and "Stan," becomes most controversial rapper on the planet.
After the immense success of The Slim Shady LP and Dr. Dre's 2001, Eminem was riding high even as he became overwhelmed by the reach of his new found fame. Rather than crack under the pressure, Marshall took some time (and drugs) in Amsterdam, came back Stateside, and released his magnum opus, The Marshall Mathers LP. Even if it hadn't become one of the best-selling rap records ever, the record was still a conceptual masterpiece—with Eminem mixing autobiographical detail and absurdist fantasy to chilling results.
As Em stepped into his prime, he began demolishing verses with an unparalleled tenacity for wordplay: "Sick sick dreams of picnic scenes/Two kids, 16 with M-16's and 10 clips each/And them shits reach through six kids each/And Slim gets blamed in Bill Clint's speech to fix these streets?" The detail was vivid and visceral. "And if it's not a rapper that I make it as/I'ma be a fucking rapist in a Jason mask!" His music hit a nerve on critical, commercial, and cultural levels, aided by his blonde hair and blue eyes (as he'd soon point out), but an undeniable achievement nonetheless.
Singles like "Way I Am" showed Eminem for what he was. An angry white male? Sure. But also the only rapper who could score a massive pop hit by following the words of The 18th Letter. By 2000, white boy or no white boy, you had to give him the mic and let him recite.

HONORABLE MENTIONS: Jay Z, André 3000, Ghostface Killah
Jigga may not have released the best albums of his career at the turn of the century (Vol. 3 dropped the closing days of 1999 and The Dynasty dropped 10 months later), but he was fresh off skating to four-times platinum, and he did drop two of his biggest singles ever, "Big Pimpin'" and "I Just Want to Love You (Give It to Me)." His confidence had skyrocketed, and he was looking to assert himself: "Y'all niggaz ain't rapping the same/Fuck the flow y'all jacking our slang/I seen the same shit happen to Kane/Three cuts in your eyebrow trying to wild out/The game is ours will never foul out/Y'all just better hope we gracefully bow out." This was the last time Jay really had one foot in the streets (his infamous incident with Lance "Un" Rivera at the Kit Kat Klub took place in December 1999), so threats like, "No kids but trust me I know how to raise a gun," packed more punch.
Meanwhile, after dropping consecutive platinum classics, OutKast's André 3000 finally enjoyed being one of the Best Rappers Alive. He earned the distinction past his prime, but Andre's shine had previously been overshadowed by massive forces like Biggie and 2Pac—the real culprits behind why OutKast got booed at the 1995 Source Awards. After already selling millions, OutKast gained wider recognition with the release of Stankonia and massive singles like"B.O.B." and the group's first No. 1 hit, "Ms. Jackson." Finally, as Andre assured we would, we listened to what the South had to say.
Back up north in Shaolin territory, Ghostface Killah scored a victory for the floundering Wu-Tang empire with the release of his classic sophomore album, Supreme Clientele. The album was critically heralded though not commercially successful enough to get Ghost wider recognition. But heads took notice as Ghost Deni debuted his non-sequitur rap style that focused more on slang linguistics than easy to interpret rhymes ("Cauliflower hurting when I dumped the trash"). Ghost has shied away from explaining the lyrics, and maybe it's better that way—Supreme is a walk down the halls of modern hip-hop abstractionism. —Insanul Ahmed
---
2001: JAY Z
CREDENTIALS: 2000's The Dynasty: Roc La Familia, The Blueprint, Jay-Z: Unplugged, guest spots on "Do My" and "Fiesta (Remix)," epic beef with Nas
Where's the love? Until The Blueprint, it didn't seem like hip-hop realized what it had in Jay Z. On Vol. 1, he claimed the city was his, a place where "Niggas pull your card and argue all day about/Who's the best MC, Biggie, Jay Z, or Nas." On Vol. 2, he hit the pop charts, becoming one of the most commercially successful artists in hip-hop and helping to make Def Jam one of 1998's biggest success stories.
But what remained evasive was critical respect. The previous year, Jay Z's Roc-A-Fella label compilation, Dynasty, stood apart, thanks to its heavy use of soul samples. In 2001, the era of Swizz Beats' triton soundclash and Mannie Fresh's technoid textures, Just Blaze, Bink!, and Kayne West helped Jay Z push a new sonic agenda that changed the game.
At the same time that The Blueprint changed hip-hop's musical blueprint, Jay achieved the critical adulation he'd been previously denied. He made that stride explicit throughout: "Reasonable Doubt, classic, should have went triple," he argued on "Blueprint (Momma Loves Me)," and "Do you fools listen to music, or do you just skim through it?" on "Renegade."
The record received 5 mics from The Source, an XXL rating from XXL, and went double platinum, with the lead single "Izzo (H.O.V.A.)" reaching the top 10. It was no longer "Politics as Usual"; instead, he mastered the politics of the game, appearing with the Roots on an episode of MTV Unplugged, a chain banging against the Che Guevara T-shirt on his chest, and claimed the New York throne, vacated since the passing of the Notorious B.I.G. With Nas and Mobb Deep dispatched in a few quick verses on "The Takeover," hip-hop was his.

HONORABLE MENTIONS: Eminem, Ludacris, Jadakiss
The closest competition for Jigga came from Eminem, who (very arguably) bested him on "Renegade." The Marshall Mathers LP, released the previous year, was still a sales juggernaut, well on its way to a rare diamond sales plaque. Em spent much of 2001 doing live shows, including his much-reported embrace with Elton John at the 2001 Grammys. He also headlined the Anger Management tour, and he participated in both the Up in Smoke and Family Values tours as well, solidifying his fanbase in both hip-hop and hard rock circles.
Ludacris hit his stride in 2001, following his three-times platinum debut LP with the three-times platinum Word of Mouf. The LP included hit singles "Area Codes" and "Rollout (My Business),"his highest-charting single to that point. He also killed it as a featured rapper ("One Minute Man" for Missy Elliott and "Bia Bia" for Lil Jon). Jadakiss, for his part, was able to parlay a series of incredible singles ("We Gonna Make It," "Knock Yourself Out," and "Put Your Hands Up") into a celebrated solo debut, Kiss tha Game Goodbye. —David Drake
---
2002: EMINEM
CREDENTIALS: The Eminem Show, 8 Mile Soundtrack, three top five hits, had the best-selling album of the year across all genres
Everything you need to know about where Eminem was in 2002 you can hear in the second verse of "Till I Collapse." He hit the scene in 1999 and became the illest rapper to hold the cordless, so by 2002 his tremendous talent was unquestionable ("You're real and you spit and people are feeling your shit"). So much so he realized he was living through his prime ("This is your moment, and every single minute you spend trying to hold onto it 'cause you may never get it again") and began thinking about his place in hip-hop's pantheon, worried he'd never get the props he felt he deserved. People tend to get caught up in the fact that Em named Redman (Reggie) ahead of Jay and Biggie in his infamous list, but really the most crucial detail is that Em lists himself last. He was as high as he'd ever get but still looking for another hit, on top but still unsatisfied.
Regardless of what ideas were floating around Em's head, he dropped another monster album that year with The Eminem Show. The record didn't top his previous effort creatively but still managed to be one of his more accessible albums (at least for hip-hop heads), which for once pitted his lyrics against a backdrop closer to hip-hop's sonic center—laying bare just how many light years ahead of the average rapper he was.
Yet, that album might not have even been his greatest achievement that year. With the release of the loose biopic, 8 Mile, Slim Shady became an unlikely people's champ, the rap Rocky. The first single to the film's soundtrack, "Lose Yourself," became Eminem's biggest hit ever and one of his best songs. "Lose Yourself" encapsulated what made Em so special. It was a rap song about the physical act of rapping, proving that Eminem was and would always be a rapper's rapper, a true student of Rakim. Yet, thanks to his songwriting skills it was also a massive pop hit and had middle Americans who would otherwise never interact with rap chanting along. There may be unwelcome side effects to that (as seen by the burgeoning number of white rappers), but Em still spread the gospel of hip-hop and did it in the most authentic way possible.
It was only a short while after this that Chris Rock would point out that the best golfer was black, the tallest basketball player was Chinese, and the best rapper was indeed white.

HONORABLE MENTIONS: 50 Cent, Cam'ron, Nas
2002 can also be remembered as the last truly great year for New York hip-hop since all the honorable mentions hail from the Big Apple. After ingesting nine slugs from a 9mm, Curtis Jackson licked his wounds and hit the streets to redefine what a mixtape could be. He became the first rapper to flood the market in a modern way that wasn't really possible (or expected) previously. By the end of the year, he was signed with the best rapper alive, the best thing to ever happen to bootleggers, and he had already proved his soon-to-be unstoppable Billboard prowess with "Wanksta." Suddenly, the title of his mixtape, 50 Cent Is the Future, wasn't posturing. It was prophecy.
Yet the early part of the year belonged to a Harlem rapper known for his unusual affinity for the color pink. Cam'ron joined the Roc and didn't disappoint when he made two huge hits, first "Oh Boy" and then "Hey Ma." The songs gave Cam national exposure, helped score him a platinum plaque for Come Home With Me, and jump started the Dipset movement. (In between he also wrote Purple Haze, as the intro to that album points out.) Finally, following the personal hardship after the loss of his mother and a moment of clarity after beefing with Jay Z, Nas regained the visceral firepower to bring it back to the streets of New York. He continued his path as one of New York's finest with the release of God's Son and its top-notch single, "Made You Look." —Insanul Ahmed
---
2003: 50 CENT
CREDENTIALS: Get Rich or Die Tryin', back to back No. 1 hits with "In da Club" and "21 Questions," guest spots on "Magic Stick," "We All Die One Day," and "The Realest Killaz," and the merciless destruction of Ja Rule's career
Only one year prior to the release of Get Rich or Die Tryin', no one could have predicted 50's rise. Roc-A-Fella was on top; Cam'ron was rapidly becoming one of the biggest rappers in New York, ready to succeed Jay Z on the back of massive singles "Oh Boy" and "Hey Ma." Jay Z was coming off the most celebrated release of his career and was about to release an ambitious double album. And 50's fellow Queens-repping street rapper Ja Rule was dominating the charts with a series of hip-hop ballads.
50's career, meanwhile, was in stasis; labels wouldn't touch him and thought he was a danger to himself, and more importantly to their bottom line. Columbia was wary before the shooting; songs like "Ghetto Qu'ran," which controversially detailed the history of Queens gangsters ("Don't be surprised/How freely I throw out names of guys who dealt with pies") and "How to Rob," a song-length threat to jack every rapper in the game, had already stirred up controversy. In 2000, 50 was stabbed in a conflict with rapper Ja Rule's entourage. He was shot and survived an infamous attempt on his life that same year. Who knew what other kinds of trouble he could get into? Columbia promptly dropped him, and his debut record, Power of the Dollar, was shelved.
But the labels missed out on what made those songs resonate. As a rapper, 50 was ruthless and fearless. And more importantly, he was both of those things more convincingly than Jay Z, who had begun to make moves toward critical respectability and retirement.
And then 50 Cent began releasing mixtapes. At the beginning of June 2002 came 50 Cent Is the Future; the title was prophetic, and buzz built quickly. It became readily apparent that not only did 50 Cent have a brash street-friendly presence, but he had an ear for melodic hooks. His tapes reinvented pop music for a street audience. Meanwhile, his slurred rap style had a national appeal, which enabled his verses to fit in well with the drawled Southern rappers who had begun to break out in Houston and Atlanta.
Around the same time, a copy of 50's Guess Who's Back? CD—a compilation of tracks recorded during the sessions for the unreleased Power of a Dollar LP for Columbia—found its way into Eminem's hands. Rumors that summer spread; 50 Cent was signed to Interscope for a reported $1 million. Dr. Dre would helm the project. 50 released another mixtape, No Mercy, No Fear, the title of which advertised his selling points. Here was a rapper who seemed part artist, part action hero.
Coming on a wave of hype, Get Rich or Die Tryin' was the most anticipated rap debut since Doggystyle. Released in February 2003, the album dominated the year, becoming one of hip-hop's best-selling albums. By the end of that year, it had gone six-times platinum. It reoriented the entire genre toward street rap's hard edge, spawned a pair of No. 1 singles ("In da Club" and "21 Questions"), and a third that could "only" manage No. 3 ("P.I.M.P."). It also launched the careers of his entire crew, was Grammy-nominated, and became a full-on pop culture phenomenon.
Meanwhile, his long-simmering beef with Ja Rule and Murda Inc. boiled over with the release of 50's "Realest Killas," which explicitly accused Ja Rule of biting 2Pac. Ja had commercial success on his side prior to '03, but at that moment, 50 successfully got under his skin. Ja Rule released a slew of diss tracks in response, culminating in 2003's diss album Blood in My Eye. The album was a commercial flop, relative to his previous releases; 50 Cent's debut, meanwhile, continued to spiral upward, ultimately selling more than eight million copies.
HONORABLE MENTIONS: Jay Z, Eminem, T.I.
Jay Z's retirement record, The Black Album, puts him at No. 2 on the list. He boasted that he was the "best rapper alive" at this point, and it was arguable in 2003; but his problem has always been a long-term consistency, and in spite of the top 10 success of single "Change Clothes" and standout guest verses on "Beware of the Boys," "Crazy in Love," and "Frontin," it wasn't enough to compete with the 50 Cent juggernaut.
Eminem, always in contention in this era, released three singles from the previous year's The Eminem Show, two of which charted in the top 20 on Billboard. He also had high-profile collaborations on albums by 50 Cent and Obie Trice, including the incredible posse cut "We All Die One Day."
Finally, T.I. recovered from his debut's flop and built buzz in the streets of Atlanta through a series of mixtapes and the smash underground single "24s." His scene-stealing guest verse on "Never Scared" grabbed the nation's attention, and his comeback LP, Trap Muzik, was released. It sold modestly at first, but in time it has become recognized as a Southern hip-hop classic. —David Drake
---
2004: T.I.
CREDENTIALS: Urban Legend, the slow burn of 2003's Trap Muzik, Down With the King, guest spots on "Soldier," "Goodies (Remix)," and "Stomp," ends Lil Flip's career
T.I.'s classic Trap Muzik came out in August 2003 and sold modest initial numbers on the strength of the single "24s," which made it into the lower reaches of the Hot 100. On the album, T.I. proclaimed himself "King of the South," a title that sparked controversy. The second single, "Be Easy," found little chart traction, but in 2004, Tip released "Rubber Band Man," a David Banner-produced pop-banger that shot up the Hot 100 and peaked at No. 30.
Tip's buzz began to build on a national level in earnest. Unlike much of the competition in Atlanta and the rest of the South at the time, Tip balanced his unapologetically Southern drawl with a lyrical focus. As difficult as it was to hear much of a New York influence in his drawling syllables, the rapper had an elastic double-time flow and unquestionably deft rhythmic control that ran circles around the competition; witness his guest spot on 2004's "Look at the Grillz,"which gives co-guest-star Twista a run for his money.
His rising profile was briefly tempered by legal problems in March 2004, when the rapper was sentenced to three years for a probation violation. Luckily for him, he was work-released after only a month. While Tip was behind bars, rumors spread that rapper Lil Flip had disrespected the MC at a performance, a response to T.I.'s claims that he was "King of the South" on Trap Muzik. An on-wax beef was sparked between the two rappers, one that would later result in a real-world confrontation in Houston. T.I.'s evisceration of Flip's career came on 2004's Down with the King, most effectively in its opening moments, when T.I. remixed "99 Problems."
As his final single from Trap Muzik, "Let's Get Away," rose up the Hot 100, Tip prepared for the release of his third album, Urban Legend. The record sold 193,000 copies its first week, besting his previous release, and lead single "Bring 'Em Out" became his highest-charting single to that point, breaking into the top 10.
Meanwhile, he nabbed a guest spot on one of the year's biggest hits, joining an ascendant Lil Wayne on "Soldier," a Destiny's Child single that hit No. 3 on Billboard and went platinum. He also appeared on Young Buck's "Stomp," Jim Jones "End of the Road," and Lil Jon's epic posse cut "Grand Finale" with blistering verses.

HONORABLE MENTIONS: 50 Cent, Cam'ron, Game
50 Cent, meanwhile, was still riding high off of the success of his debut album; his only solo single, however, was "Disco Inferno," which didn't receive quite the acclaim as the singles from his previous record. His work with G-Unit, however, was more promising. Lloyd Banks and Young Buck were able to ride his coattails to strong sales, and Game was first introduced with singles "Westside Story" and, in particular, "How We Do," one of the strongest singles in 50's catalog. But relative to T.I., who was emerging as one of hip-hop's brightest stars, 50 had moved to a background role.
Cam'ron, in the meantime, prepared to follow up his crossover smash Come Home With Me and translate the modest success of the Diplomats to his own solo record. Purple Haze underperformed relative to its predecessor, but the album was a critical success, and its singles remain classics in the Cam'ron canon—even if, per the album's intro, they were originally recorded in 2002.
Meanwhile, Game's buzz, aided by a 50 Cent cosign and the aforementioned "How We Do" and "Westside Story" singles, became an undeniable story, one he would better be able to deliver upon when The Documentary dropped the following year. —David Drake
---
2005: YUNG JEEZY
CREDENTIALS: Let's Get It: Thug Motivation 101, Trap or Die, Boyz n da Hood
In 2004, Jeezy first made an impact outside of his native Atlanta, grabbing guest spots on songs by Fabolous and Trick Daddy, releasing his Tha Streets Iz Watchin mixtape, and dropping a video with Bun B titled "Over Here," which prominently advertised—at least to those in the know—his Big Meech affiliation. But the following year, Jeezy took off, beginning with the growing buzz around his Trap or Die mixtape.
He first broke nationally on Gucci Mane's "Icy" single, which, that same year, would become a source of conflict for both rappers. "Icy" was a smash, and Jeezy's first true hit, even if Gucci denied him use of it for his Def Jam debut. At the time, Jeezy was especially invested in obtaining the single; his appeal had been grounded in distinctive ad-libs and a searing vocal style, one that seemed more concerned with blunt, overwhelming force, rather than the dexterity or diversity of previous Atlanta stars like T.I. More to the point, he didn't have a certified hit.
Jeezy shouldn't have worried. 2005 marked the moment he crossed over completely, becoming one of the genre's biggest stars. He not only held his own but served as the charismatic center of Atlanta supergroup Boyz N Da Hood's debut LP. The record featured the group's biggest single, "Dem Boys," with a high-profile endorsement from P. Diddy. Jeezy would be the group's only breakout star.
As his Trap or Die mixtape continued to gain steam nationally, his debut LP, Let's Get It: Thug Motivation 101, was released. Significantly, the album introduced the world to the trap house sound of Shawty Redd, whose shards of synthesizers were a revolutionary brittle reinvention of hip-hop's soundscape. It marked the end of hip-hop's biggest crossover era, as populist gangster rap adapted a more underground, oppositional sonic template, rather than the pop-friendly sounds it had adopted in the TRL era.
The album launched four charting singles, including "Soul Survivor," which reached No. 4 on the Hot 100 and pushed Atlanta's new brittle trap house sound onto the national stage. Even his soul-sampling "Go Crazy" broke through on the East Coast; the rapper managed to summon Jay Z and Fat Joe for verses on the remix. Young Jeezy's totalitarian vision engulfed the country from the grassroots to the top.

HONORABLE MENTIONS: 50 Cent, Game, Common
50 Cent, meanwhile, released The Massacre, a commercial success but something of a critical disappointment. Songs like "Candy Shop" became massive crossover hits—at the expense of much of the support of his traditional hip-hop audience, who were relegated to enjoying album tracks like "Baltimore Love Thing" and "Ski Mask Way." Nonetheless, these were incredible songs. In '05, 50 was also responsible for some of the best tracks in his career, albeit under someone else's name.
The Game's debut, The Documentary, put him even more firmly in the conversation. The LP ultimately went double platinum after selling 586,000 copies in its opening week. "How We Do,"released in late November the previous year, continued to gain airplay, and the album's third single, "Hate It or Love It," was an even bigger success. Game's success, though, was split with 50 Cent, who was a major part of both singles; ironically, Game ended up with the stronger release, but 50 had scene-stealing verses (and hooks) on the album's biggest singles.
Common, meanwhile, released one of the best records of his career in Be, a major creative and unexpected commercial success. The rapper was signed to Kanye's G.O.O.D. Music label the previous year and appeared on The College Dropout. Produced primarily by Kanye West with an assist from the recently deceased J. Dilla, Common's Be received 4.5 mics in The Source and an XXL rating from XXL. It also became the rapper's second gold album, selling around 800,000 units. —David Drake
---
2006: LIL WAYNE
CREDENTIALS: 2005's Tha Carter II, Like Father, Like Son, Dedication 2, barrage of guest verses including "Gimmie That," "Make It Rain," and "You"
At the tail end of 2005, Lil Wayne dropped his best solo LP, Tha Carter II. The album featured a cut called "Best Rapper Alive," which seemed like another empty boast, but Wayne wasn't being cocky—he just realized his arrival before the rest of us did. After Tha Carter II, Weezy started his absolutely ridiculous run, highlighted by Dedication 2 and his joint album with Birdman, Like Father, Like Son, both of which featured some of the best rapping of his soon-to-be illustrious career.
More importantly, his mastery on the mic gave him the confidence to feel his way through any beat and interact with it as he saw fit. Once he started experimenting with more and more styles, the results were fascinating. It wasn't obvious then, but in retrospect he laid the groundwork for everyone's favorite version of Tunechi: Coke Rapper Weezy, Drugged-Out Weezy, Mainstream Weezy, Mixtape Weezy, etc. With confidence came comfort, and with comfort Wayne's personality shined through as he talked more about his love of SportsCenter, motorcycles, and all things New Orleans. His rhymes made him famous, but his "Murder the adults and let the kids get adopted" approach to fame made him a superstar.

HONORABLE MENTIONS: T.I., Pusha T, Lupe Fiasco
None of that should take anything away from T.I., who had a nearly flawless year as well. Despite his great output since 2003, T.I. always had an issue with finding the right balance between street anthems and pop hits (or as he put it, "T.I. vs TIP"). Prior to King he often leaned too far into the streets—despite his penchant for Billboard hits, songs like "You Don't Know Me" didn't quite cross over the way they should have. His later hits like "Live Your Life" were massive but leaned too far into pop territory. But 2006's "What You Know" struck the perfect balance, as did his album King. Still, even if T.I. was the King of the South, he wasn't the Best Rapper Alive.
However, Pusha T might have been the Best Coke Rapper Alive. Whatever it lacked in commercial appeal, Hell Hath No Fury made up for in cold, mechanical raps. Pusha iced every one of his bars with detached debauchery and delivered them like he was about to hawk a loogie. The keys had opened doors, and suddenly King Push had hit the coke rap zenith.
On the other end of the spectrum, Lupe Fiasco followed up his Fahrenheit 1/15 mixtape trilogy with his well-received debut, Food & Liquor. He might have been a newcomer, but as his impressive debut proved, he could tell engrossing stories with pinpoint precision, adjust his cadence ever so slightly to give his words greater weight, and still sell a modest amount of records. He not only kicked first-rate rhymes but pushed an image of a rapper more akin to Kanye than 50 Cent. A trend that would soon gain more momentum. —Insanul Ahmed
---
2007: KANYE WEST
CREDENTIALS: Graduation, beats 50 Cent in highly publicized sales battle, drops several huge hits, "Can't Tell Me Nothing," "Stronger," "Good Life," and "Homecoming"
Kanye West's career had been building toward this moment all along. By 2007, the stars had aligned and Yeezy became the epicenter of hip-hop, both sonically and artistically. Despite releasing two stellar albums in 2004 and 2005, he was seen as a great producer and great songmaker but never a great MC. During the years when the rap zeitgeist was playing limbo with coke rappers, mixtape runs, and ringtone rap, Yeezy raised the bar up and got his bars up.
His humor was still present as he spit the most Kanye line ever: "I'm like the fly Malcolm X, buy any jeans necessary." The real change was in Yeezy's now fluent delivery. No longer did he flub verses with over exposition. Whatever his words lacked in humility they made up for in maturity. His vocal performance was now poised and patient, characteristics best seen on cuts like "Flashing Lights," where he employed a delicate nuance to his rhymes where a younger Kanye might have gone for a ham-fisted approach.
Beyond his flow, 'Ye dropped his best songs ever, "Can't Tell Me Nothing," and finally found what he always sorely lacked: a true street anthem. With "Stronger," Yeezy scored arguably his biggest hit ever, another testament to his crossover appeal (and made Yeezy an early adapter to EDM).
Still, it felt like this was happening right under our noses. When Kanye got into a highly publicized sales battle with 50 Cent, many believed he stood no chance against Curtis. Little did they realize 50's antics were starting to feel like an old Biggie line: "Fuck that beef shit, that shit is played out." If you didn't initially feel the winds of change, then you got hit with the whirlwind of Graduation.
The album outsold 50's Curtis by a wide margin and not only proved Kanye was a cultural force but one who wasn't willing to settle. The guy that executives once told to stick to producing was now the Best Rapper Alive. Kanye must have realized it, too. As much as people think Kanye is obsessed with himself, in truth he's always been obsessed with challenging himself. That might have something to do with why, as soon as people finally accepted his rapping, he abandoned it to move on to singing.

HONORABLE MENTIONS: Lil Wayne, Jay Z, André 3000
There was one incredibly frustrating thing about Graduation though: the Lil Wayne-assisted "Barry Bonds." Not because it was a bad song but because Kanye outrapped the previous Best Rapper Alive so badly it felt like Wayne took a dive. We only say that because otherwise Weezy killed it in '07, releasing about 100 songs.
The easy put down would have been "it was quantity over quality," but that's the thing about Wayne in his prime: Nearly everything he did was quality. There was always one random line or burst of flow that was worth hearing. The highlight was his spectacular double disc mixtape Da Drought 3, which found Wayne blacking out over one instrumental after another. The most significant cut was "Dough Is What I Got," which had him rapping over Jay Z's lackluster "Show Me What You Got." The song finally proved the claims Wayne had made in Complex the previous year: "I"m better than Jay Z."
Jay Z was having a resurgence of sorts as well. After seemingly losing a step after retiring and coming back with the disappointing Kingdom Come, Jay got inspired by the film American Gangster and dropped an album of the same name. He wasn't rapping about anything he hadn't rapped about 10 years before, but the fact that he found yet another way to say something we'd already heard and make it compelling remains one of his most under-appreciated achievements.
A slightly disappointing (in hindsight) event was the return of André 3000. 3 Stacks' comeback—highlighted by a series of memorable guest verses—was ultimately a tease for a solo project that never materialized. Still, you couldn't shake the feeling that every time he dropped a verse it became the most talked about 16 of any given moment. —Insanul Ahmed
---
2008: LIL WAYNE
CREDENTIALS: Tha Carter III, Dedication 3, four Top 20 singles off Tha Carter, "Love in This Club Part II," "My Life," "Can't Believe It," "Swagga Like Us," "Turnin' Me On"
Lil Wayne's commercial, creative and cultural ascent reached its peak in 2008, the year he became a true crossover star and, without question, the greatest rapper alive. It had been two years since his last album, but Weezy had flooded the industry, releasing a succession of hot street tapes and guest verses.
First, his guest verses: Lil Wayne was a scene-stealing rap star, making his mark on T.I.'s "SwaggaLike Us," T-Pain's "Can't Believe It" (platinum) and Akon's "I'm So Paid" (platinum). He also made his mark on R&B, turning up on Keri Hilson's "Turnin' Me On," Lloyd's "Girls Around the World" and Usher's "Love in This Club II."
But it was his work as a solo artist that made the biggest mark. Wayne managed to drop one of the best 12 inches in history with "A Milli"/"Lollipop." The street single, "A Milli," was a triumph of production ingenuity and lyrical invention; it reached No. 6 on the Hot 100. His radio single, the Static Major–assisted "Lollipop," topped the pop charts, went five times platinum, and helped drive Carter III to 2.88 million in sales by the end of 2008, during one of the worst climates for selling records in industry history. Two other singles were released from this record; "Got Money" with T-Pain hit No. 10 and sold double platinum, while the platinum-selling "Mrs. Officer" reached No. 16.
By this point Weezy's claim to be the greatest living rapper on Tha Carter II no longer seemed nearly so audacious. Tha Carter III was released in June 2008, three years after his last LP. Despite taking a "break" from official releases, his album went three times platinum, opening at No. 1 on Billboard and selling more than 1 million copies in its first week. It became the rapper's best-selling album to that point. It was the first to reach 1 million in sales since The Massacre.
As impressive as the numbers were, though, what made Lil Wayne the greatest rapper alive in 2008 transcended popularity. He had broadened what was thought possible for a rapper. The boundaries of the genre were pushed to their logical breaking point. He was still rapping, retaining his innate cleverness and style, but had such intoxicated confidence that he didn't need to live by the formal limitations adhered to by lesser MCs. And then, not content to rest on his laurels, he released Dedication 3, another mixtape with DJ Drama, before the year let out.
HONORABLE MENTIONS: T.I., Young Jeezy, Kanye West
Wayne's competition in 2008, while strong, wasn't coming close. Despite the relative flop of T.I. vs. T.I.P. the previous year (not to mention his legal travails), Tip picked up where he left off with King and stepped up his pop appeal. "Whatever You Like" became T.I.'s first No. 1 single that year, surpassing "What You Know," which peaked at No. 3 in 2006. The album, Paper Trail, included two more major singles (including another No. 1 in "Live Your Life.")
Young Jeezy, in the meantime, released his strongest record since Let's Get It: Thug Motivation 101 with The Recession. It was his second No. 1 LP. He also appeared on Usher's "Love in This Club," which would also find the top spot. He didn't regain the widespread commercial appeal that he had on his debut record, but the album was a creative success, particularly after the disappointment of 2006's The Inspiration.
Kanye West had a fairly low-key year in 2008, but in the wake of Graduation's 2007 release, he remained one of hip-hop's biggest stars. His final single from Graduation, "Homecoming," was released, and he began working on his tortured melodic album 808s and Heartbreak. But as a rapper, he kept the flame alive with a series of hugely popular guest verses, appearing on Estelle's "American Boy," Young Jeezy's "Put On," and T.I.'s "Swagga Like Us." —David Drake
---
2009: JAY Z
CREDENTIALS: The Blueprint III, first No. 1 hit of his career, 11th No. 1 album
In the wake of Lil Wayne's utter domination of 2008, 2009 was, to say the least, a rebuilding year. Kanye had become an Auto-Tune performance artist. Lil Wayne began pushing his Young Money crew, and into the void came a rush of rookie artists from across the spectrum. Amidst all the confusion, a veteran stepped up and released the biggest single of his career.
When you're the best rapper alive, and you release your most successful single ever, it's hard for the mantle not to fall to you. While The Blueprint III may not have been a critical smash, the record was well-received, debuting at No. 1 on Billboard—Jay Z's 11th album to do so—and eventually going platinum. Hov also proved that he'd retained his nimble technical abilities; love it or hate it, he was still the most envied rapper in hip-hop.
Part of that was a result of his business moves. After appearing at the president's inauguration, Jay crossed over in a way no rapper had previously, unless you count Eazy-E's visit to the White House. He left his job as president of Def Jam and signed a $150 million deal with Live Nation to launch Roc Nation. But after all is said and done it all comes down to the music.
While his first single, "D.O.A. (Death of Auto-Tune)" had some chart success (despite its obvious failings as prophecy), its follow-up singles were two of the biggest of Jay's career. "Run This Town" was a crossover smash, hitting No. 2 on the charts. Then the monster that was "Empire State of Mind" took over, becoming Jay's biggest-ever hit and sitting atop the Billboard charts for five consecutive weeks. There are few acts able to retain that level of success this deep into a career, but for Jay, even in the twilight era, consistency has been his trademark.

HONORABLE MENTIONS: Kanye West, Drake, Gucci Mane
Kanye West had a relatively low-profile year, but made his impact felt in a burst of high-profile guest spots: "Knock You Down" with Keri Hilson, which peaked at No. 3 on Billboard, "Walking on the Moon" with The-Dream, "Make Her Say" with Kid Cudi, "Forever" with Drake, and a scene-stealing spot on Jay-Z's "Run This Town."
Drake, meanwhile, had begun to show signs that he was really about to be that successful. His So Far Gone EP was released in late 2009, and "Best I Ever Had" became his first legitimate smash, topping the hip-hop charts and reaching No. 2 on the Hot 100. "Successful," "Forever," and "I'm Goin In," all of which charted well, rounded out his accomplishments for the year, the first where it became evident that a star was born.
Rounding out the honorable mentions is Gucci Mane, easily the most prolific artist on this list. He rose up from his rabble-rousing grassroots, flooding the market without over-saturating it, releasing a handful of mixtapes that are now considered classics, including Writings on the Wall and Burrrprint: The Movie 3D, while his singles "Wasted" and "Lemonade" had considerable chart traction. —David Drake
---
2010: KANYE WEST
CREDENTIALS: My Beautiful Dark Twisted Fantasy, G.O.O.D. Fridays series, guest spots on "Live Fast, Die Young," "Deuces Remix," and "Start It Up"
Can we get much higher? In 2010, Kanye West made a triumphant return to rapping full time. Lost in the hype of his post-Swiftgate comeback was the fact that Kanye wasn't just the best rapper alive but also the best rapper he's ever been. Yeezy reached the height of his technical proficiency. Gone were the pesky lapses of supreme competency where he uttered "Funny when you thought of them but only to you" type lines. Instead it was all genuine wit with rhymes like "Got caught with 30 rocks the cop looked like Alec Baldwin."
Instead of imploding within the glass house of his fame (as many thought he would/already had) he furnished his persona with even more honesty and soul-searching to create one of the most vivid portraits of superstardom rap had ever seen. Ye's G.O.O.D. Friday releases kept him consistently anticipated week to week, and when My Beautiful Dark Twisted Fantasy finally did arrive it was hailed as an instant classic and arguably Kanye's best album.

HONORABLE MENTIONS: Rick Ross, Nicki Minaj, Eminem
Ironically, despite rapping at a higher level throughout the year, the two best verses on My Beautiful Dark Twisted Fantasy weren't from Kanye. Instead, he was able to coax inspired performances from Nicki Minaj and Rick Ross, the latter of whom saw his growth as a rapper reach its apex on "Devil in a New Dress." Ross was never perceived as a great lyricist until Deeper Than Rap won him the award for Most Improved Rapper. But the nearly flawless Teflon Don—supercharged with the street anthem of the year "B.M.F."—saw Rozay's once sluggish elocution evolve into a fluid dynamo. The guy who was once clowned for rhyming "Atlantic" with "Atlantic" was suddenly keeping multis on deck with lines like, "Young and radical, methods are mathematical/I multiplied my money through different avenues."
Yet, the verse of the year belonged to Nicki Minaj, whose manic energy on "Monster" took her from buzzing to being invited on stage with Jay Z and Kanye West at Yankee Stadium. Chilling backstage while Jay, 'Ye, and Nicki performed "Monster," a rejuvenated Eminem was returning to the forefront of the rap conversation after kicking his drug habit, abandoning the accents, and dropping the well received Recovery. —Insanul Ahmed
---
2011: DRAKE
CREDENTIALS: Take Care, non-album cuts like "Club Paradise" and "Dreams Money Can Buy,"guest spots like "I'm on One," "Tony Montana (Remix)," and "Round of Applause"
Bill Simmons once called LeBron James the car wash "everything" package, saying, "You see an athlete get handed the 'everything' package maybe only five times in your life." Drake is like the LeBron of rap (albeit with more hair), and he can seemingly do anything: rap, sing, craft projects, create a soundscape, and drop meme-worthy lines.
When Drake emerged on the scene in 2009 he was more than just a rapper with crossover potential—just like LeBron is more than a 6'8″ dude with a jump shot—he was a rapper with superstar potential. So Far Gone put Drake on the map in '09, and his 2010 debut album, Thank Me Later, was released in a stacked hip-hop year. But Drake didn't claim his championship ring until 2011 rolled around.
After the dust of 2010 settled, Drake unceremoniously started rolling out songs on his OVO blog. Every release, from "Dreams Money Can Buy" to "Club Paradise" to "Marvin's Room," instantly became an event—and some of the most discussed songs of the year. So much so that end-of-the-year Best of lists had to leave off Drake cuts, lest he overwhelm the lists by the sheer quantity of his quality output.
Drake was so hot he gave away that year's summer anthem and one of his best songs ever to DJ Khaled ("I'm on One") and it didn't even hurt the quality of his album, Take Care. Coming late that year, his sophomore set showed that Drizzy had many skills but his greatest gift was his ability to internalize his struggles and make them universal. Call it "emo" if you like, but feeling regret over a lost lover, feeling proud of your accomplishments, and feeling like you're the best but still have 10 years left is what we ought to expect from brash young men. With Take Care, we finally got to witness the full breadth of his undeniable talent. Suddenly, the throne was no longer for the taking.

HONORABLE MENTIONS: Rick Ross, Jay Z, Kanye West
After ascending into the Best Rapper Alive conversation (to everyone's surprise) the year before, Rick Ross became a powerhouse in 2011. Similar to 50 Cent in 2004, Ross didn't put out a ton of solo material, but his Ashes to Ashes mixtape was released in the closing days of 2010 and carried into 2011 as he prepped Maybach Music Group's Self Made Vol. 1.
And yes, it is still Jay before 'Ye because even as Yeezy handled much of the Watch the Throne aesthetics and delivered some great verses, Kanye stepped aside as Jay bodied tracks like "Love You So," "Welcome to the Jungle," and "Who Gone Stop Me?" on his own. —Insanul Ahmed
---
2012: DRAKE
CREDENTIALS: 2011's Take Care, barrage of guest verses: "Stay Schemin'," "No Lie," "Amen,""Pop That," "Fuckin' Problems"
Even in an off year, Drake was on one. Take Care dropped late in 2011, so Drizzy was able to ride excellent singles like "HYFR," "Take Care," and "The Motto" in 2012, which made him a consensus pick for Best Rapper Alive honors by themselves. And even without those songs Drake was still an omnipotent force in hip-hop who dominated the rap conversation.
Jay Z once boasted, "For the right price I can even make yo shit tighter." In 2012, Drake didn't just make people's songs tighter, he became a kingmaker. Drizzy unleashed one monster guest verse after another and gave away Billboard hits that introduced buzzing artists to a wider audience. Rule of thumb: You're definitely in the Best Rapper Alive conversation if people will listen to any artist's song just because you're on it. And if you can make any song you're on a possible anthem, then you probably are the Best Rapper Alive.
There's a certain arrogance to the way Drizzy effortlessly bequeathed bangers to 2 Chainz, A$AP Rocky, and French Montana as if he had an endless stash of hits to give (who knows, maybe he does?). To understand his impact, consider that even throwaway lines like "Good ain't good enough" sparked intense debate about perceived shots at G.O.O.D. Music. More importantly, consider that if Drake had strapped together all his major guest verses and added a couple of strong solo cuts, he would've had a third album better than most rap releases last year.

Honorable Mentions: Kendrick Lamar, 2 Chainz, Rick Ross
We have no knock against Kendrick Lamar but are obliged to point out that he was relatively quiet for most of 2012 before dropping good kid, m.A.A.d. city. However, last year more and more fans got hip to his stellar 2011 release, Section.80. Still, most were left wondering if K-Dot could pull off a classic debut. But more on that later.
Meanwhile, 2 Chainz' momentum from 2011's T.R.U. REALigion hit its mainstream peak in 2012 as casual fans got hip to "Spend It." Chainz also went on a guest verse killing spree, which reached its climax when he spit the verse of the year on G.O.O.D. Music's "Mercy" and had Kanye telling him to start charging 100K for a 16. You know you're having a special year when you not only spit the last verse on the premier posse cut but Kanye is the one who throws up the alley.
Although Rick Ross' album God Forgives, I Don't debuted at No. 1, it failed to deliver the goods. Not that it really mattered. Ross still ran the rap game with an iron fist and gave us Rich Forever, one of his best overall projects, at the top of the year. Still, for the first time since 2009, it felt like Rozay's reach wasn't continually expanding but contracting ever so slightly. —Insanul Ahmed
---
2013: KENDRICK LAMAR
CREDENTIALS: 2012's good kid, m.A.A.d city, guest verses for A$AP Rocky, Emeli Sandé, Young Jeezy, Jay Z got on the remix for "Bitch Don't Kill My Vibe"
Kendrick Lamar spent most of 2012 crafting his masterful debut album, good kid, m.A.A.d. city, before dropping it toward the end of the year. The release of good kid cemented Kendrick's status as the Best Rapper Alive and earned comparisons to other legends who jump-started their careers with unforgettable major-label debuts. It wasn't just a great album, it was a great conceptual album with a storyline throughout—a Herculean hip-hop feat.
As the critical praise poured in and K-Dot fans supported their artist—a music-biz mantra that's more often said than followed—a mainstream audience slowly started to appreciate this West Coast rapper with left-field sensibilities to the point where hip-hop as a whole started looking at him differently. Nowadays, any 16 Kendrick spits—whether it be on an A$AP Rocky record or a random Dido feature—is worth everybody's attention. Kendrick's breakthrough comes at a time when rap fans are inundated with new rappers who overpopulate the blog posts; the few who are worth the time rarely (if ever) fulfill the promise of their initial offerings. But Kendrick lives up to all the hype.
His current statue isn't best explained in his raps but by an image: The cover art to the Jay Z-assisted "Bitch Don't Kill My Vibe (Remix)" featured a young Kobe standing next to an aging Jordan. No one thought the analogy was far off. Time for everybody to bow down to King Kendrick Lamar (ya bish)!

HONORABLE MENTIONS: Drake, Danny Brown, 2 Chainz
The year is still young. Will K-Dot's reign on top be shorter than leprechauns? For Drake, once again the throne is for the taking. His third album is on the way and songs like "Started From the Bottom" and "5 AM in Toronto" show that he can still turn it on like a light switch whenever he fancies.
At the other end of the spectrum is Danny Brown, who has little mainstream recognition but has slowly built himself into a premier underground rapper. Fans continue to catch on to his 2011 album, XXX, and he keeps slaughtering guest spots. 2 Chainz is still riding high off the success of his debut album and newfound fame—the question remains if he can maintain his momentum. —Insanul Ahmed
---
2014: NICKI MINAJ
CREDENTIALS: The Pinkprint, a stream of remixes and loosies, first female rapper in 56 years to have four No. 1 singles on the Billboard Hot R&B/Hip-Hop Songs chart
"Now it's me in my time, it's just me in my prime." That was the lie Nicki Minaj sold listeners on"I'm the Best," the opening song on her 2010 debut album, Pink Friday. She was unmistakably good at the time, dropping one of the year's best, if not the best, verses on Kanye West's "Monster." But Pink Friday was not a "mixtape Nicki" album, some one-note exercise in rappity-rap that could silence those who questioned her right to exist alongside her Cash Money brethren. Pink Friday … Roman Reloaded wasn't that either, nor was The Re-Up, and even The Pinkprint refused to stay in a rap-only lane. Yet if by the end of 2014 you were still dissatisfied with Minaj's rap output, still caught up waiting for the return of the mixtape messiah, then you just weren't listening.
The Nicki Minaj who showed up to 2014 was battle-ready. Early on she took Young Thug's"Danny Glover," added bars as insulting as they were clever—"Hell of a livin', you bitches on chitlins/When I come out of my mansion I sprinkle some bread to the pigeons"—and gave a second wind to a song from 2013. The vitriolic "Lookin' Ass" was like duct tape over the mouths of anyone still crying for "mixtape Nicki," and she hit with a closed fist on "Chiraq," her flow low and measured. Even her sweetness was merely a means to hide something cantankerous as she nearly baby-talked the line "Wonder when they bite me/Do these bitches' teeth hurt?" on the remix to Rae Sremmurd's "No Flex Zone." And of course, lest her lines were not enough to convince you that her value as a rapper had gone up, she had numbers for you, as she upped her "50K for a verse" on "Monster" to "$250,000 for a verse" on the remix to YG's "My N***a."
Minaj had already released an album's worth of material by the time The Pinkprint came out in December, yet she still had more to say. On her third album, she balanced her talent boasts and sex metaphors with details of her broken relationship and family concerns. Yes, the majority of the hooks on these songs were sung, as most hooks are, and she was joined by pop artists like Beyoncé and Ariana Grande, but Minaj used her verses to flaunt her versatility as a rapper. And instead of accomplishing that with fake voices and other gimmicks, she did it with varied flows, ranging from sing-song to pummeling, and lines as personal as they were provocative. She could go as pop as she wants, but for Minaj, it all returns to rap. Who knows what's next, but let 2014 be remembered as the year Roman retired, the wigs stayed in the box, and everyone learned that "mixtape Nicki" wasn't back—she had never left. —Christine Werthman
HONORABLE MENTIONS: Drake, Young Thug, Killer Mike
While Nicki controlled the year with the buildup to her album The Pinkprint, her Young Money counterpart Drake did the same with nothing more than the OVO SoundCloud. Throughout the year Drake would swoop in, drop a new song (or several), and basically nothing else in hip-hop would matter for the next few days. Drake confidently enjoyed another year of his prime by effortlessly communicating success (and its perils) with candor and wit.
In 2014, Young Thug went from a rapper to watch out for, to the guy who might have his career derailed before it could even begin, to a full-blown star. As soon as 2013 songs "Danny Glover"and "Stoner" cemented themselves as early 2014 anthems, complicated label issues threatened Thug's ascent. Thankfully, Birdman stepped in, Rich Gang was formed, and Thugger ruled the summer with his first Top 40 hit, "Lifestyle." Although Rich Gang's Tha Tour Part 1 is the full-length project to go along with all the buzz, it doesn't capture Thug in all his glory ("Lifestyle" isn't even on it). To understand Thugger's appeal look no further than his verse on T.I.'s "About the Money." The verse is much like Thug himself—wildly original and bursting with offbeat energy—and culminates with the typical Thuggerism: "I'm going fishing with these little bitty shrimp dips."
He didn't have the radio hits, club anthems, or nearly as much output as the aforementioned artists, yet Killer Mike was one of the most important voices in hip-hop. It's not that Mike was that much better a rapper this year than in years past—he's always been good. However, the stars finally aligned for critical darlings like Run the Jewels thanks to lackluster major label rap releases. With the #BlackLivesMatter movement taking off with nationwide protests against an unjust justice system, Mike's furious delivery and intricate rhyme schemes became the soundtrack for a revolutionary mindstate. —Insanul Ahmed
---
2015: DRAKE
CREDENTIALS: Two No. 1 debuts (If You're Reading This It's Too Late, What a Time to Be Alive with Future), first-ever Grammy-nominated diss track in "Back to Back," "Hotline Bling" highest-charting solo single (tied with "Best I Ever Had"), launched OVO Sound Radio on Beats 1, guest verses on "Blessings," "Where Ya At," "R.I.C.O.," "100"
"I need acknowledgment. If I got it, then tell me I got it, then." Well, Drake, as far as 2015 is concerned, you had it. Those bars come from a song on What a Time to Be Alive, the second surprise "mixtape" he dropped this year via Apple, with whom he closed a deal that netted him a reported $19 million haul and a bi-weekly radio show streamed to dozens of countries. It's been a blockbuster year for the Boy for sure. And that's without mentioning the rap beef that completely dominated the culture for a week and a half last summer and served as the centerpiece for quite possibly the biggest year of his career.
Months prior to Meek Mill's attack on his credibility, Drake would release If You're Reading This It's Too Late, a mix-album that overall contains a marked increase in aggressive content. In retrospect, "Worst Behavior" was the backdoor pilot to this sneering 6ix God among men. What's irking him? We may never know, but listening to songs like "No Tellin" post Meek beef, his attitude is eerily prophetic. "I gotta keep watching for oppos, 'cause anything's possible/There's no code of ethics out here, anyone will take shots at you." It's like he knew a guy he'd just graced with a big feature verse for the second time would do a complete 180 and call him out for violating the one thing that matters in hip-hop: his authenticity. The accusation was shocking but more so was the imminent validity. The ghostwriter in question does exist; he is credited all over IYRTITL.
Instead of copping pleas, Drake more or less copped to the accusations, dropped a laser-sharp diss track, and absorbed the whole incident as validating energy. If Drake was phased, we never saw it. The biggest rap star in the world shrugged a potentially damaging scandal off and added a new layer of invincibility to his armor. "You all looked in my face and hoped you could be the replacement." Well, not so fast. "Back to Back" is the diss track that many weren't sure he was capable of, biting in its "Takeover"-esque factual derisions yet crafted so precisely to be an undeniable club banger. And then quite casually, in the midst of an alpha male chest-thumping and questions of his viability, Drake dropped "Hotline Bling," a song that was so undeniably Drake, and took it all the way to No. 2 on the charts.
But let's get back to the bars. We may never know the specifics of Drake's writing process, but if one thing out of the summer's controversy was crystal clear, it was confirmation that Drake's final touch is intangible. He's become the arbiter of his era—a new Drake release brings with it an onslaught of new lexicon, inescapable across social media and even in regular conversation. Squads turned to woes. Cellphones don't ring, they bling. His feature verses dominate even when others match his technical skill (see "Blessings"). And he's approaching Jay Z levels of being able to ride any sonic wave and make it his own, word to the mutually beneficial aforementioned WATTBA, which was almost a 100 percent case of Drake adopting Future's aesthetic. Future had a stellar year—but Drake gave him a plaque, on cruise control, no less. It's quite clear who the Big Homie is. As artists push hip-hop to new soundscapes, Drizzy is displaying an efficiency at adapting, co-opting, and refining them for maximum appeal, all while he continues to push his own.
Maybe that explains why, much like Kanye once said of Shawn, with Drake, you only saw the wins this year more than any other. "Back to Back" muted the ghostwriter talk all the way to the Grammys. Old foes bowed to him. Potential new ones are thinking twice. And he still hasn't even dropped the project he's comfortable with officially designating an album yet. Drake didn't just hit an undeniable if not surprising peak in 2015—he became borderline infallible. The 6ix God ascended to Mount Olympus. How far away he is from the sun is anyone's guess. —Frazier Tharpe
HONORABLE MENTIONS: Future, Kendrick Lamar, J. Cole
On Nov. 12, Future took the stage on Jimmy Kimmel Live and performed "Blow a Bag" and "Where Ya At." It was odd timing as the album the songs are featured on came out in July. The performance with a live band proved muddier than expected, but the audience surprisingly didn't mind or care and rapped every word back to him. The message couldn't have been any clearer: Future is once again a star. All it took was a run that stretched back into 2014, featured three exemplary mixtapes with his closest and best collaborators, a No. 1 album that bested all of them, and another one-off project with Drake that all but hushed any lingering doubts about his prolificacy. Future had become a monster just as he predicted. He didn't release, nor was he attached to, any pop-leaning, love-tinged singles. Instead all he released was therapeutic id. One of his best songs, "March Madness," has him belting about having sex with women he really didn't want to bed all because he was high as a giraffe's ass. Other songs had him detailing that the reason he buys jewelry that mimics constellations and makes it rain when he's in a club is to simply "hide the pain." It's all deep shit that, in the hands of any other MC, would make for super downer music. However, Future made us turn up all year long.
The only rapper talked about as much as Drake or Future in 2015 was Kendrick Lamar. He followed up his critically acclaimed major-label debut with, well, another critically acclaimed major-label album. Much has been written about To Pimp a Butterfly and the response the album garnered from fans, critics, DJs, and other musicians. If TPAB wasn't the best rap album of the year, it's tough to argue that it wasn't the most important. It's perhaps the most ambitious rap album of the past half decade. No other album this year made us look into ourselves as deeply or as far outwardly. It questioned nearly everything (blackness, whiteness, religion, social responsibility), which in turn made us question everything: the role of rappers, the role of rap music, respectability politics, the role of music press, the idea that art can be at once great and distasteful. The album cast a shadow over the entire year, out of which came one of 2015's brightest gems: "Alright."
Unlike the aforementioned three, J. Cole was rarely talked about this year. His third album, 2014 Forest Hills Drive, dropped in December of last year, and despite failing to birth any singles as big as Born Sinner's "Power Trip," it managed to sell 371,000 in its first week, notching Cole his third No. 1 album. Going into the new year, J. Cole embarked on a three-pronged global tour as headliner with Big Sean, Jeremih, and YG in tow. Elsewhere in 2015, Cole hopped on the official remix to Janet Jackson's long-awaited comeback single, was asked by A Tribe Called Quest to remix "Can I Kick It?", finally previewed what an album with Kendrick might sound like by dropping twin freestyles on Black Friday, signed two new artists to his Dreamville imprint, and released the label's second compilation album. To top it all off, he signed a deal with HBO to air a documentary about his momentous tour. Without dropping a solo project in 2015, Cole managed to make more moves than nearly everyone save for Drake. Not bad company to be in. —Damien Scott
2016: CHANCE THE RAPPER
CREDENTIALS: Coloring Book, "Ultralight Beam," live performances on Saturday Night Live and at the ESPYs, Magnificent Coloring Day Festival, staying independent
The good guys are supposed to be boring.
Chance the Rapper opens Coloring Book with a declaration: His life is good. He's got a girl, and a child, and he's happy. He bellows, almost embarrassingly earnest, about what he has to be thankful for. It's triumphant and euphoric, over brass backing and the cooing of mentor Kanye West.
This shouldn't work. Great art, we're told, is rarely made by the good guys, the happy or the content. Ambition isn't measured in what you have, it's striving for what you want. Hip-hop is for those strivers, and braggadocio is rarely applied to things so pedestrian. Unless you're Chance.
I'm not pointing this out to suggest something as anodyne as Chance's potential importance as a role model, or the part joyous music can play while the world burns around us. Instead, Chance's persona is impressive because Chance has created a world for himself, out of the unlikeliest of parts, and 2016 was the year we all began living in it with him. He went from outsider to the center of the rap universe. He had the best verse of the year (on "Ultralight Beam"), arguably the best full-length—I mean, "mixtape"—and seems committed to a level of artistry few can match time he performs. And he did it while remaining his own goofy, good-hearted, Christian self—an archetype we haven't seen in hip-hop before, and an innovation in and of itself.
The sound of Coloring Book—and of Chance the Rapper, writ large—is one of openness. He's excited about his life, and wants you to be excited about your life, too. But, more than that, he's trying to bottle up that feeling. He's trying to evoke exactly what his particular brand of happiness—one colored by empathy and nostalgia as much as pure moment-to-moment joy—feels like musically. And over the past few years, he's come thrillingly close.
He's carved a sound—major chords and warm keyboards and stuttering drums—that's entirely and recognizably his own. Coloring Book didn't arrive fully-formed; Chance has been shaping his unique brand of music since 2012's 10 Day, refining what his artistry means and sounds like with his close-knit band the Social Experiment for years. This album, though, was where everything cohered. His rapping is instinctual, bounding from carefully measured measured bars and wordplay to rapturous and guttural expressionism. Not since Kanye West has a rapper so plainly attempted to put every feeling they had into their music.
In the process, he's emerged as one of the savviest music industry players in an unstable environment. In 2016, several artists used the still-nascent streaming economy to their advantage, getting ahead of the sea change the music industry's long been struggling with. Drake signed up with Apple Music, getting millions of dollars and billions of streams in the process. Frank Ocean, with some deft maneuvering that's remained largely under the table, slid his way out of his label contract and released Blonde independently, for which streaming accounted for most of its listens. Chance, too, is at the forefront of a new kind of music industry—but he was the only one to predict it first.
For likely close to half a decade, Chance has been fending off label offers, even when the career path seemed hazy and the potential for failure seemed, to everyone but him, great. Instead, he was the first to figure out how the artist succeeds with the internet, rather than in spite of it. His other releases were completely independent, and his latest came with a partnership—like Drake's and Frank's—with Apple Music, which in its ambitions to corner the streaming market has begun operating as a de facto Medici family for artists like Chance. If that deal were to dry up tomorrow, though, Chance has proved he is nimble and inventive enough to handle any changes, and has a rabid fanbase that will follow him anywhere he chooses to go. It's not Jay Z-style moguldom; it's something more modest than that. Something we haven't seen before. —Brendan Klinkenberg
HONORABLE MENTIONS: Q-Tip, Kendrick Lamar, Young Thug
In Sept. 1991, Q-Tip rapped that "the job of resurrectors is to wake up the dead." He delivered the line in the same verse, on "Jazz (We've Got)," that saw him explain "the aim is to succeed and achieve at 21," which is how old he was at the time. Twenty-five years later, at 46, Q-Tip brought the members of A Tribe Called Quest together to record a new album. During that process, in March, founding member Phife Dawg passed away. But Tip and Jarobi and Ali Shaheed Muhammad didn't forget their jobs, and in November they released We Got It From Here…Thank You 4 Your Service, the final Tribe album. They resurrected the dead.
The album is a miracle, in large part because of Tip's rapping. In his post-Tribe solo work he explored the possibilities of a more jazz and scat-inflected style, and the results sounded less written and more like tossed off freestyles than the brilliant displays of rhyme found on those early Tribe albums. Not here, though. He obviously had things he needed to say—about his country, about music, about aging, about friends, present and lost—and his lyrics sounded more deliberate and calculated than they had in years. This focus resulted in finely crafted verses like his contribution to "Lost Somebody," in which he memorializes Phife and tries to explain the sometimes coarse texture of their long relationship. "Malik, I would treat you like little brother, that would give you fits/Sometimes overbearing though I thought it was for your benefit," he raps, nearly out of breath but still enunciating. As youth-driven as hip-hop is, Tip's performance in 2016 showed that it's possible to make adult rap, sober and frank, that's just as urgent and vital as the energetic displays of the genre's youngest innovators.
Kendrick Lamar didn't release career-defining work in 2016, like he did in 2015 and 2012, with To Pimp a Butterfly and good kid, m.A.A.d city, respectively. Instead, Untitled Unmastered, a rough collection of apparent studio leftovers, felt of a piece with the storm of jazz and American turmoil that produced Butterfly. Many of the songs were studio-cemented versions of live late-night performances; many of those songs were brilliant. They left no doubt that Kendrick is one of the best rappers in the genre's history, but they didn't deepen his story or lead the listener down a new, surprising path.
Elsewhere, he contributed verses to songs from Beyoncé, Danny Brown, A Tribe Called Quest, the Weeknd, Travis Scott, Kanye West, DJ Khaled, Maroon 5, Sia, BJ the Chicago Kid, and Isaiah Rashad, among others. Of those, "Really Doe," "Goosebumps," "No More Parties in L.A.," "Holy Key," and "Wat's Wrong" were most deserving of praise, but none felt essential. It's hard to imagine that he'd perform any of them during a show of his own in five years, the way certain guest features of, say, Jay's have penetrated his solo catalog. In some ways, Kendrick Lamar was in cruise control in 2016. But what was startling is that his cruise control output now matches other rappers' career-making years.
Young Thug may never be the best rapper alive for as long as he raps, but that's in keeping with his artistic mission. Unlike Kendrick Lamar, who raps at a scholarly level, armed with history and precedent, Thug raps to complicate the act itself. What he does under the banner of hip-hop—toying with song structure, exploding his voice—prompts critics and listeners to coin words and subgenres. Still, in 2016 he released some of his most streamlined projects to date. Slime Season 3 and Jeffery in particular are compact machines, with so many strange twists and turns jammed into eight or ten track releases, like the exposed motherboard of a pocket-sized device. Songs like "With Them," "Drippin," "Webbie," "Kanye West," and "Pick Up the Phone" are crammed with creative turns of phrase, off-the-wall flows, and brief moments that would be hooks for less adventurous artists. There's no telling if this year will go down as the first sign of Thug trending toward more steady, stabilized musical output, or if his focus and stability last year was itself an anomaly. That sort of unpredictability is very much keeping in the spirit of Young Thug. —Ross Scarano
2017: KENDRICK LAMAR
CREDENTIALS: No. 1 album debut, first solo single to hit No. 1, four Grammys
"To be the man, you got to beat the man." — Ric Flair
Depending on how you viewed it, To Pimp a Butterfly was one of two things. To most, Kendrick's third full-length was the moment in which he bucked the mainstream and decided to follow his vision to create an abrasive, yet important, piece of art that spoke viscerally about the issues he believed to be afflicting the group of people with which he most closely identified.
To others, it was a tacit admission that, up until that point, when it came to creating popular rap music, he just wasn't up the task. As much as TPAB was discussed and debated—much to the delight, we're sure, of Kendrick, who said the album would wind up on university syllabi—it didn't make much of a dent in the marketplace. It went platinum, but it sold less than Good Kid, M.A.A.D. City, and only one single managed to crack the top 40 of the Billboard Hot 100 chart.
For comparison's sake, that same year Drake dropped two albums, each debuting at number one, each pregnant with hits that would dominate the charts, radio, playlists, and commercials for the entire year.
To Pimp a Butterfly and the album of outtakes that followed it were such aberrations from the center of rap that many wondered if Kendrick would ever return. Would he even continue to rap? Would he strike out as a jazz fusion artist? Would he take up spoken word full time? Would he ever answer the shots taken at him by Big Sean and Drake? Would he focus his time on more pressing issues and, by default, cede the crown to one of the aforementioned competitors? Did he even give a fuck about being the best rapper alive?
After a varied series of guest appearances, on March 23, 2017 we finally got our answer via "The Heart Part IV," on which Kendrick addressed his doubtful, slick-talking peers, comforted his worried fans, and staked his claim as the king.
I put my foot on the gas, head on the floor
Hoppin' out before the vehicle crash, I'm on a roll
Yellin', "One, two, three, four, five
I am the greatest rapper alive"
Not only that, he announced that he was coming right back with another album that would further solidify his place in the game. And DAMN. did just that. This isn't another experimental project meant to be debated and discussed in barbershops and on rap forums. DAMN., with production from Mike-Will Made, Sounwave, DJ Dhahi, 9th Wonder, and the Alchemist, and MCing from the legendary DJ Kid Capri, is meant to be bumped everywhere you listened to hot shit. It literally has something for everyone.
To run rap, you have to create music that applies to a multitude of scenarios and situations. You can't be the best rapper alive if all you make is music that's meant to be bumped in headphones. Or that only sounds good at ear-piercing decibels. Or lyrics that are better read on computer screens than recited back to you by rabid fans. Kendrick had all of that, and more. "HUMBLE.," the first single from the album, and Kendrick's first solo number one song, was a bop-inducing ditty that was immensely rappable thanks to its simple earworm of a chorus. It was like a photonegative of "The Blacker the Berry."
Even more remarkable was that Kendrick seemingly conceded very little—if anything—creatively to make this album (which also debuted at number one) work. Yes, Rihanna and U2 are on the album, but it still features the same heady computation of the world and its inhabitants and institutions as heard on TPAB. Only this time the beats are banging in a way that's closer to the center of rap. Or, put another way, they're productions you could imagine his competition vying to use.
Sure, DAMN. could be seen as a tacit admission that the direction he had hoped to explore with his previous work wasn't as commercially viable as he hoped. Or it could be seen as him deciding to follow his ambition to beat his contemporaries in their own arena. No matter how you view it, Kendrick Lamar proved himself to be the best rapper alive. —Damien Scott
HONORABLE MENTIONS: Jay-Z, Cardi B, Future
When it comes to pure artistic achievement, there was only one person sparring with Kendrick for the title of Best Rapper Alive last year. Jay-Z, weary and wiser for it, returned with an album that had no right to be the masterclass that it is. 4:44 doesn't have the number one hits, the dazzling pyrotechnics, or the naked competitiveness that Kendrick brings to bear on DAMN.Instead, Jay acts his age—something we've never seen before, from any rapper. The result is a focused statement from a man trying to get you to listen and, more importantly, understand. Much was made of this being Jay's apology album—it was, but it was much more than that. It's the kind of album artists can usually only make at the beginning of their careers, jam-packed with every thought careening around their head, a definitive personal statement with the air of a conversation. In this case, you listen because it's album number 13, and he's not supposed to have anything left to say.
If Jay was interested in showing off he's made it clear that he could still give anyone in the game—Kendrick included—a run for their money. Instead, he opted to make songs that sigh instead of roar. It was the right decision.
While K. Dot and Jay circled rap's best album, Cardi B loudly dominated 2017. For those really in the know, this might have been expected. She'd long been the center of attention, mapping out a path to success from a strip club to Instagram to TV. Her leap to music was audacious, but it made sense that she would eventually reach new heights. For the uninitiated, Cardi B emerged, fully-formed, into a universe that she seemingly controlled through sheer force of will and an elementally magnetic personality. She reminded us that rap is a game of characters. Outsized, real figures, and it's there that Cardi B truly excels. It's impossible to stop watching her—she's compulsively relatable, outspoken to a fault, and is something of an apex predator in the Instagram Era of rap personalities.
Of course, that would be nothing without good music. The jump from celebrity to rapper—a real jump that amounted to more than flash-in-the-pan attention—is a risky, improbable one. Cardi B has made it, sure-footed, thanks to a concentrated, three minute and 44 second-long distillation of her appeal called "Bodak Yellow." It was a breakout hit—inescapable in New York for the entirety of the summer—eventually reaching number one on the Billboard charts (and unseating Taylor Swift on its way). More impressive than its commercial success, though, was how confidently it was pulled off. Despite quibbling claims of stolen flows (a kind of borrowing that's both foundational to hip-hop and nodded to in the song's title), "Bodak" is the Cardi show from start to finish. The song is stunningly charming and even more catchy—it's Cardi to the core, which is why it achieved the success it did. "Bodak Yellow" was both an introduction and definitive statement, and the rare debut smash hit that serves as an announcement, not a career peak.
While Cardi's rise took most of 2017 to gestate, Future opted to announce his presence straight out of the gate. Always a prolific studio rat, known for resuscitating his career by furiously distributing street rap that was better than any of his peers', the surprise release of FUTURE was not actually a surprise. That's what Future does: drop great music on a whim. What was surprising was what people latched onto as the album's biggest hit: "Mask Off," a pan flute-led, laconic piece of trap music that set off thousands of memes and more parties. What was even more surprising happened the week after FUTURE, when Nayvadius dropped HNDRXX.
If Future had made the prospect of a surprise album something closer to an expectation, he blew the concept out of the water when he did it twice in two weeks. More impressive than the sheer productivity, though, was how assured the two projects were. This wasn't a song dump, generated to flood the market, but a calculated attack on two fronts. The design became clear when the projects were laid out together: FUTURE the brutalist, scorched-earth piece of bass-boosted antagonism that took Future's hard-won persona to its logical extreme, and HNDRXX the formally inventive peeling back of layers to hint at some empathy behind the mirrored sunglasses, as well as an artistic path forward for one of rap's best songwriters. —Brendan Klinkenberg
2018: PUSHA-T
CREDENTIALS: Best Rap Album Grammy nomination for DAYTONA, Complex's Best Album of 2018, "The Story of Adidon"
Then David said to the Philistine, "You come against me with sword and spear and javelin, but I come against you in the name of the Lord Almighty, the God of the armies of Israel, whom you have defied. This day the Lord will deliver you into my hands, and I'll strike you down and cut off your head. This very day I will give the carcasses of the Philistine army to the birds and the wild animals, and the whole world will know that there is a God in Israel." – 1 Samuel 17:45-46
David slayed the giant Goliath with fearlessness and a stone. We all know the story, whether we've read the Bible or not. It's a reference we lean on whenever an underdog does the unthinkable. Finally, after years of baiting rap's biggest star, Pusha-T battled Drake and won. Except those of us who had been following Push's career since we banged the "Grindin'" beat on lunch tables weren't surprised. The Virginia-by-way-of-the-Bronx MC has been an elite lyricist for decades, never losing a step or forgetting the rules of the game. Even if those who come down from their ivory towers and try to dictate those rules whenever it suits them (as Drake attempted to do) are constantly moving the goalposts.
What's ironic about Push's year in 2018 is that "The Story of Adidon" was just icing on the cake—or at least that's what hindsight tells me. DAYTONA is flawless, a seven-track opus made specifically for those in the know. It's his Reasonable Doubt. His third studio album is straight to the point like his raps, loaded with quotables that would've been highlighted in The Source, had the project come out two decades ago. Kanye's production serves as the organ player to Push's coke-fueled sermons. No song on the project embodies that dynamic better than its most underrated track, "Come Back Baby."
I was lucky enough to hear this particular song early. I was in my motherland of Puerto Rico for the first time in my life. We sat in the parking lot, blowing it down, drunk, with bellies full of mamposteao, when the homie decided to give me a sneak peak. I shit you not, I felt like I was in church, and the weed began to smell like the incense in a thurible. Almost a year later, that King Hannibal gospel/funk sample still brings me closer to God. But Push thinks more highly of "Games We Play."
"I think 'Games We Play' is the best hip-hop song of 2018," he tells Complex after learning he's been crowned 2018's Best Rapper Alive. "That is the best pure hip-hop record of 2018, by far. I don't know if there's a better marriage of beats and lyricism."
Like every rapper of his ilk, King Push has never been humble when it comes to his bars. And he's never been shy about throwing shots at your favorite rappers in the name of sport.
He lured Drake for years, most notably with the 2012 subfest that was "Exodus 23:1," where he came at Drake and Lil Wayne for being led astray by Birdman, two years before Weezy called his longtime label boss out on Twitter.
"Contract all fucked up/I guess that means you all fucked up/You signed to one nigga that signed to another nigga/That's signed to three niggas, now that's bad luck/Damn, that shit even the odds now/You better off selling this hard now."
The beef finally boiled over on the weekend DAYTONA dropped. Most of us thought nothing of the shots Push took at Cash Money on the album's final track, "Infrared," but Drake noticed, and finally took the bait. He fired back at Push on his release day with "Duppy Freestyle," effectively shifting the conversation during DAYTONA's rollout. Many jaws (including my own) dropped to the floor when we heard Drake's vitriol. Never had he gone at another rapper the way he did Push on "Duppy." Aubrey was sick of the ghostwriter shots and years of slick jabs at the hands of Terrence. Finally, Drake had removed the thorn in his side, swiftly swatting away a rapper who had been beneath him for nearly a decade, in terms of mainstream success.
And then, five days after the body shot that was "Duppy Freestyle," Pusha returned, stone and sling in tow, and slayed Goliath with one of the most maniacal, strategic, and disrespectful diss records in recorded rap's 40-year history. "The Story of Adidon" included multiple revelations, most notably that Drake had a secret child. As if that wasn't enough, the cover art was an actual photo of Drake in blackface. And the "The Story of O.J." beat was just…*chef's kiss*.
"Adidon" hurt the Toronto rapper to his core, causing him to hit the eject button on an Adidas campaign centered around his son, go on HBO to spew propaganda, and allegedly offer six figures for any dirt he could find on Push. Goliath was brought back down to Earth, a humbling experience, to say the least. The sales are still there—they will always be—but the perception among rap fans who matter will be forever tainted.
Drake's fall from grace was so embarrassing that it seems like, just a few weeks ago, he was still trying to gather intel on Push. Pusha clarified his tweeted warning ("You tried, you failed…I'm hearing you wanna try again") by telling us, "Man, I think people got that tweet a little misconstrued. I don't know why anyone ever said that was about music. I never said that."
And with that, I leave you with this Bible quote from the Book of Exodus, Chapter 23, Verse 1:
"Do not spread false reports. Do not help a guilty person by being a malicious witness."
The truth hurts. —Angel Diaz
HONORABLE MENTIONS: J. Cole, Drake, Travis Scott
2018 will be remembered as the year J. Cole took control of his own narrative. When the year began, teenagers at SoundCloud rap shows were still yelling "Fuck J. Cole" and making memes about his laundry rhymes. Then he dropped his most mature and complete work to date, KOD, an album that found Cole sharpening his pen while transitioning to the "big homie" phase of his career. A month later, he sat down for a conversation with Lil Pump, earning back some respect from the genre's youngest stars (and quieting those "Fuck J. Cole" chants). Image intact, he set out to flip a longstanding myth that he's a "no features" lone wolf who avoids collaboration. Jumping on songs with everyone from 6lack to Anderson .Paak, Cole made it clear that he can excel far outside the context of his own carefully constructed, self-produced albums. "OK no problem, I'll show up on everyone album/You know what the outcome will be," he rapped alongside 21 Savage on "a lot," before flipping the script on everyone: "It's got to the point that these rappers don't even like rappin' with me." For years, we've known J. Cole could rap with the best artists on the planet, but in 2018 he finally shed some lingering stigmas that were holding him back. Now, it's undeniable: J. Cole is one of the best rappers alive.
In more ways than one, 2018 was a disappointing year for Drake. After coming out swinging with back-to-back No. 1 singles, "Nice for What" and "God's Plan," he seemed well on his way to a career year. Then he poked a bear (Pusha-T), and the world found out he was hiding a child. Instead of responding directly, he countered with Scorpion, a 25-song double album that didn't live up to high expectations. But even in an off year, Drake dominated the charts and managed to make his mark on 2018's defining moments: His name appears on seven of Complex's 25 best tracks of the year. 2018's greatest song, "Sicko Mode," wouldn't have been nearly as special if it weren't for Drake's gift of delivering immediately repeatable (and memeable) gems while dropping intricate subliminals that would provide fodder for wild Twitter conspiracy threads. Once again, he proved he has a better grasp than anyone of making music designed for internet consumption—even during a moment in which public opinion had swayed against him for the first time. In 2018, one thing became clear: We can never count Drake out.
The notion of including Travis Scott on a Best Rapper Alive list caused so much debate in the Complex office that we had to call an emergency meeting. What are the qualifications to be considered a great rapper in 2018? Should the honor go to a lyrically driven artist with an unmatched pen, like Roc Marciano? Or should innovation and overall song-making abilities hold just as much weight as intricate rhyme schemes? Bar for bar, no one is arguing that Travis Scott was the best lyricist of 2018, and he doesn't fit in the neatly defined package of what many hip-hop traditionalists look for in their favorite rappers. But he embodies exactly what the best rappers have always been about: a relentless drive to push boundaries.
In a decade, when we think of the albums that defined 2018 and shifted the genre, we'll think of ASTROWORLD. As the expensive, ethereal spirit of "Stop Trying to Be God" transitions into a mosh pit anthem on "No Bystanders" (which features some of the best rapping of his career), you have to stop and appreciate how Travis has taken the momentum from every artist who came before him on this list and spun it into something new. Throughout ASTROWORLD, he tips his hat to acts like Three 6 Mafia, Goodie Mobb, and the Beastie Boys while recontextualizing their sounds in a way that works within the Travis Scott universe. Washed in Auto-Tune and delivered with an emphasis on tone-setting, his vocals are used in ways that wouldn't have made sense 10 years ago. Working in the parameters of a genre that was born from a need to make something new out of existing materials, Travis Scott is leading the way for another generation and shifting the idea of the skill set that making great rap music requires. For that, he'll be remembered as one of the best rappers of 2018. —Eric SkeltonFEATURESLISTS50 CENT2PACDMXDRAKEEMINEMJAY ZJEEZYKANYE WESTKENDRICK LAMARLIL WAYNENICKI MINAJNOTORIOUS BIGQ TIPRUN DMCT.I.
---
---