"I, for one, believe that art can be used to start a conversation."
To be an artist in 2019 means to have the power of liberation. An artist has the tools to convey their vision in a masterful and authentic form that can spark conversations for generations and Laolu Senbanjo, also known as Laolu NYC, is already doing just that.
A Nigerian-born visual artist, musician, activist and human rights attorney, Laolu knew at a very early age that art was his destined path. After practicing law for a few years, he moved to New York where he treats the city as his canvas, painting on human bodies, walls and other objects. The riches of the Yoruba culture passed down from his grandmother guide the way he tells artistic stories. He describes his craft as "Afromysterics," which he defines as the mystery of the African thought pattern.
When Laolu started putting art on human bodies, he said he discovered that people loved customized storytelling, which made him customize his art for them. With patterns and human elements that spring from the individual, his work ignites conversations.
His art has been seen by the thousands, whether on social media or by people walking the pavement of New York City streets. One of those viewers was a fellow artist by the name of Beyoncé Knowles-Carter. In 2016, she and her team reached out to Laolu to be a part of her Grammy Award-winning masterpiece "Lemonade."
Since then, Laolu has worked with more celebrities and collaborated with various brands including Nike and Kenneth Cole. The humble, kind and soulful artist has continued to seek new pathways of expression.
For "We Built This," Laolu discussed his journey to art, his pride in his African culture and the legacy he hopes to leave behind.
What have you built?
I would say my story. It starts in Nigeria and I started out doing a lot of art that I considered Afromysterics. You know I coined that name. It means the mystery of the African thought pattern. So you see a pattern. You see a storyline. And there's a message in it. And that's what my art symbolizes, you know, taking you through a journey through lines. Taking you through a journey to being a Yoruba person. Taking you through a journey as to how I see the world, as an artist.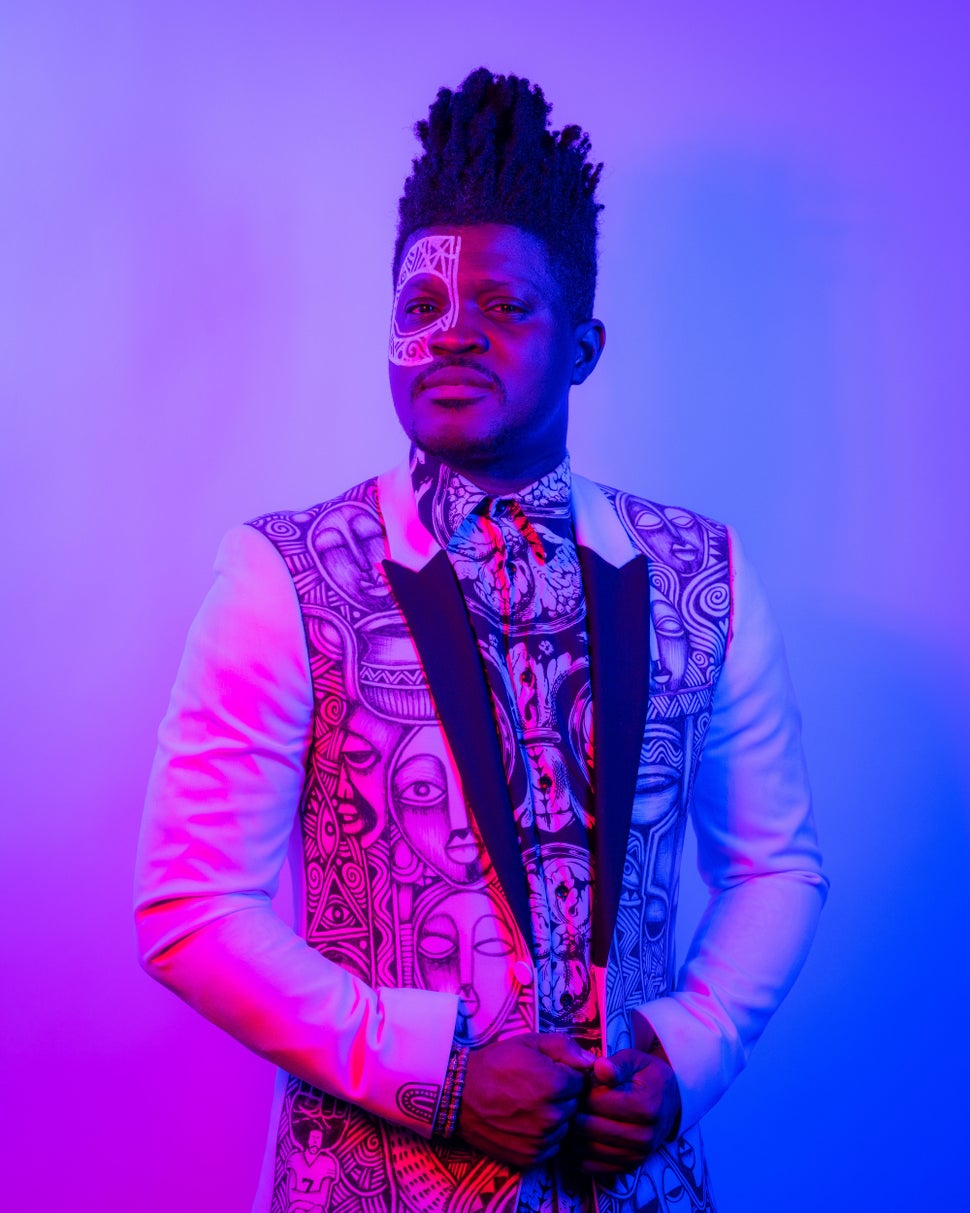 As you mentioned, you described your art as Afromysterics. Can you just talk a little bit more about that and what brought you to coining that term?
There's a lot of riches in the Yoruba culture. It has a lot of heavy patterns. It has a lot of proverbs. It has a lot of Yoruba style art. And a lot of this art is based on stories, like folklore or stories passed down from my grandmother, for example, to me. And I would listen to those stories about Yoruba mythology or the orishas or the gods for example. Orishas are like gods you know, like we have the Greek gods. We have the orisha, the Yoruba orishas.
You were born in Nigeria and you were also previously a human rights attorney. How did those experiences lead you to art?
I always wanted to do art, but growing up in Nigeria it was a difficult task talking to my parents about doing art. So my dad is also an attorney, and right from the time that we were kids, my dad already picked out career paths for my brothers and I. He was like, OK, you're going to be a doctor. You're going to be a lawyer. You couldn't argue with him. I knew if I wanted to be happy and I wanted to make them happy, I knew this was the right thing to do.
But then there's this part of me that's huge and I wanted to be an artist. I felt like this was what my calling was, but I had to do law. I went to law school, graduated and then after law school started practicing. But it was this part of me that still was calling me to be an artist. However, I fell in love with law at the end. Working at the Human Rights Commission in Nigeria just exposed me to a lot of privilege that I had and I didn't even know I had.
Since moving to the United States, do you feel like you became racialized in a way that you hadn't been before?
I mean, definitely. It makes you understand and appreciate certain things that you never really had. You watch the news and you really don't understand the gravity until you live in America and you have to deal with day-to-day biases of people who live here. And, again, I've had my own shares, my experience living here. A lot of people would not ask you first, "Are you Ghanaian?" Or "Are you Nigerian?" or "Are you this or are you that?" No. They just see you and there's a box you check. Like you're black. The truth is I'm black whether I like it or not.
Being Nigerian and African in America is a very unique experience because coming here is kind of really unique. I never saw myself as black, I used to call myself Nigerian. So if people call me black, I'm like, I look at my skin. Yeah, I am black. But you know I'm Nigerian. But then, the thing is, when you come here, America really doesn't care where you come from. As long as you're here and you share the skin tone with Martin Luther King, you're black.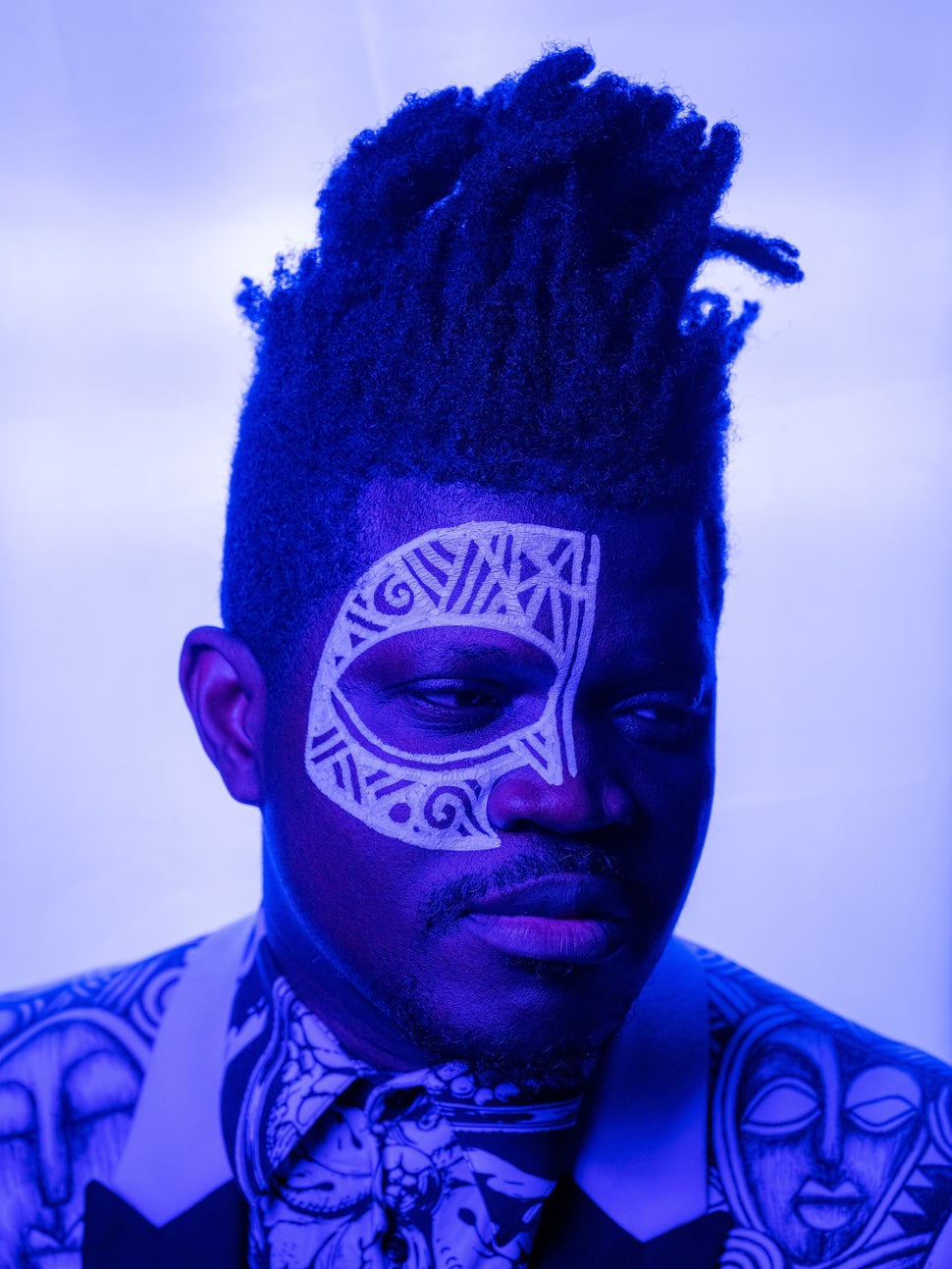 Some people use various different avenues to really express who they are. Do you see your style and specifically your clothing as a way of expression?
Yeah, definitely. It's a way of expressing myself. It's also an outlet. It's also a way to make people see how I view the world and what I see. I've worked with a lot of brands and some of them want to stay out of politics. But the truth is as a human living in America, I'm a political animal whether I like it or not. I have views. I have certain viewpoints and I also have a civic responsibility and a duty, you know? I, for one, believe that art can be used to start a conversation. It's a conversation starter. It also can be used to change people's perceptions or even start, you know, to challenge your views of what you think about.
Your way of expressing your art has led you down extraordinary roads. It led you to be connected with Beyoncé. And to be a part of "Lemonade," her visual album. Could you talk to me about that? How were you connected with Queen Bey?
Yeah, honestly to this day, it's one of those experiences that is kind of surreal. Sometimes I pinch myself, yeah that happened. Moving to New York kind of like exposed me to a lot of things. I started putting art on people's bodies. Like I adopted the term "Everything is my canvas." So I put art on people's bodies and anything I could lay my hands on in New York. And that kind of opened like a door because I kind of discovered that people love like customized stories.
Now, I started doing that and Queen Bey took notice of some of my videos on Instagram and videos on YouTube. When I got the call, it was one of those things that in my head I was just like, hell no. First I got a DM. Then I got an email from Parkwood [the entertainment company founded by Beyoncé]. It was her, actually: "Oh, would you like to be part of a music video? Beyoncé is a big fan of your work." In my head, I'm like, yeah, somebody is just trying to pull pranks. I'm Nigerian. I was just waiting for the catch.
But then it happened. I got a request for a meeting. I had to sign an NDA and I was like holy shit. They flew me down to New Orleans in Louisiana. That was my first time there. And the moment I landed, there was a chauffeur waiting with my name up and I got in the car. I got in the car, and I was crying. I was like literally like wow. I was just like wow. This is real. Later, I was sitting in a room talking to Beyoncé about "Lemonade." It was surreal, man. It was just crazy. I mean just the fact that she told me about my art and she followed. She just saw it and she wanted that in her video. And when she explained what she wanted to do with it, the connection with Yoruba culture, which I didn't know was kind of huge in Louisiana.
Like going there, when you come to America, you think you're far away from home. But then you come here, you discover you find home. But home that has been taken away from home, like centuries away. That's just so … For me, it was emotional to see people who even speak Yoruba. And like they hold onto every strand of the culture they have left. And me being here, like a connection to that, you know the roots, that people sit, it's an amazing space to be. To be like a bridge and I'm just super grateful to be here and doing what I do with the art.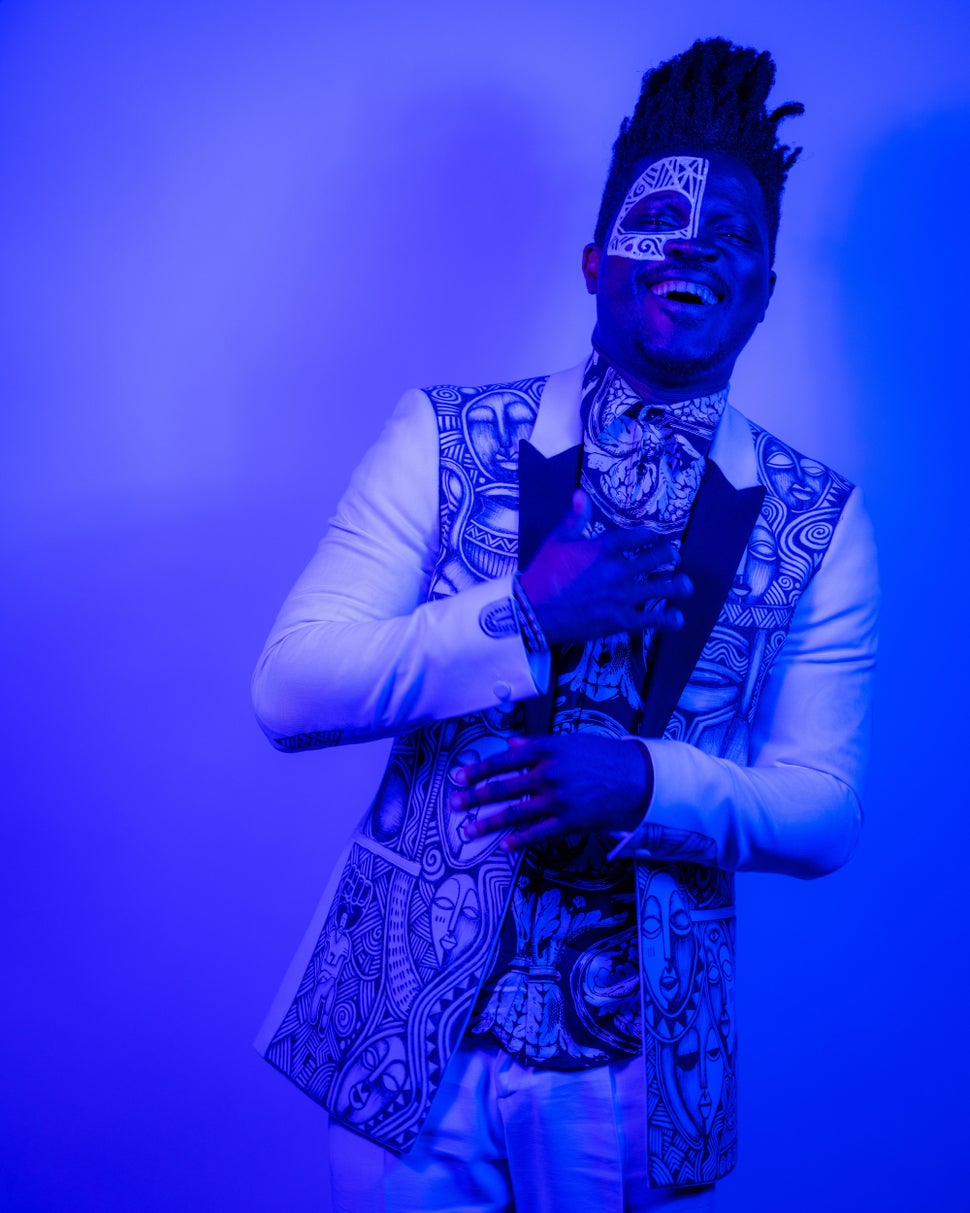 So just with all of that, when you think about years down the road, what do you want your legacy to truly be when it's all said and done?
Honestly, I just want it to be that people are inspired by the journey and the story. It's more about inspiring that kid, that child, who also has a dream. Because for me, my dream has always been art. And it's always been being able to share my gifts. Because it's a feeling you have as an artist sometimes. You just don't know how you're going to do it, but sometimes you have to just take a leap of faith and just plunge. Just jump.