Chronixx has released a new feel-good single, Likes, in time for the weekend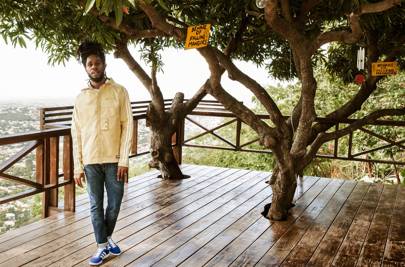 Listen to the new single, "Likes", from Chronixx.
If you don't know then you should: Adidas Spezial is the word on the street. The brainchild of Gary Aspden and Mike Chetcuti, it has lads of all ages clambering to get their hands on one of the hottest streetwear brands around. From Wolf Gillespie to Stormzy, the impact in a relatively short amount of time has been trailblazing in a somewhat saturated streetwear market. For SS17, Adidas Spezial has enlisted one of reggae's rising stars, Chronixx, as the face of its new season campaign. Here, we get exclusive time with the musician to talk about the best cities he's played, the parallels between British and Caribbean casual culture, and what makes Spezial special to him and a whole generation of young guys.
GQ Style: How did the collaboration between you and Adidas Spezial come about?
Chronixx: The collab happened mainly because Gary Aspden is a great person who has a genuine love for the Jamaican music culture. I always liked the vibe and look of his work with Spezial, even before I knew it was his work. I met up with Gary some years ago in London and out of our friendship came the collaboration.
What's special about Spezial?
Spezial is classic, athletic, casual and elegant all at the same time.
What is your favourite piece from the collection?
My favourite piece from the collection is either the olive army jacket or the football jersey.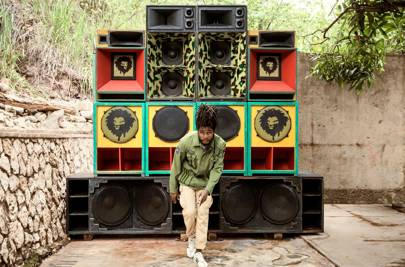 The collection targets two subcultures: British casual culture and Jamaican casual culture. Do you see links between the two?
The more modern British fashion, art and culture is very impacted by Jamaica and Jamaican music and vice-versa. Adidas has always been a part of that connection throughout the last few decades. I also think the football is at the centre of what British casual culture and Jamaican casual culture have in common. Analysing the Jamaica football federation wouldn't give you the true picture of how popular and loved the sport is in Jamaica.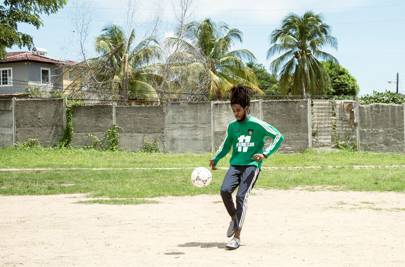 We learn from the film and images that you are a football fan, do you follow a team?
Arsenal. Very interesting club.
You're currently doing a big tour around North America and the UK. Where is the place you most enjoy playing?
I love Nairobi, Addis Ababa, London and NYC, mainly because the vibe is always so special. Some shows take a lot of energy, but in these places people give us energy.
How was touring with the Stone Roses? How did that happen?
Ian Brown is a close friend of Gary Aspden. Ian decided to have us open for the Stone Roses at the Etihad stadium in Manchester after watching our Somerset House performance in London. It was a great little link up. It was beautiful to see how deeply their music found itself in the hearts of their fans.
What is the perception of the Stone Roses in Jamaica?
You won't hear the Stone Roses being played everywhere. Jamaicans love all good music and musicians though. I'm sure a lot of people are familiar and in love with their music in Jamaica. Jamaicans listen to every single genre of music.
You have grown up in a very musical family, with your father, Chronicle, being a songwriter. Who were, or are, your biggest inspirations and who would you most like to collaborate with?
Growing up, because of the kind of music my father does, I was exposed to a lot of dancehall/sound system music. Then, my biggest influences were Buju Banton, Super Cat, Ninja Man, Sister Nancy, Barrington Levy, etc. As I grew up, I started learning instruments and production and got drawn towards more Studio One music – more soulful sounds and musicians like Toots, Bob Marley, Burning Spear, Desmond Decker. I would like to work with Burning Spear and Emily King.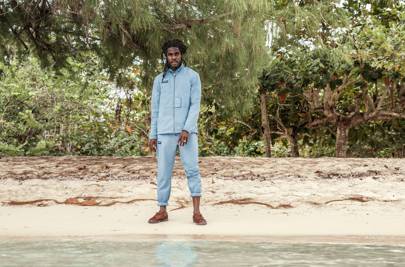 Adidas has been worn by some of the most influential and iconic artists ever, one in particular is Bob Marley. How did his style influence fashion in Jamaica?
Bob's style, I think was a direct reflection of his lifestyle and what worked for him as an active musician, Rastafari, football player, traveling man. Many people will dress that way only because it looks cool, but for a Rasta man it's more what works, what is suitable for my lifestyle.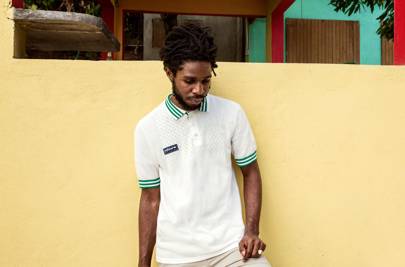 Tell us one thing people don't know about Chronixx?
I don't smoke.
What's next for Chronixx?
The Chronology album!
Nazi origins of Adidas and Puma tennis shoes
Sneakers, Nazis, and a family feud. Two German brothers battled each other to build the Puma and Adidas empire
The Enemy Brothers Who Founded Adidas and Puma and the Family Feud That Forever Changed the Business of Sport
The term "sibling rivalry" doesn't quite do justice to the relationship between German shoemaking brothers Adolf and Rudolf Dassler, proprietors of the German athletic-shoe enterprise known as Dassler Brothers. During World War II, Rudolf was convinced that Adolf, better known as "Adi," contrived to have him sent to serve with German forces in Poland. After the German surrender, Rudolf retaliated by denouncing Adi to the Allies for allegedly assisting the Nazi war effort.
Bizarrely, the bickering brothers continued to share a villa, with their wives and children, in the Bavarian town of Herzogenaurach until 1948, when Rudolf and employees loyal to him formed a rival shoe company called Puma. Adi renamed his outfit Adidas (ADDYY). So great was the animosity between the brothers that the whole town became embroiled. Residents declared their loyalty to either Adidas or Puma according to the shoes they wore and sometimes refused to speak to members of the other side.
The epic feud shaped not only the shoe industry but also the relationship between sports and business. Both brothers and, later, their sons, realized that getting star athletes to wear their shoes was crucial to sales. Flouting Olympic rules, they showered potential medalists with cash and swag. The Dasslers can take much of the credit, or blame, for turning the Olympics into the marketing circus it is today.
It's a great story, unevenly told in Sneaker Wars: The Enemy Brothers Who Founded Adidas and Puma and the Family Feud That Forever Changed the Business of Sport by Dutch journalist Barbara Smit. The book eventually finds its footing, but the early chapters are poorly paced and full of loose ends. Recounting Rudolf's war years, for example, Smit first seems to accept his post-war assertion that he was arrested by the Gestapo for suspected desertion in the final weeks of the war. Then later she raises the possibility that he was, in fact, working for the Gestapo. A better writer would have handled the contradictory evidence more gracefully.
Certainly, neither brother was a saint. Both joined the Nazi Party soon after Hitler took power, although their first allegiance seems to have been to the shoe business. (Adi worked hard to get star athlete Jesse Owens to wear his spikes at the 1936 Olympics in Berlin, even though the Nazis reviled the black American.) After Adi and Rudolf split, they and their successors stopped at nothing to undermine each other. At the 1968 Olympics in Mexico City, Adidas managers contrived to get Puma shoes impounded by Mexican customs and may even have arranged for a Puma rep to be arrested and jailed.
As if the Puma-Adidas rivalry weren't enough, Rudolf and Adi couldn't even get along with their own offspring. Adi's estranged son, Horst, established a parallel company in France, using the Adidas name but offering a separate product line, competing for orders, and even spying on the Herzogenaurach faction.
Despite all the internal conflicts, Adidas and Puma rode the postwar sports boom to riches. They saw the potential of the U.S. market and signed athletes such as Joe Namath, the quarterback for the New York Jets who wore dazzling white Puma boots on the field.
The Adidas-Puma rivalry may even have fired the brothers' competitive spirit and contributed to their success. But their preoccupation with each other also seems to have left them exposed to newcomer Nike (NKE) in the 1970s. Nike's rise drove Adidas from a 60 per cent market share in the U.S. to only 2.5 per cent at the beginning of the '90s. The heirs of Adi and Rudolf eventually lost control of both Adidas and Puma.
Luckily for Smit, the owners and managers who followed were no less colourful. Smit's narrative improves considerably as the book proceeds, possibly because there are more living witnesses to provide the lively detail lacking in early chapters.
Smit is not one to draw business-case lessons from her tale. But a reader may come away with a new appreciation for the MBA-style professionalism at the top of Adidas and Puma today. Current Adidas CEO Herbert Hainer and Puma CEO Jochen Zeitz are both marketing professionals who have delivered stability and growth – even if they don't make such juicy copy as their companies' founders.
Source: Business Week, April 2, 2008