)Gucci has apologized and discontinued selling a sweater that social media users said resembles blackface because of its design. Gucci claims it was a mistake blacks are not convinced after recent scandals and publicity surrounding brands such as H&M, dove soap, Heineken to name a few its hard to believe Gucci wasn't aware which is very sad considering Gucci's extreme presence in black popular culture with Gucci being adorned by virtually every rapper and its impossible to hide Gucci product placement in ABC TV's Blackish and VH1's Love and Hip Hop.
In a Twitter post Wednesday, the Italian luxury brand said it "deeply apologizes for the offense caused by the wool balaclava jumper."The top, which is no longer on the company's website, is a black turtleneck sweater that pulls up over the bottom half of the face with a cut out and oversized red lips around the mouth.View image on Twitter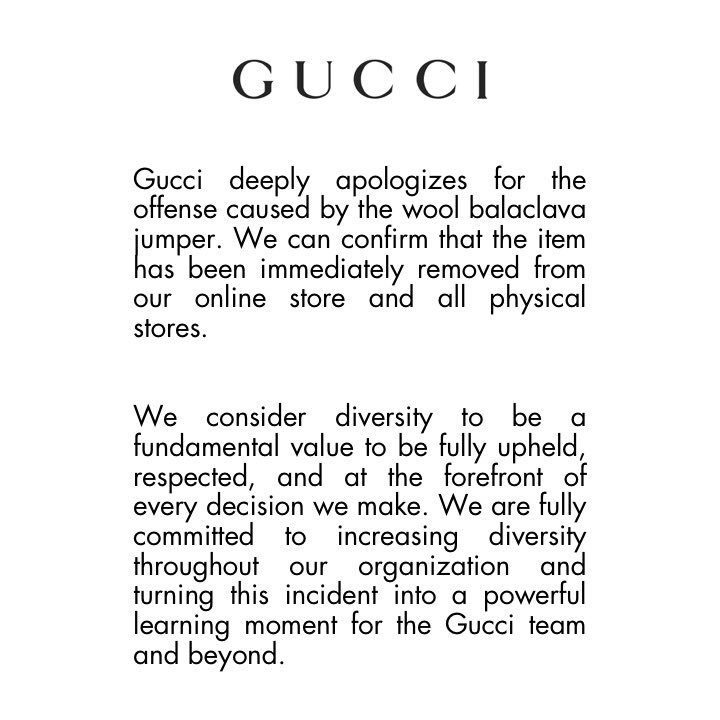 We can confirm that the item has been immediately removed from our online store and all physical stores," Gucci said in a statement on Wednesday. "We are fully committed to increasing diversity throughout our organization and turning this incident into a powerful learning moment for the Gucci team and beyond."The sweater had been slammed on social media, with Twitter users saying it resembled blackface and expressing emotions ranging from exasperation to outrage."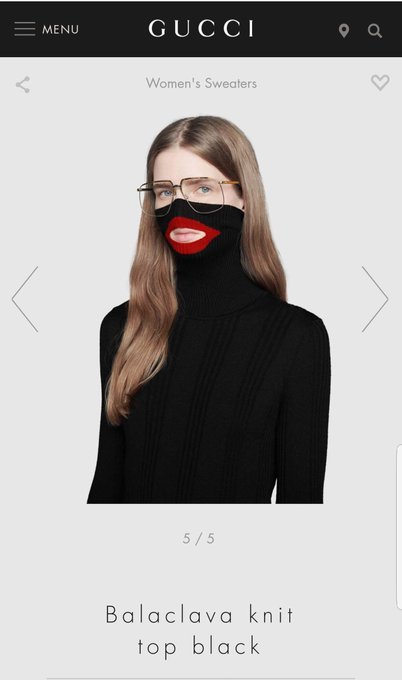 This is unacceptable."One user noted that the controversy was taking place during Black History Month and expressed skepticism that it would stop people from buying the brand.
At this point, Gucci playing in our face but y'all still gone shop happy black history month. This is not the first time a fashion brand has been accused of using such imagery. Last year, luxury fashion house Prada said it withdrew products after some items displayed in a Manhattan storefront were seen as depicting blackface imagery. The products, part of Prada's Pradamalia line, were pulled after images surfaced of some merchandise depicting monkey-like figures with black faces and large red lips.
In 2011 Gucci were being sued for racism. and pop princess Rihanna was involved.
Josephine Robinson, a former Gucci employee claimed that Gucci HO made all sorts of commentary and jokes concerning her skin color. Which is horrendous. But it gets worse, apparently Robinson, after Gucci discovered Rihanna was from the Caribbean, they asked her to tax her higher in order to withhold 30% of her fee.