Shiro's Story, which airs on YouTube, clocked up 7m views for its first two episodes, while that final instalment has already passed the 2m mark. The response has been rapturous, with part two winning video of the year at the recent Rated awards.
Shiro's Story was created, directed and narrated by Andrew Onwubolu, aka Rapman, a kind of omniscient one-man Greek chorus who tells this tale of double-crossing lovers and drug-dealers in long-form freestyle verse, with actors mouthing his raps as he hops between characters and genders. Onwubolu then peppers these scenes with extraordinarily naturalistic dialogue.
"The music speeds up a scene," he says. "Dialogue that would normally take 10 minutes in a movie, we can do in two minutes in a song. You won't know how, in such a short space of time, you can feel all these emotions. I need to patent this – that's how valuable it is!"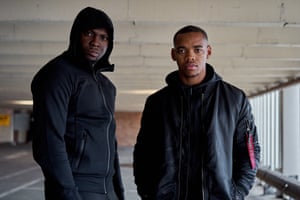 Inspired by Goodfellas and Rocky, as well as storytelling raps like 2Pac's Brenda's Got a Baby, Eminem's Stan, and the Notorious BIG's dual-narrator Gimme the Loot, Rapman broke into the wider consciousness in 2014 with Blue Story, a tale of his own fractious school life in south London. His mother sent him to a good school in Peckham, but coming from nearby Lewisham made him a target.
"I went through school fighting my way out the gates every day. I ended up joining the gang the kids accused me of being a part of, that I had nothing to do with. If you can't beat them, join them. I was then doing all the stuff that gang members did." Things he's not proud of? "Yeah. You do things for money, for status. You want to prove you're really deserving of your place, so you're the one to throw the first punch. Gang violence, gun crime, knife crime, drug-dealing, all the things you hear rappers rapping about, that's the lifestyle I came from. If you see my older songs in 2013, I'm glamorising the money you get from selling drugs and doing crime – until I realised this isn't helping anyone."
Onwubolu has since created a series of impressive rap narratives but, with its 45-minute total runtime, Shiro's Story is his most ambitious project yet, born out of a true story he'd heard around Lewisham about a man who uncovers a shocking family secret, a betrayal that is just the first of the show's many savage twists and revelations. It sends Shiro down a dangerous path.
Assisted by cameos from such London rappers as Cadet, Headie One and Not3s, Shiro is played by Joivan Wade, now building a strong American CV with roles in The First Purge and forthcoming superhero film Cyborg. Percelle Ascott, star of Netflix drama The Innocents, plays Kyle, the complex malcontent best friend of Shiro. Despite big shootouts and high production values, Ascott says they shot the series "guerrilla-style" , working 17-hour days, rewriting and improvising scenes on the fly, with actors holding the lights and "making sure someone is blocking a pedestrian pathway for two seconds to get a shot in. We couldn't block off roads because we didn't have the budget."
For Ascott, Shiro's Story is a chance to humanise black Londoners who are so often demonised. "If you read our story in a pitch, you'd think we'd be making this up. But this is a depiction of a reality that is out there – an environment where you have to survive. They're human beings who need care and sensitivity. A lot of these kids are dealing with trauma. It's important for people to see that grief and emotion."
Onwubolu agrees. "I'm not here to promote drugs, but if you sell drugs, you're not a devil. Sometimes people just want better for their family, and they feel like their lack of education stopped them from getting a job with a certain amount of money, so the drug-dealing is a quick fix. What you do doesn't define who you are. I wanted to show how what you go through in life can change you."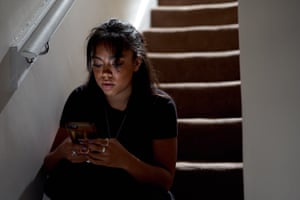 The eventual ending is unforgettably bleak, lamenting the cycle of retributive violence that London gang members are caught in. "I don't think it will ever end," Onwubolu says. "It's so deep now. If no one is dead, things can always be resolved. But in these street wars, there's always a death. I might have had a fist fight with a guy – he might have put me in hospital, I might have put him in hospital. But if no one died, three years later, if I see him on road, I'll say, 'You all right?' And go about my business. But if you know that his good friend killed your good friend, you can't just walk past."
He hopes to adapt the series for TV and has already written a new opening scene, in which Shiro gets turned down for a supermarket job. "You have to work twice as hard," he says. "That's how every black kid is raised. It doesn't mean the guy who didn't hire you is racist. It's just that they hire who they're used to: 'I'm just going to stick with Bob over here.'" Onwubolu's brother was once getting nowhere with job applications, so he changed his surname to Gabriel. "Interviews started coming in. I remember being angry, but my dad said, 'When you live in England, you have to do what you have to do.'"
Mainstream TV doesn't show enough stories like his, Onwubolu says. "Written by real people, not by the people you've hired who were at Oxford for three years and wrote a great episode of EastEnders. People from the world can tell when it isn't real. You need rough, rugged writers who are going to capture an audience. Writers' rooms in the BBC – how many shootouts have they seen as a kid? How many drugs were sold in their estate, if they even lived in one?"